Once home to villages and a shipyard, sleepy Sembawang is now a modern housing hub. But if you made the trek, among old trees and singing birds, lies a fragment of the old Singapore. HAIQAL SARI takes a look and files this report.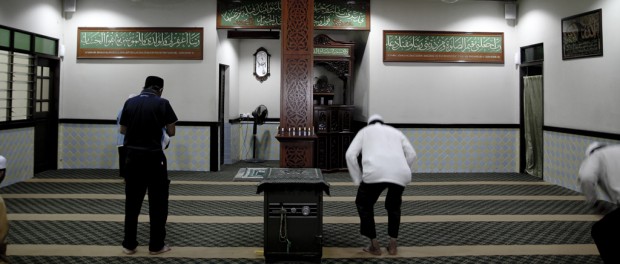 Tucked in the northern-most reaches of mainland Singapore, Sembawang is known by many Singaporeans as a new town, inhabited with young couples. But away from the bustle of modern Singapore, there is a slice of the past.
Pedaling into Jalan Mempurong, off Andrews Avenue, you are greeted with a little sign – Masjid Penempatan Melayu Sembawang (Malay Settlement Sembawang Mosque). In a country where development in all sectors has been accelerating at breakneck speed for the better part of half-a-century, this old-world mosque sticks out like a sore thumb.
Surrounded by lush greenery at every corner, there is an unmistakable air of serenity that surrounds this religious complex. Described as "the last kampung mosque in Singapore", it was built in 1970 to serve as a place of worship for the Malay Muslims that resided within the area. However, its old exterior belies an interior that is anything but. The toilet and conjoined ablution area are as modern and clean as any other. The prayer hall, although small, is well-kept with clean carpets and ceiling fans and lights.
There's even a snack bar containing cold bottled drinks and curry puffs that sits in a small corner of the mosque where, instead of buying them, visitors are urged to instead put their money in donation boxes.
On the Thursday afternoon we went, only seven people were present for their prayers. Some were taxi drivers, some were retirees and some were workers from the nearby Sembawang shipyard. The caretaker of the mosque, a pleasant Mr Haji Salleh Rasip said the mosque receives a full house every Friday for the weekly prayers.
"I get to see a lot of familiar faces. The visitors are always the same old people who live around here, like in Sembawang or Woodlands," said Mr Salleh in Malay. "Either that, or they are people who used to live in the kampungs around this mosque back in the 70s and 80s."
But what makes them come back here despite its remoteness and despite the presence of a more accessible Assyafaah Mosque in Sembawang? Mr Rashid Kamal says this old mosque does not have the beautiful steel-and-glass structure of other modern mosques, air-conditioning or a sprawling prayer hall complete with floor-to-ceiling windows engraved with Arabic text. But it has something very special.
"The kampung atmosphere here is definitely a big draw for many of the other regulars. For me, it just happens to be along the route I usually take when I'm working as a delivery driver, so I take a short detour to come here whenever I can. It's just a peaceful place to be," said the 29-year-old.
However, Mr Salleh informed me that the mosque is living on borrowed time.
"It is on a Temporary Occupied License, so when the Government decides to revoke the license, then it's goodbye," the 78-year-old, who has been caretaker since 2009, uttered with a hint of sorrow.
Within a few minutes, the sky darkened, and rain began to beat down on the 44-year-old complex. Mr Rashid made his way back to his delivery van and drove off, while Mr Salleh retreated to the confines of his office. And just like that, it fell quiet.
As the downpour reduced to drizzle, I bid goodbye to Mr Salleh and mounted my two-wheeler. To some, it can be slightly disheartening how the "kampung feeling" is very much a novelty these days. The mosque, and the area around it, is a remnant of a forgotten world. It is only a matter of time before development catches up with Masjid Penempatan Melayu Sembawang and Jalan Mempurong, just like it has with the rest of Sembawang.