RESIDENTS living in two Canberra rental blocks were pleasantly surprised when students from Republic Polytechnic (RP) came knocking on their doors with goody bags containing essentials such as canned food and instant coffee last weekend (Jan 16).
These students were volunteers who signed up with WeCare@North West Service Weeks, a project held at the start of every year by the North West Community Development Council (CDC), in collaboration with their community and corporate partners. The project aims to provide festive cheer to the needy residents residing in rental blocks in the district.
This year, 18 volunteers from the Diploma in Business (DBIZ), Youth Entrepreneurship & Co-op Interest Group (YEC IG), and National Youth Achievement Award Interest Group (NYAA IG) were involved in WeCare. They were joined by volunteers from Keppel Corporation, a corporate partner for the project.
The day started early for the volunteers who arrived at Blk 106A at 9am to start packing the items. The contents in the festive packs included dry and canned food, as well as vitamin supplements. Beneficiaries could choose to customise the festive packs to their liking or be given the standard packs. Among the 335 festive packs, 137 of them were customised packs.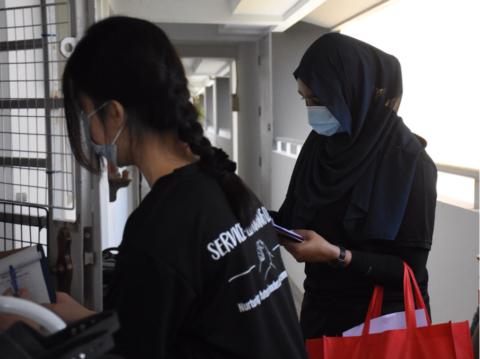 Lin, 23, a beneficiary, said that it was heartwarming to see youths helping out in this programme. "It is very heartwarming to see youths helping out today because outside it's difficult to see youths volunteering as most of them are playing," she said.
This is RP's sixth year participating in the programme and despite COVID-19, there has been an increase in the number of students interested to volunteer, said Ms Casilin Tan, a lecturer with School of Management and Communication and the programme-in-charge. She said she was happy that students have taken up such volunteering activities when given the opportunity.
"Many students want to do good for the community and of course, find opportunities to do so. Sometimes they are just looking for ways to help but they don't know how they can help, so when we offer them this platform to contribute, many of them take up the opportunity to sign up," said Ms Tan.
Christal Kuan, 18, a first-year Business student said: "I like to do volunteer work, and I volunteered today because it gives me a sense of satisfaction helping other people, and it makes me feel better knowing that I actually made someone's day happier."
Volunteers at Keppel said they thought the initiative is a step in the right direction as it helps to bridge the community by bringing students closer to residents.
"I think it's a very good initiative. It encourages the youth to volunteer themselves and to be part of national building and to help the underprivileged," said Ms Adeline Woo, 35, a HR Manager at Keppel.
Minister for Health Ong Ye Kung was on site. He noted that it has been years since the start of Service Weeks and CDC always manages to bring in corporate and educational partners to volunteer. He said: "It's a good thing that we are not just doing good for the families that need help, but we are also activating social partners in the community."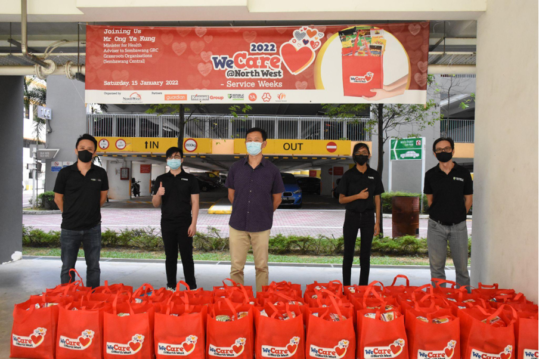 When asked what can be done to encourage volunteerism among youths, Minster Ong said that youths have strong opinions and to encourage volunteerism, the programmes must be meaningful and youths must be consistently engaged in the field.
Minister Ong explained: "I think youths these days naturally feel strongly about issues like poverty and social inequality. Many of them want to do something. The challenge for us is to find meaningful programmes for youths to stay engaged. So for me the more important thing is to find activities that you can engage on a weekly basis or even monthly basis so that the engagement is consistent and sustained."
Additional Reporting by Van Noriel McCartney Ordonio