Eight second-year Mass Communication (DMC) students from Republic Polytechnic were selected to have a stint at Kiss92 for a month, where they got to experience the tasks that professional DJs perform in their line of work, such as scripting weather forecasts, song dedications, on-live banter and more.
These students had to go through a talent acquisition process where they recorded a one-minute talk set as part of a Singapore Press Holdings (SPH) radio workshop held in May, in which they got cast afterwards.
Balancing School and Work
When asked about the objectives of the stint, Mr Caleb Ng Wei Chuen, the facilitator in charge of the students said: "Portfolio, experience, and to showcase the diploma's collaboration with industry partners. DMC would want to be seen as part of the industry. This allows the students to learn outside of class and in the industry."
However, this poses a challenge for the students as they have to juggle their school life alongside work. After class, they have to rush to the recording station at Kiss92 headquarters in Toa Payoh — by 7:20 p.m. before their shift starts at 8:00 p.m. — to prepare to broadcast their programme.
With their shift ending at midnight, plus having classes in less than eight hours the next day, one can envision how tired they are going through such a packed schedule.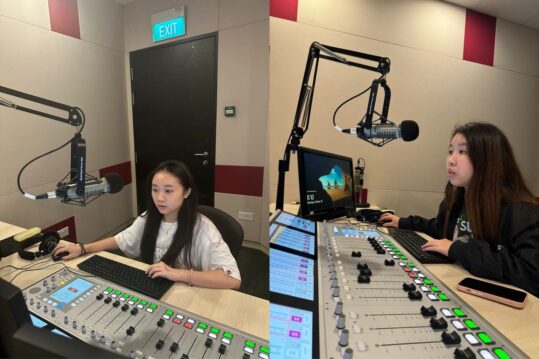 A Valuable Experience
Despite all of that, Chng Ree Ser Leticia, 18, who is part of the stint, said that she is grateful to get the chance to intern at Kiss92.
She said: "I think what's interesting about our course is (that) we don't dabble in broadcasting even though it is under Mass Communication."
She shared that it was an eye-opening experience when she first entered the internship stint.
"We were dabbling with things that we've never really been taught like theories and concepts, so to have first-hand real-life experience is what made me interested in becoming a DJ."
She revealed that the stint helped her realise the role an engaging tone plays in broadcast journalism, saying that without it, "people simply won't be interested in what you have to say." Learning to play around with the tone of her voice helped her discover her talents, convincing her to take the journalism track in DMC.
Experience Through Opportunities
Working with Kiss 92 has helped to expand their horizons and discover their potential. It exposes them to networking opportunities, allowing for an enriching experience by encouraging personal and professional growth.
"At first I was hesitant, but after some encouragement from Mr Caleb, I realised it was too good of an opportunity to miss," said Jamie Ong En En, a second-year DMC student.
Jamie says that the experience sparked her passion and joy in becoming a DJ.
"I feel like (with) radio, it's something where we can connect with people anytime, anywhere."
She said that her favourite memory was engaging in on-live banter — where they conversed in a relatable manner — with her DJ supervisor Juliana Yeow, something their listeners enjoyed tuning into and even sent messages to their hotline saying they liked it.
"I love to connect with people as it is one of my passions and the reason why I joined Mass Communication," said Jamie, who chose the Public Relations (PR) track.
She believes that the interpersonal skills she has picked up will help her build that connection with people, a trait highly valued in the PR industry.
Leticia, meanwhile, stressed the importance of grabbing as many opportunities as possible when offering advice to aspiring DJs.
"Every opportunity presents itself with experience and even more things that you can learn. Even if they don't come, you can take initiative and make your own opportunities," she added.
Are you interested in hearing them for yourselves? Catch the "Baby Owls" Jamie, Leticia and the others on Kiss92; all the greatest songs in one place, from Mondays to Thursdays, 8:00 p.m. to 12:00 a.m. before their stint ends on November 9, 2023.