On October 2 2022, Vietnamese students from the University of Social Sciences and Humanities (USSH) arrived on Singapore's shores for the two-week Temasek Foundation Specialists' Community Action and Leadership Exchange (TF SCALE) programme with RP's School of Applied Science (SAS) students, where they learned all about our ways of living green and clean.
A great feat of knowledge was gained, and life-long friendships were formed. As the USSH students bid their farewells, the SAS students knew they would soon see their Vietnamese friends again.
HO CHI MINH CITY, HERE WE COME
On March 21, 17 SAS students and two RP lecturers, Mr Ashray Ramachandran and Mr Jeremy Kong travelled to the city of Ho Chi Minh for the 12-day outbound programme.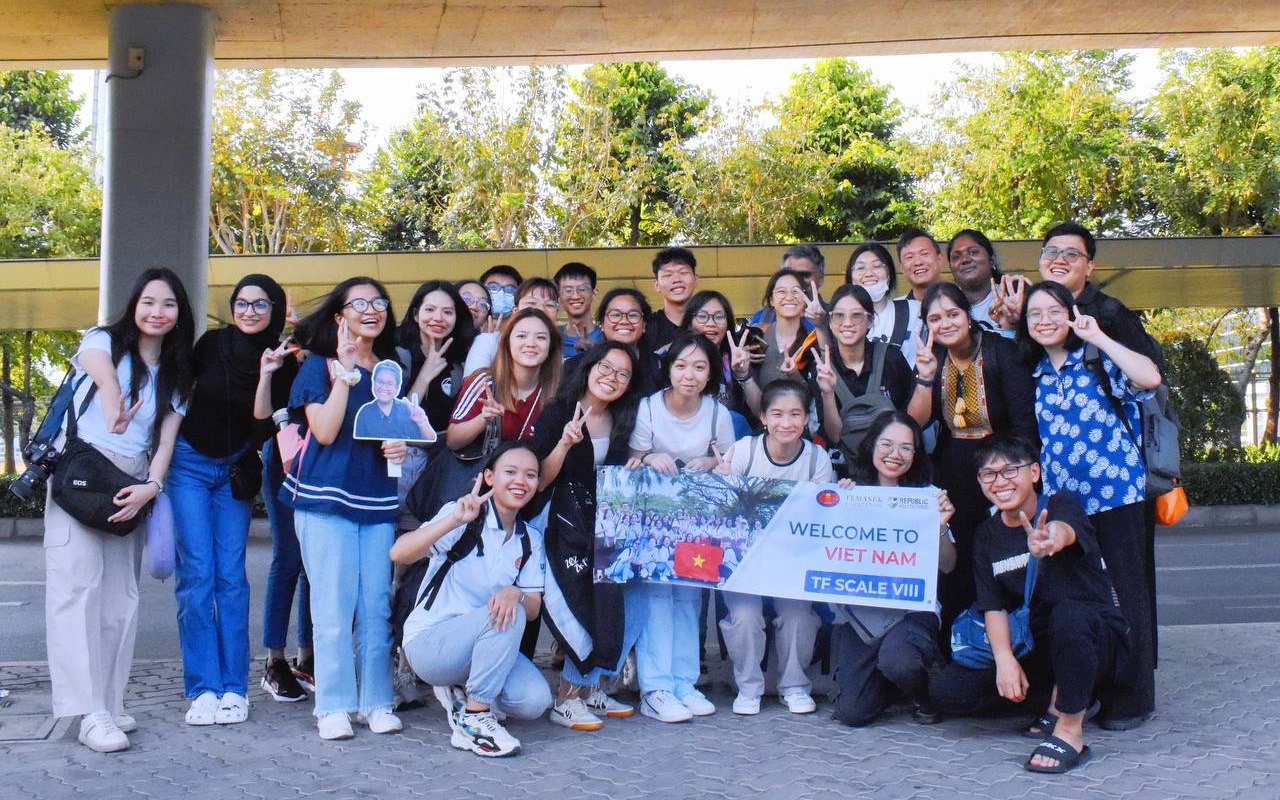 After a few days of warming up to Vietnam and visiting local landmarks, the RP and USSH students began preparations for their months-long awaited healthy living and eating programme planned since October last year.
The students' planned programme, named Ăn Ngon Sống Khỏe, or Eat well, Live well, targeted the Vietnamese elderly and children. Both half-day programmes for the children and elderly were held at Võ Văn Thặng Primary School.
D-DAY: COMMENCING EAT WELL, LIVE WELL
On March 25, the RP and USSH students arrived early in Võ Văn Thặng Primary School to commence the programme for the primary one students.
The programme was hosted by USSH students Lưu Chi Cuòng, 22, urban studies major and Ngô Tiêu Hy, 21, international relations major while the others were assigned to interact with the children and guide them in the activities.
The primary school students were educated on developing a healthy mind and body which included having a balanced diet, regular exercise, hand-washing, as well as fostering positive relationships with loved ones.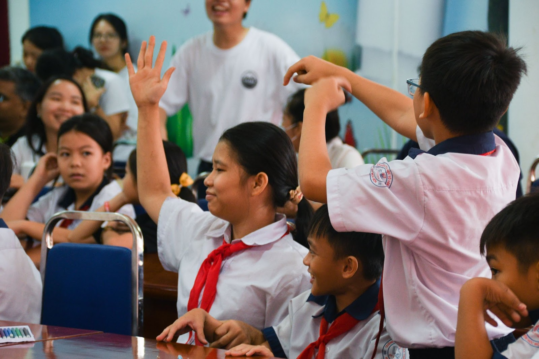 The children also participated in interactive activities such as organising paper food cut-outs into different sections of the healthy plate and a drawing activity where they drew their happiest moment.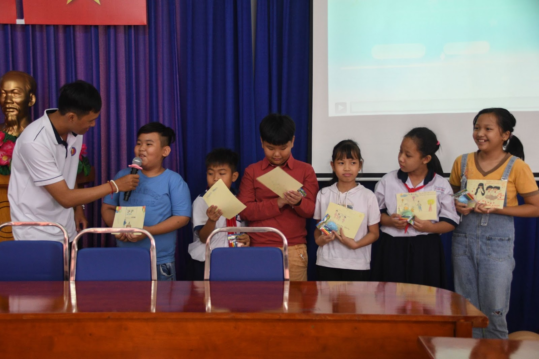 At the end of the two-hour programme, the RP and USSH students exchanged hand-drawn parting gifts with the children and huddled together for group photos.
SHARING REMEDIES WITH THE ELDERLY
On the following day, the students returned to the primary school for the elderly programme.
Booths featuring age-related health conditions, including high blood pressure and Hyperglycemia, were set up by the students. Other booths educated the elderly on reading nutrition labels and leading a healthy lifestyle.
When the elderly arrived at the school, they were led to the classroom where USSH student host and tourism major, Huỳnh Ngọc Hân, 21, and RP student host, Shreya Acharya, 17, a second-year Pharmaceutical Science student, kicked off the programme in high-spirits.
The next segment was conducted by Ms Bùi Ngọc Yến Trâm, 30, a PhD student from the University of Auckland majoring in Nutrition and Dietetics. She was invited to hold a talk on healthy living and eating covering topics from prevalent health illnesses and prevention methods to essential foods in a healthy diet.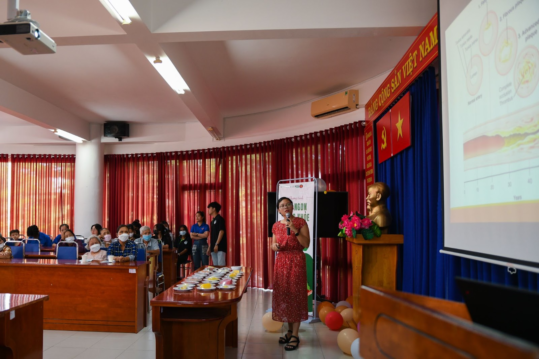 After the classroom session, the elderly were invited to visit the booths manned by USSH and RP students. The booths, plaid with educational posters and interactive elements, allowed the elderly to easily reinforce and digest information.
For example, the wellness lifestyle booth engaged the elderly to write down examples of mental health, social health and physical health.
"There were very interactive booths so the elderly were very interested and invested in them. It feels like our hard work has paid off," said Shreya.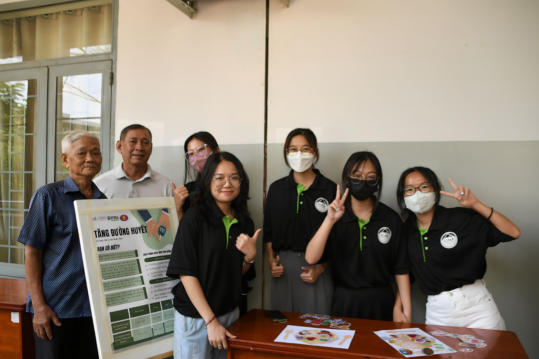 The last segment was a cooking booth for the elderly held in the school canteen. ABC soup, a healthy and nutritious meal containing vitamins A, B and C from its main ingredients – carrots, potatoes and tomatoes, was prepared.
As they drank the soup, the elderly and students chatted like old friends, with the elderly inviting the students to join them in their meal.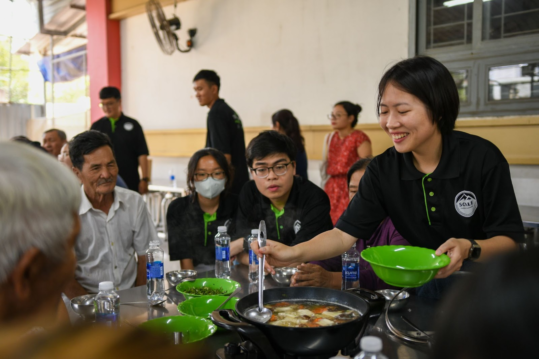 Finally, the elderly were presented with a goodie bag containing Tiger Balm and a pamphlet about healthy living and eating.
NOT ALL SMOOTH SAILING
While the two-day programme was successful, the students faced a few hiccups during the planning and execution process.
Due to schedule differences and physical limitations, communication proved to be a struggle when the students needed to discuss. The students also had to learn how to plan ahead for contingencies and be cost-efficient in their budgeting and logistics decisions.
USSH student and English Linguistics and Literature major, Phạm Hoàng Khang, 22, explained: "There are around 40 people in our programme so sometimes it's very hard to get everyone focused."
On the technological front, Shreya added: "There was a bit of a struggle because we had to communicate over Zoom or Google Meetings. The Internet was a big factor because either ends could be disconnected and even through texts, it can take quite long. But once we came here, all the information (communication) was fluent."
Another big challenge would be the language barrier for the Singaporean students, who often sought help from the USSH students to translate messages between them and the locals.
On programme-related challenges, RP SAS lecturer, Mr Ramachandran, 41, explained: "The children needed (the information) to be immediately obvious, and it can't be too complex on the technical terms. For the elderly, the challenge was different – it's about tailor making for their requirements and needs."
"GOOD THINGS SHOULDN'T COME TO AN END"
Despite the challenges, the SAS and USSH students' hearts and minds were full from the experience. Not only did they strengthen their friendship, but also took home valuable knowledge and skills.
Hoàng Khang noted: "The Singaporean and Vietnamese students got to know each other better and had many invaluable opportunities to learn more about each other's culture, history, everything."
Concluding her thoughts about the programme, Tiêu Hy added: "I think this an interesting and meaningful programme as we can interact with each other to learn not only about nutrition but about diplomacy and how the young generation interact with each other to create a better environment in the future."
Some even gained course-related insights during the trip. "I find that Vietnam's environment and how they adapt to different changes such as rising sea levels and climate change is very interesting. It's very different from Singapore because Vietnam has space and Singapore doesn't," mused Tan Liao Yi, 17, a second year Environmental and Marine Science student.
The success of the two half-day programmes was also greatly owed to the students combining their expertise and skills – all while working together towards a common goal.
Mr Ramachandran explained: "The students have diverse backgrounds, so some of them (study) science but some of them are artistic but I thought they really bridged these things well. The USSH students who are artists really chipped in with the creative marketing design of the posters and other materials whereas the Singaporean science students were very good at researching the information and were even able to customise it to Vietnam."
"I'm very happy with the professionalism and behaviour of all the students who have participated in this programme. They put their full (effort) into it and they've also been very patient and resourceful to find other solutions. And that's partly what leadership is all about. I hope they continue this in other aspects of their life.
Each vowing to see each other again, this noble journey is far from its end but the beginning of a life-long bond.
On her second last day in Vietnam, Shreya mused: "Throughout the two weeks, I did feel very homesick. But now that I'm going home tomorrow, it feels too bittersweet to end."
"Good things shouldn't come to an end," she added in tears.