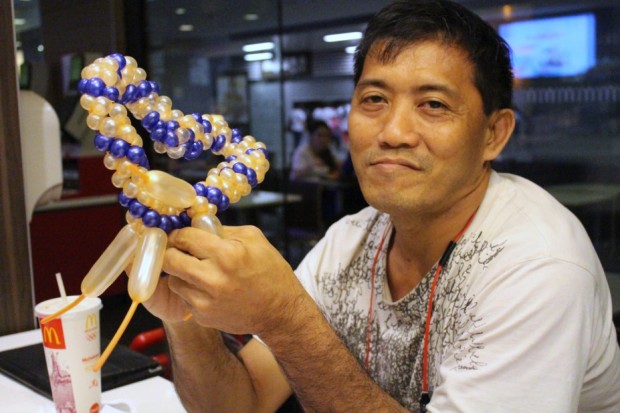 Artistic statues, miniature dolls and the ever popular Minions can be created using balloons. And these are often put on display at the McDonald's branch in Causeway Point, a big magnet for children and young teenagers who frequent the fast-food restaurant.
The man behind these creations is Gabriel Goh Ming Loong, 51 who started fashioning cute items from balloons when his daughter was a baby. He soon realized that he had a knack for it and decided to pursue it.
Mr Goh was first introduced to his supplier by a former business partner. Before that, he had been getting balloons at party shops. Once he had the raw materials, he began to experiment. His favourite: sculpting hearts, which he does to train his muscle memory and has rewarding results.
He said: "The rewards are improvement of skill and the ability to twist without looking at the sculpture too much give attention to the person you're twisting for." Over time, these have evolved into sculpting life sized balloon dresses for competitions and catwalk models.
From there, he decided to take part in competitions. He came in second place in a contest for the most creative balloon twister at The Magical World of Balloons event. Contestants were given 40 balloons of various colours and 15 minutes to twist a sculpture. This was held at Millenia walk in 2005. Soon, he began to be featured in an international balloon catalog and he has been featured in the national newspapers with his creative creations.
Besides sculpting, Mr Goh holds down a full time job as a Logistics Assistant at UPS, a courier service company. He is usually at McDonald's in the evenings and on weekends.
Mr Goh does not make money from his sculpting. "I do get offers of about $100 for my craft, but I decline as I prefer to sculpt my balloons without being disturbed," he said.
But he has on occasion given some of his works to those who watch him for free. Now that his daughter is all grown up and in her early teens, he puts his talent into making other children smile.
"He's a very open person, not at all shy. Having just wanted to try twisting balloons into a teddy bear, he taught me a few techniques to avoid popping the balloon without me asking for help," said Wesley Foo, 18, a second year student from Republic Polytechnic.
His constant presence at the McDonald's outlet has meant that he has made lots of friends, especially with the restaurant staff. Madam Lim Mei, age 47, a lobby host at Causeway Point's McDonald's says: "I noticed him when I am working. It's not hard to miss a person twisting balloons. He taught me the basics of basics and he's friendly and easy to talk when there's a topic to discuss."
When asked what he aimed to do with his art, he said he would be happy just to pass on the love of art to everyone who sees him and enjoys his sculptures. "It was not something I thought I would be good at, but I found out I could create things and through a lot of trial and error. I hope our young explore their passion for the things they love, especially the arts.''