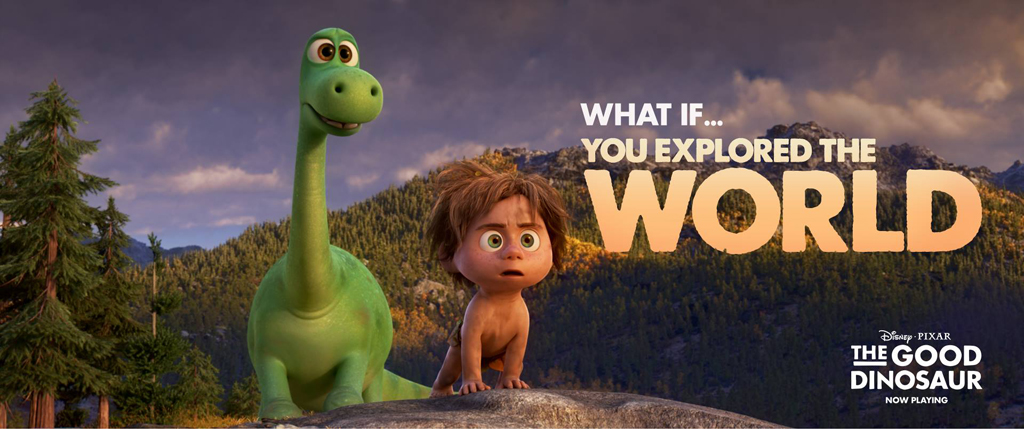 Ever wondered what dinosaurs could have been if the legendary asteroid that supposedly wiped them out had missed? Well, in The Good Dinosaur, some stout green dinosaurs evolve into kind farming folk and a group of tyrannosaurus-rexes make giddy up and round up their herd of steer!
The latest film by PIXAR and from the creators of Finding Nemo and Inside Out, which is currently showing in the cinemas here, tells the story of Arlo (voiced by Raymond Ochoa), a small and fearful Apatosaurus, who yearns to earn his "mark" alongside the rest of his family but is held back by his fears.
Arlo's adventure begins when his father gives him the important task of catching the critter that had been eating their harvested crops. Arlo tries to hold up a strong front in order to confront the critter, but ends up letting it get away. After an unexpected and heart-wrenching turn of events, Arlo gets lost in the wild, alone and afraid, and tries to find his way home. He eventually befriends Spot, the critter that his father had tasked him to trap. Except that Spot is actually a human boy.
During their journey, the pair meet both quirky and frightening characters and forge a heart-warming friendship that they both would have never expected. We see Arlo learning to confront his fears and with the help of his little friend Spot, comes to see that he is capable of more than he could have imagined.
The movie's stunning graphics can wow any audience, transporting you to a beautiful world you have never experienced. The many characters we meet along the way and how the story unfolds tend to tug at the heartstrings, bringing up values like kindness, bravery, friendship and family.
If you liked Finding Nemo, The Good Dinosaur would be a great movie for you as it exalts the similar vibe of family love and friendship. But, just like Finding Nemo, be prepared to shed a tear or two in The Good Dinosaur. So, keep that packet of tissue handy.
Duration: 1 hr 40 mins
Rating: PG
Director: Peter Sohn
Starring: Raymond Ochoa, Jeffrey Wright, Frances McDormand, Anna Paquin, Sam Elliot