SINCE young, Mr Soh Eng Kim has always wanted to be independent.
He didn't want to use his slight hunched back and abnormal skeletal development, which were present at birth, as excuses to rely on others.
When he was younger, he overcame his physical disabilities to earn his keep as a bar bender and building contractor.
Now, at 66, Mr Soh, whose children are already working adults, continues to live independently by selling ice cream beside the zebra crossing between Causeway Point and Woodlands Civic Centre – something he has been doing since 2005.
"I am still healthy and have some strength. I can live life without relying on others," he said.
Mr Soh travels by bus and on foot from his home near Old Woodlands Town Centre to the zebra crossing every day to sell his ice cream.
He offers 10 different flavours of ice cream ranging from corn and durian to mint chocolate chips which he sells in cones or wrapped in bread. Each serving is priced at $1.20.
"I like my job. It's simple like my childhood," said Mr Soh.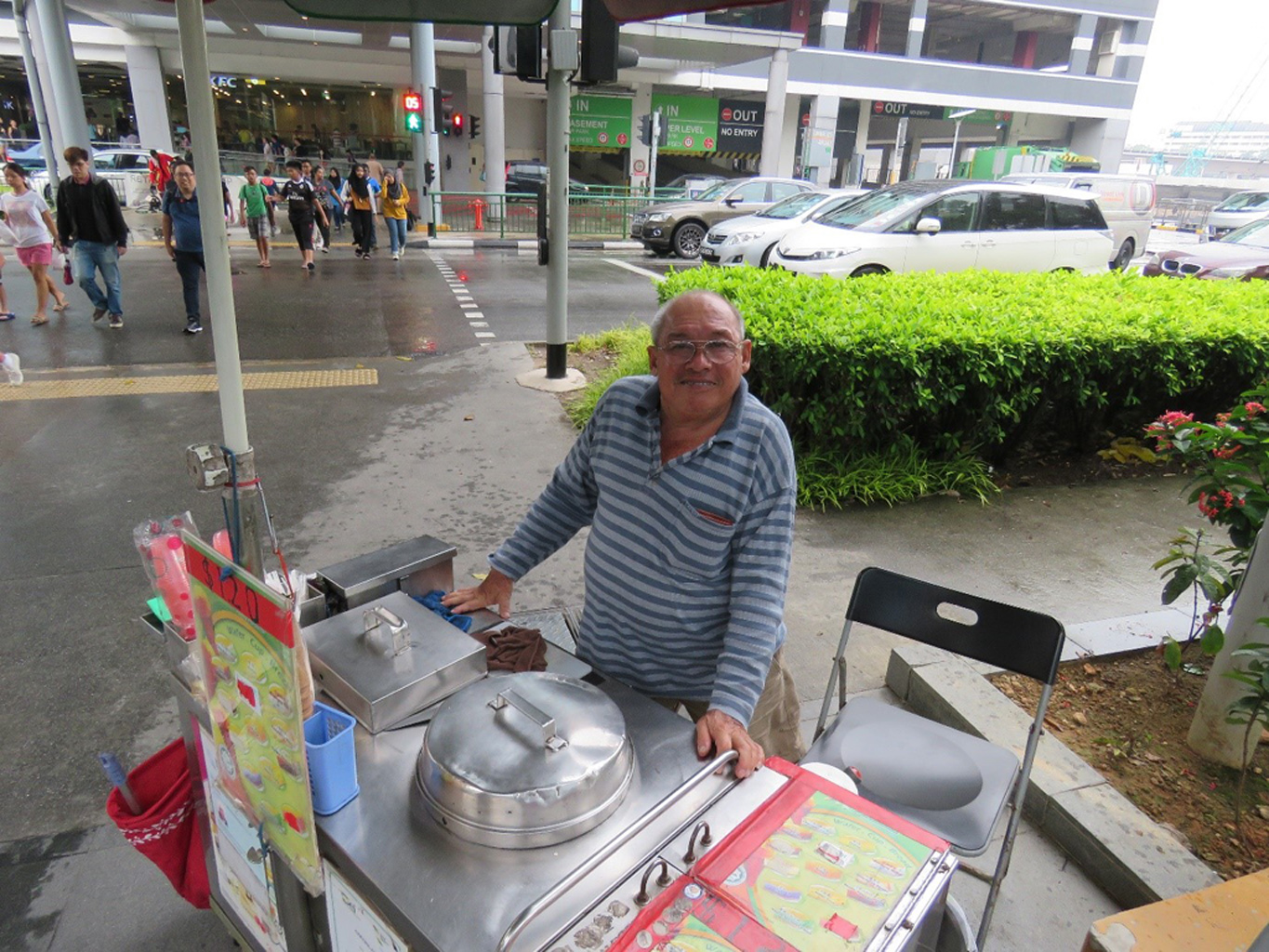 Entering the workforce
Born in 1951 to an odd job worker father and housewife mother in a village near the present Singapore Turf Club, the seventh of 11 children spent his early years like any other child.
He attended school and would return home to do his homework, help with the house chores and play with his siblings once classes were over.
"When I was young, I never thought much about how my condition will affect me. I just try and live life independently," said Mr Soh who is able to eat, bathe and dress up by himself.
Due to his family's financial difficulties, Mr Soh stopped formal education after completing his GCE O-level examinations.
He was exempted from National Service as a result of his physical conditions.
So, Mr Soh decided to enter the workforce to support his family.
In the 1970s, Mr Soh found a job as a bar bender. Job conditions were difficult, as the nature of work meant long hours spent carrying, cutting, bending and securing steel bars, said Mr Soh.
"I did the work I was asked to do without help. At that time, I just wanted to support my family and I wasn't going to let my condition stop me," he said.
After working for several years, Mr Soh became a building contractor. Work life became less strenuous as he could employ workers to assist him in the job. Nevertheless, he still helped his colleagues out whenever possible.
In 2002, Mr Soh retired from the building contracting industry.
Stepping out of retirement
Upon retirement, he would spend his days reading Chinese novels and the Shin Min Daily News. At the same time, the thought of spending the rest of his life more productively crossed his mind.
He later remembered some of his friends working in the ice-cream selling business and decided to give it a shot.
In 2005, Mr Soh was awarded an NEA licence to practice the ice-cream selling trade. He started his new job that same year after successfully finding a supplier of goods for his business.
Recent newspaper reports have pointed to a decline in the number of ice cream carts in Singapore as hawkers have to grapple with rising overheads while young people shun the trade.
But for Mr Soh, he currently tries to work as many times as he can in a week, usually reaching his spot at 10 plus in the morning to set up his stall by himself. Business would be open by noon and end latest by seven in the evening, after which he would buy dinner from Causeway Point before returning home.
His independence despite his disability has not gone unnoticed by people who work in the area.
"I think it's admirable that with his condition and age, he has determination to earn his own keep without relying on others," said Ms Joey Tan, 27, an alumnus of RP's Diploma in New Media (now known as Diploma in Media Production and Design) programme who works at the Training Vision Institute Pte Ltd branch office in Woodlands Civic Centre.
Madam Chow Ah Yin, 49, who works on the third level of Causeway Point agreed: "He is very brave. It is hard to find people like him still leading life positively."