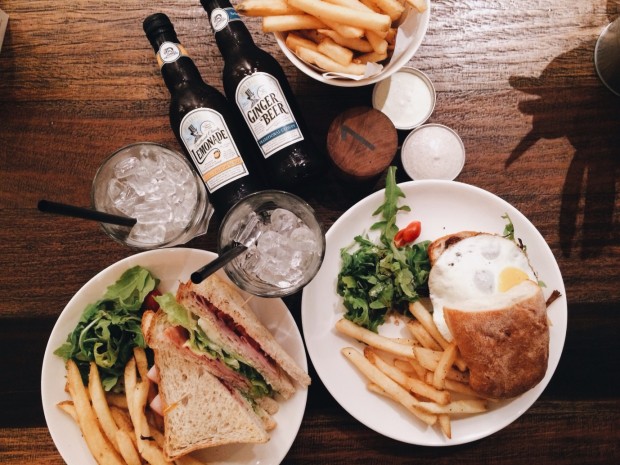 Located on Horne Road, where Bravery and Windowsill Pies reside, Two Bakers is a newly opened artisan patisserie café that has certainly caught the eye of many with their artisanal pies and savoury menu.
The café was the brainchild of three friends who dreamed of opening an eatery since they were teenagers. Two Bakers was created for patrons to enjoy each other's company.
The place gives off a relaxed, homely vibe. The warm rustic lightbulbs, wooden canteen rows and tables and vintage posters contribute to a vintage feel.
Drinks: John Crabbie's Lemonade Ginger & Cloudy Ginger drink ($5.50 each)
If you're a non-alcoholic like me, try these! The drinks were refreshing.  The Lemonade Ginger had citrusy flavours as well as an after ginger taste at the throat which can get some time to get used to.  If you are not up for the strong ginger taste, give the Traditional Cloudy Ginger a try, as the ginger aftertaste is much milder as compared to the Lemonade version.
*Mains:
Christmas Deck Sandwich ($14.80):
A Christmas menu special, the sandwich contains cranberries, smoked turkey ham, honey baked ham and cheese. The whole setup was good in terms of ingredients used, especially the choice of bread. However, I felt that the meat could have been more flavourful. The cranberry jam, if there was more, would have added more sweetness. Hence, it was a little disappointing as the taste was not as flavourful as I had imagined.
Two Bakers TYB ($13.80): The Tau Yu Bak pulled pork style, topped with fried egg on warm ciabatta bread, was aromatic, tender and savoury. The sweetness from the plain hardened ciabatta bread combined nicely with the mild saltiness of the pulled pork.
*Mains come with a serving of straight cut fries and a salad consisting of rocket leaves and cherry tomatoes drizzled with balsamic vinegar.
Sides:
88 Fries ($12.80): So, what is so different about the fries? More like the sauce on the saucers was what made the dish good. These straight cut fries were complimented with ranch and truffle mayo sauce. The truffle mayo was my favourite because it had an oily and a sour after taste.  The ranch sauce was tangy and left a sting on my taste buds, much like wasabi. 
In conclusion, the pricing is on the average side, in terms of café prices. The portions of the mains are satisfyingly appropriate for 1 pax.
Two Bakers
Address: 88 Horne Road
Opening hours: Mon: 10:30 – 20:30
                          Wed – Thu: 10:30 – 20:30
                          Fri – Sat: 10:00 – 22:00
Phone: +65 62930329