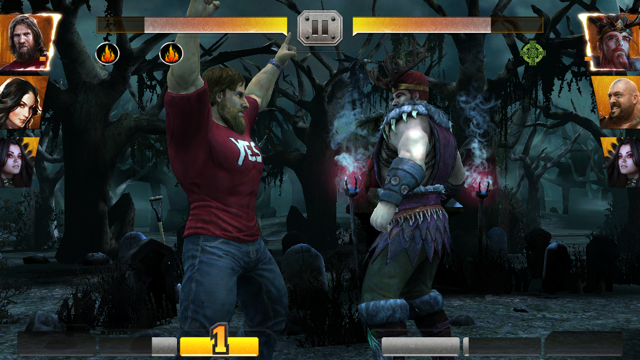 As a child, I have always thought of the WWE Superstars and Divas as superheroes. I remember watching them climb into the squared circle in their skin-tight costumes, toss each other from rope to rope, tell stories with each of their moves and their backgrounds. I have longed to see the day where I'd see these wrestlers develop strange and bizarre superpowers, and after years of waiting, it has reached the iTunes App Store in the form of a free-to-play combat game.
The story of the game is very simple. Bray Wyatt, the keeper of a dark lantern, was ambushed and betrayed by Triple H and his wife, Stephanie McMahon. Without full understanding of the powers of the lantern, the power couple unknowingly released a whole roster of super-powered wrestlers from multiple dimensions who fight for the right to own the lantern.
Just like its storyline and very much like the developer's predecessor Injustice: Gods Among Us, the gameplay is simple. All it really requires anyone to do is to swipe a little and tap a lot.  The combat game basically takes place in various dark and unsettling settings ranging from tombstone-filled graveyards to the fiery pits of hell.
This free-to-play game entered the top 10 downloaded action games on iTunes in the first month it was released and boasts an average 4-star rating on almost all game review sites. Why wouldn't it? It provides spectacular graphics, online and offline gameplay, and multiple versions (or skins) of the WWE Superstars and Divas.
But of course, as we all know in this industry, nothing good ever comes for free. The game starts off easy where every AI challenger you meet is at least two levels below you, but as you progress in the game, you'll find it get increasingly tougher and before you know it, you'd need about three tries just to beat one level. And mind you, these tries are not free – every character is given about 10 full stamina charges and each bar takes roughly 15 minutes to recharge. Just like every other game that makes its way into the app stores on our mobile devices, they provide "booster packs" that can cost up to roughly $130 to give you a boosted advantage.
The game also plays with simply beautiful graphics and a lot of different movements and manoeuvres that vary with the characters. Even characters in different skins were given new "finishers" or "signature moves" by the developers. These come at a price as well – in the form of our phone's batteries. Based on experience, one seating of playing the game (for about 20-30 minutes) eats up 40% of my phone battery and my phone also ends up feeling extremely hot.
Also, many users online bash it for its overly simplistic gameplay and similarity with Injustice: Gods Among Us, but in its defence, if something works, it just works.
However with that said, the downfalls are quite minimal in this game (if you're rich or patient) and it is a must to download for anybody out there who'd like to watch their favourite WWE Superstar or Diva come to live in this fun, addictive and simple game.
Based solely on gameplay, I would give it 9 out of 10 hands down. However, due to the danger it holds for my phone and wallet, I give it an overall rating of 7.5 out of 10.
Available on the iTunes app store and Google Android Play store.
Developed by: WWE, NetherRealm Studios, Phosphor Studios, Warner Brothers