The dark Netflix thriller has kept everybody craving for a season two ever since season one came out in 9 September, 2018 , which ended in a cliffhanger with Joe Goldberg (Penn Badgley) laying eyes on his next victim, first being now ex-girlfriend Guinevere Beck (Elizabeth Lail), but it turns out to be his supposed-to-be-dead ex-girlfriend of his dark past Candace Stone (Ambyr Childers).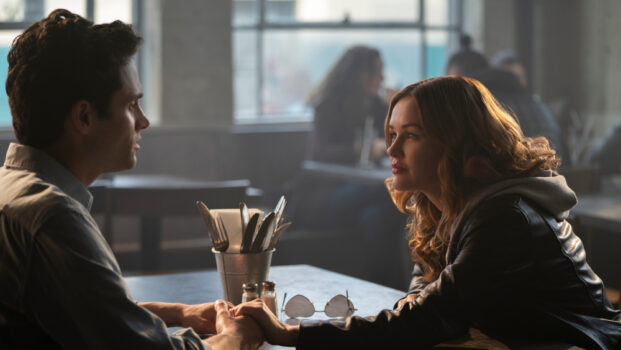 In season two of You, we see Joe starting anew in Los Angeles as an escape from a traumatised Candace threatening to expose the real him. Real him as in the guy who abused her and attempted to murder her by burying her alive. But obviously, that gets forgotten when new love shows up, literally.
Joe gets a new job at *surprise*, a bookstore cum grocery called Anavrin and is introduced to his new obsession, Love Quinn (Victoria Predetti). A tiny twist in actions shows her making the first move, which, personally, caught many off guard, including Joe.
What does stalker Joe do to conduct a "healthy" background check on his new love interest? He goes and creates his first social media accounts just to stalk his new love interest! Yes, creepy!
The series constantly reminds us, through voice-overs in his POV, that Joe is trying to turn into a new leaf and do things right and proper, unlike how he rushed things with Beck and ended up killing her.
Joe tries to take things slow, but having Love longing for a relationship contributed to the refreshing plot. In the end, they get together and have a rather peaceful prolonged relationship.
Another element of the season which did not make it mundane when compared to the first, is the fact that Love is the person who carried and pushed the relationship further, not Joe.
In the first season, we saw a subtle yet clingy Joe when he was with Beck. He threw her a birthday party because her ignorant friends convinced him that she secretly wanted one, even though he hates parties.
In season 2, Joe realised what went wrong with Beck and incorporates that into his relationship with Love, somebody he truly loves. But he has to try to calm his demons whenever he feels the urge to do something the old Joe would do, which would mean him being the chill one in the relationship while Love constantly expresses her love for him.
Soon we see the calm after the storm as the couple grow stronger in the relationship. But just as they thought they were going to live happily ever after, with circumstances pushing a meet up with Love's parents, Candace makes a comeback appearing as Love's brother, Forty Quinn's (James Scully) love interest.
As a huge fan of the series and a sucker for romance, it has made me question myself. Why am I rooting for this murderer/sociopath? I am amazed by how I'm behind the screen really hoping nobody saw the murder when I should actually be feeling fear of this killer.
My twitter feed was filled with spoilers and opinions from others who had finished watching the show. Apart from the funny memes and entertainment factors, an interview Penn Badgley had with Gina Rodriguez, for Variety Studio's Actors on Actors, caught my eye as they discussed what You is really about and Badgely's thoughts on it.
"To me it's like how far we are willing to go to forgive an evil white man," says Badgely in the interview, disagreeing with the fact that the initial assumption of the show's purpose was to show "how far we are willing to go for love".
Regardless, this season did not disappoint. Obstacles and complications with new characters are so frustrating you may want to throw something at them, but the urge to watch another episode even though it's already 3 a.m is stronger. Many shows do not live up to the same thrill as the first season, but You isn't one of them.
Especially when there's a new person to call You.
Rating: 4/5