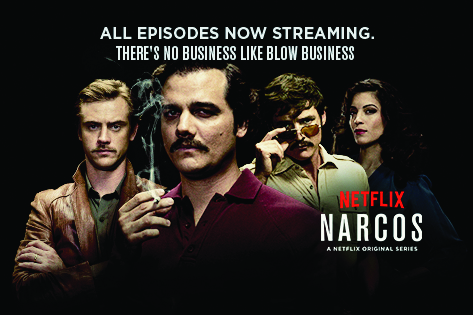 It's official! Narcos will be returning for two more seasons. Season 2 ended on September 2, 2016 and if you haven't checked it out, it's time to get onto the Netflix bandwagon. Narcos, is the story of how notorious Colombian cocaine drug lord Pablo Escobar (Wagner Moura) escaped from La Catedral prison and how he ends up dead on a rooftop in Medellin. Hailed by critics as compelling part-docu storytelling, it is after all based on a true story. The question on everyone's mind would be, is there a story after the death of a drug lord? Since the writers have two more seasons to go, here's some crystal ball gazing:
1. Will Murphy and Peña return?
Drug Enforcement Administration (DEA) agents Steve Murphy (Boyd Holbrook) and Javier Pena (Pedro Pascal) are the two agents responsible for taking down Pablo Escobar. However, with Agent Murphy back in the U.S with his wife and Agent Pena being recruited by the DEA for a new operation at the end of season 2, could we be looking at the loss of another series regular? Pascal, of Game of Thrones fame (he plays Prince Oberyn) is particularly compelling as the suave Spanish speaking cop and we hope his role expands and he faces more ethical dilemmas (as we suspect most Colombian cops do).
2. Will Tata and family be extruded from Colombia?
When Escobar's wife Tata Escobar (Paulina Gaitan) found out about the death of her husband, she knew she was in trouble and that only Gilberto Rodriguez Orejuela (Damian Alcazar) could save her. Pablo and Gilberto were once friends. Though they ended as enemies, he is the only help Tata can find. Will Tata and family leave Colombia for good or continue hiding?
3. Gilberto Rodriguez Orejuela the next drug kingpin of Colombia?
Pablo Escobar is gone, but "Narcos season 3" already has new villains lined up. The closing episodes of Narcos already suggests other mobsters waiting in the wings – like Judy Moncada (Cristina Umana).  Or will the Cali cartel leader Gilberto Rodriguez become the series' new protagonist and will he make as compelling a story as Pablo Escobar? Will there be as many brutal killings as Season 1 and 2?
You can sign up for Netflix on their official website www.netflix.com/sg/  Netflix has 3 different plans basic ($10.98), standard ($13.98) and premium ($16.98)