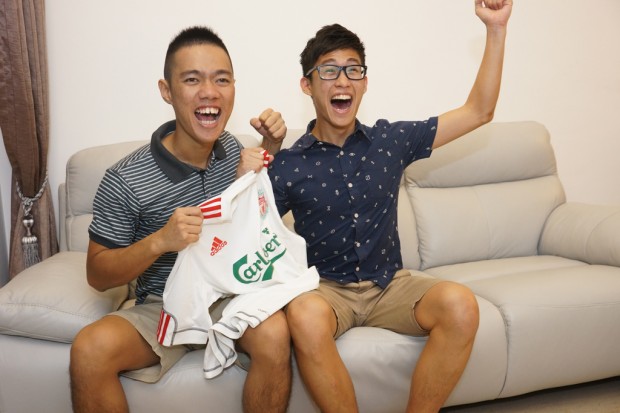 Joel Lee started out his journey in RP rather differently from other freshmen who were beginning their "new life" in a polytechnic. Because for Joel, it was a second shot at success after dropping out of Nanyang Polytechnic and it took him three desperate appeals before RP gave him a spot at the School of Hospitality (SOH).
After Joel was confirmed a place in RP, he told himself this was an opportunity he would never lose. And true to his word, today he graduates with a cumulative GPA of 3.76. Aside from his own hard work, he credits a friend for his achievements.
"Clement (my best friend) has been my constant motivator. Actually if it was not for him, I don't think I would have been able to do it. It was Clement who told me that he saw so much potential in me and said there is nothing that I couldn't do. He often asked me why I wanted to waste my life away when I dropped out and I always didn't have an answer to that," shared Joel who met Clement Wong in primary school. "My motto is focus 100 percent at anything you do. If it is in school, give your 100 per cent. That is why I don't believe in skipping classes. Why skip meetings when you are already in school? " Said the Liverpool fan.
Joel described his journey in RP as fulfilling because the PBL system matched his style of learning. "I can't sit still and listen to lectures all day. I have to be up and doing something. This is also one reason why I couldn't do well in NYP,'' he shared. Once he found his groove, he jumped in with great gusto.
"Joel is a social butterfly. He gets along with everybody and he knows how to adjust himself to be around different people,'' said Mr David Yuan, who taught Joel in Hospitality and Revenue Management.
He did however say that needed to get along better with his mum. Talking about his mother, Joel became quiet and said he wished to have a better relationship with his mother as they don't see eye to eye on many things, mostly because of how busy he was and his quick temper. "I need to work on that,'' he said. In addition to finishing his national service and getting a university degree.
Wherever he goes one person will always be with him: his best friend Clement. "I'm proud of him," said Clement. "His determination and his 'I have only one shot at this' philosophy is something I admire."
For more stories on our graduands, click Final Graduation Pull-Out or view our graduation video