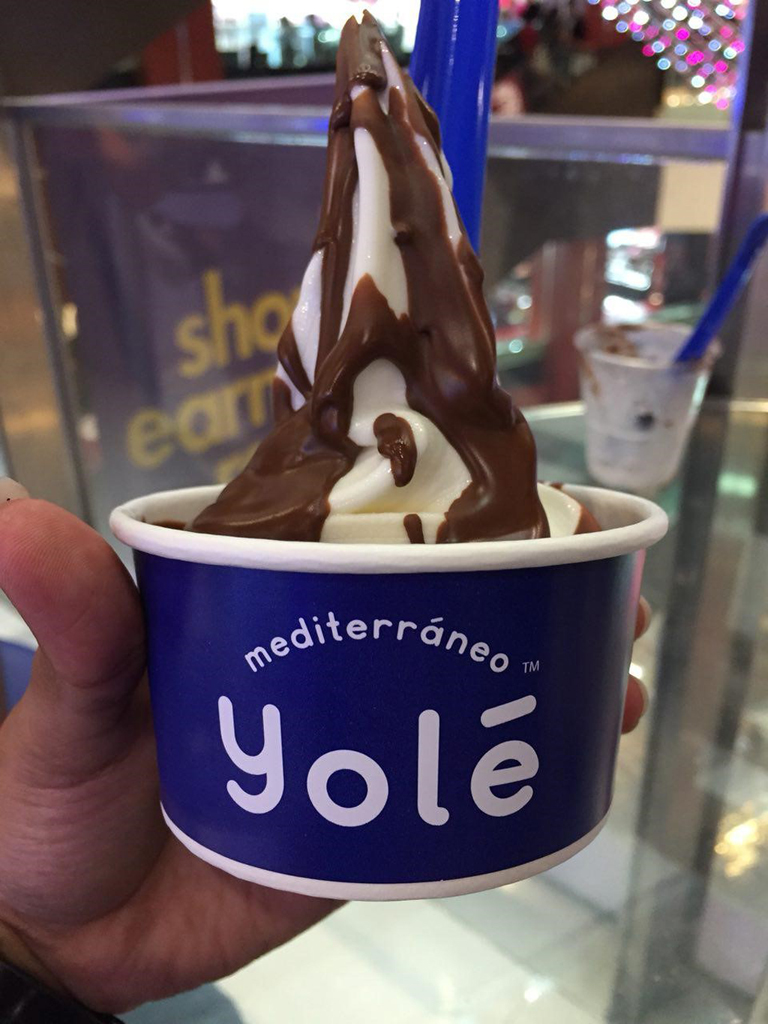 Last month, fans of Llao were shocked by the sudden announcement that all of Spanish frozen yogurt chain outlets in Singapore were closing down. Taking their place were Yole, a froyo chain purportedly from Europe, which promises a wider menu with a range of products that caters to all.
Many Llao Llao fans, including myself, couldn't stop comparing Yole with the brand we're used to.
When Llao Llao was still operating, my usual order would consist of a small-sized froyo coupled with my favourite sunflower seeds or a drizzle of their renowned chocolate sauce to add flavour to the yogurt. I'm stoked to find out that Yole also offers similar toppings like sunflower seeds and a variety of sauces too.
For a start, I ordered two small-sized yogurts and stuck to my usual order – one with chocolate sauce and the other, with sunflower seeds. I wanted to know how my order from newcomer Yole would taste like when compared to veteran Llao Llao.
Pricing
People who scoff at the high prices of froyo would be delighted to know that Yole's cups seem more affordable.
Its basic froyo cups come in four sizes: Baby size (S$2.50), Small (S$4.90 with one topping), Medium (S$5.90 with three toppings) and Large (S$6.90 with three toppings).
Its Ibiza (the equivalent of Llao Llao's Sanum) comes in two sizes: Mini (S$5.50 with one fruit, one crunch and a sauce) and Large (S$6.95 with two fruits, two crunches and a sauce).
Taste
Froyo with Sunflower Sauce: When I had the first bite of my yogurt, I thought it tasted the same – just like any other ordinary froyo. There was no oomph factor in the yogurt and it didn't live up to my expectations. The caramelised sunflower seeds, however, gave an added kick to the flavour. The sweet caramel boosted the mild taste of the sunflower seeds. The sourish taste of the yogurt balances out the sweetness just nice. Overall, it felt sweet (though not too sweet) and milky at the same time.
Froyo with Chocolate Sauce: The staff was generous with the chocolate sauce, which is usually a good thing. In this case, however, the sauce became overwhelming after a few spoonfuls and I tasted more chocolate than the froyo at the end of the day. Too much of a good thing can be bad, as they say and I can't agree more here.
Service
Despite the snaking queue at the Yole outlet in Bugis+, where I sampled the yogurt, the staff was very efficient and served the customers fairly quickly. Plus, she was also generous with the chocolate sauce, which is a good thing for choc lovers.
Overall Rating
Overall, I would rate Yole 7 out of 10 in terms of the quality of the yogurt, the choice of toppings and service. As its menu bears semblance to that of Llao Llao, bereaved fans of the Spanish froyo chain can take comfort in Yole's offerings. But, this is not to say that Yole is the exact replica of Llao Llao. Yole offers various seasonal froyo flavours, not found in Llao Llao, and it also offers unique crunches and sauces such as Filipino white chocolate biscuit and cookie sauce. Coupled with the price factor, Yole seems a viable alternative (and replacement) for Llao Llao as it is slightly more affordable and retains most of your favourite sauces.
Overall Rating:★★★★★★★☆☆☆