For Muhammad Irfan B Jusri, 20, taking part in a mangrove planting activity at the Kingfisher Wetlands at Gardens by the Bay on 5 June 2022 was an eye-opening experience.
Irfan, a third-year student from the Diploma in Business (DBiz) programme at Republic Polytechnic (RP), said: "I have planted plants but this was the first time I helped to pot a mangrove tree. Being able to do my part and plant a mangrove that will help lower the excess carbon emission and overall help with controlling the amount of greenhouse gases in the atmosphere was a meaningful activity."
Irfan was joined by his DBiz cohort mates, Nurin Atiqah Binti Amran, Nazurah Binti Rosli, Yu Yong Jie, Allynna Natasha Bte Azlan and Syarifah Qarynah Dini Bte Hazizi. All of them took a sustainability module last semester.
GREATER COLLABORATION
The mangrove planting activity was a key highlight at the event held in commemoration of Gardens by the Bay's 10th anniversary on World Environment Day. The event also saw the signing of a Memorandum of Understanding (MOU) between Gardens by the Bay and RP, alongside the Institute of Technical Education.
Under this MOU, Gardens by the Bay will collaborate with the two educational institutions to develop professional opportunities for students and teachers in areas such as biodiversity conservation, sustainable development and landscape management.
RP students will be able to take part in mangrove monitoring sessions, which include measuring the height and girth of mangroves to determine their health. Gardens by the Bay will also work with RP's School of Management and Communication to develop digital marketing platforms to promote and cultivate a sustainability mindset among youths.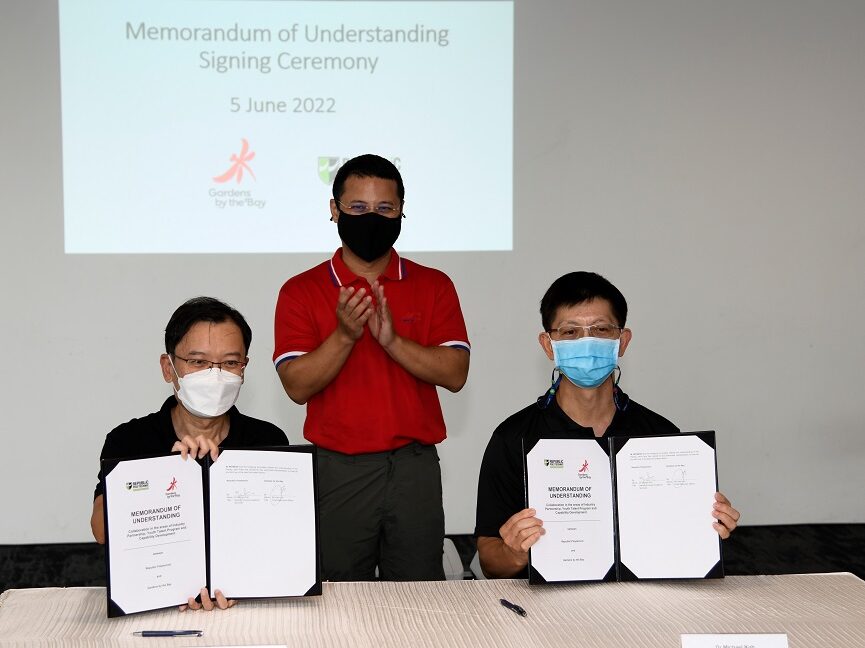 Guest-of-Honour Mr Desmond Lee, who is Minister for National Development and Minister-in-Charge of Social Services Integration, said: "Our ITE and Polytechnic are premier institutions with lots of knowledge and research on horticulture and landscaping and we look forward to that very good partnership between the two institutions and the Gardens, to transfer the knowledge that all our students have learnt, which have been imparted by our lecturers and teachers.
"Students can get involved in horticultural maintenance and long-term monitoring of the mangroves at the Kingfisher Wetlands. So you will monitor what you have just planted this morning," he added.
EVERYONE PLAYS A PART
According to Gardens by the Bay, data is now being collected from mangrove habitats at the Kingfisher Wetlands, a 1.5ha man-made garden that opened in November last year.
If the mangrove habitats capture carbon well, there is potential for mangrove wetlands to be used as a nature-based solution in other areas.
Mr Felix Loh, Chief Executive Officer of Gardens by the Bay, said: "As the world bounces back from the pandemic and looks toward a brighter future, it is more important than ever to bring the community together to focus on sustainable solutions.
"Education is a key platform for us to achieve this aim, by expanding our partnerships and outreach efforts with tertiary institutions. We hope to achieve this objective in two ways: curate interesting ground-up activities leveraging on the rich environment of Gardens by the Bay, and encourage a culture of sustainability among the younger generation."
WONDERFUL WETLANDS
Gardens by the Bay also kick-started its Wonderful Wetlands series of community engagement activities with a talk by Prof Koh Lian Pin, Director of the National University of Singapore's Centre for Nature-based Climate Solutions.
He said: "Climate change is always seen as a struggle between Humans and Nature, but the challenge is more about balancing and reconciling. There will always be tensions when it comes to combating climate change, but the tensions are important and good, as no one succeeds unless everyone succeeds. And this starts by working with nature."
Nurin Atiqah Binti Amran, 21, a third-year Dbiz student, said: "From the mangrove planting session to the sustainability lecture, I was able to meet many different people who felt passionately about the different aspects of sustainability. I believe that youths can definitely play a part in sustainability no matter what we are studying but the first step will be to always research, learn and advocate it to our peers."