Renowned Malaysian singer-songwriter, Yunalis binti Mat Zara'ai, known as YUNA embarked on her journey of pursuing music by uploading her songs to Myspace in 2006 which gathered and net over one million plays over 3 years.
This independent achievement led to her signing with a US label, Fader label, and marked the beginning of her journey as one of the breakout artists who found success beyond her home country Malaysia, serving as an inspiration and role model for many aspiring Malaysian artists.
YUNA's signature genres that she mainly focuses on are Rhythm and blues (R&B) and ballads. This is evident in her discography of eight albums featuring songs in both English and Malay.
Continuing to captivate her audience, she made her second stop in Singapore on Oct 18, 2023 as part of her Asia tour which consists of three countries, which are Tokyo, Singapore and Malaysia. Her performance in Singapore was a real treat for her fans. 
YUNA'S GRAND ENTRANCE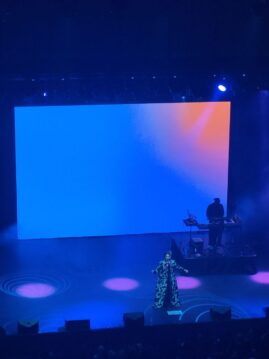 While I was eagerly waiting for YUNA to come on stage, the familiar background music filled the venue. She kicked off her setlist with the mesmerising "Asing", I recall her voice being enchanting and charming as ever.
Listening to YUNA live was an incredible experience. I was in love and speechless. The feeling was surreal and it felt like a dream. I had to pinch myself to be sure I was indeed listening to her live in concert.
Every aspect of her entrance was perfect. From her outfit, walk in, and mannerisms. YUNA exuded charisma on stage and her aura was simply phenomenal. 
Following her grand entrance, YUNA greeted her fans at the venue, creating a wholesome interaction. Her sincere appreciation for her fans was evident in her words and tone.
Furthermore, to keep the fans on the edge of their seats, YUNA playfully teased that she might sing her older songs. This announcement sent the crowd wild in excitement, anticipating what we can expect next.
NOTABLE COLLABORATIONS
YUNA did not miss the chance to include and perform her collaboration songs "Castaway" featuring (ft) Tyler the Creator, "Blank Marquee" ft G Eazy and "Crush" ft Usher.
Starting off strong is the dark yet simple groove, "Castaway" which showcased YUNA's influence in the western industry. Her unique voice harmonised well with the slow rap of Tyler the creator. They are a perfect dynamic who compliments each other's musical tones.
As soon as YUNA's song, "Blank Marquee" melody started, everyone in the crowd was grooving to it.
Her seductive vocals and G Eazy rap verse intertwined seamlessly creating an atmosphere that left the crowd in awe due to how well the song was delivered.
As expected, YUNA's song "Crush" featuring Usher took the spotlight! This song holds a special place in Yuna's career as it left a huge impact in her career.
Garnering 115 million views on YouTube alone, she managed to top the Billboard adult R&B charts, peaking at number 13, making her one of the few South Asian musicians to attain international recognition in the western music scene.
MY PERSONAL FAVOURITES
Within YUNA's setlist, there are two songs that stood out the most for me. They are "Make Believe" and "Fool 4 U" which are both from her latest English album, Y5. 
The performances of these songs really showcased her abilities as an artist and growth as an individual. The performance of both songs highlighted her songwriting and producing skills, emphasising her continuous exploration of her musical talents.
Furthermore, for many fans, including myself, "Lullabies" was an unexpected song for her to perform. I thought her chart-topping hits would dominate the setlist but I was touched that she included this song too.
As a devoted fan since 2015, this song holds a special place in my heart. Experiencing YUNA perform "Lullabies" definitely evoked memories of the times I first discovered her as an artist.
It was such an unforgettable moment that added a personal touch to my concert experience.
Closing the night with an encore performance of "Forevermore, a song she wrote about her heritage and culture. It was a nice finish to her Singapore concert, bringing her journey back to life and reminding us of her struggles and achievements. 
OVERALL VERDICT
While YUNA's concert was short, around an hour and 30 minutes compared to the other concerts I have been to this year, which the longest was four hours, it still has a special place in my heart for her songwriting and beautiful melodies. 
I enjoyed how the crowd was interactive with YUNA and how she gave her 100 percent in all her performances. What made it even more special and personal was the fact that her songs are all written by her, allowing me to witness her sing songs from the beginning of her musical journey. It felt like a well-written story. 
My life has always revolved around music, and the musicians I enjoy listening to, like Yuna, have had a profound influence on me because I find solace in her songs.
Since Yuna is one of the southeast's artists who has successfully displayed tenacity to pursue music despite obstacles, I would consider her to be one of my role models.
I can hardly wait for YUNA to bless us with more songs to come and to include Singapore again for her next tour.