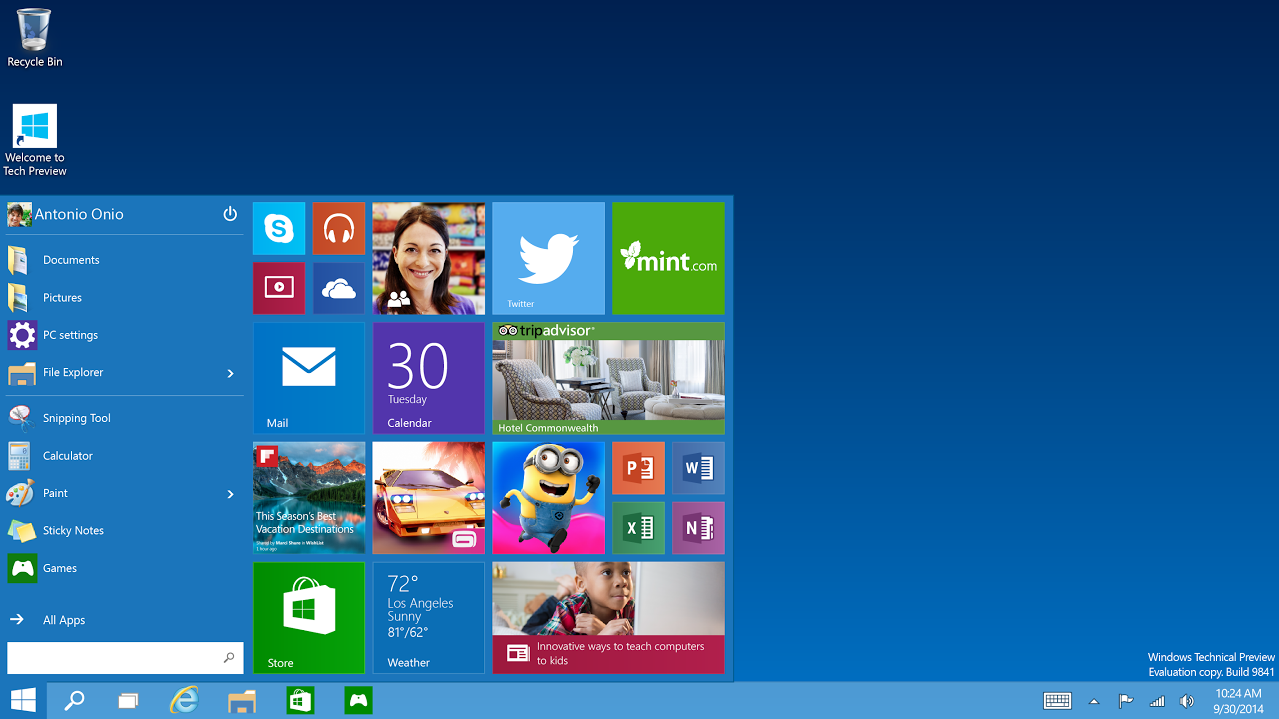 Released on July 29, Microsoft's newest operating system, Windows 10, promises to bring a more unified and faster user experience to the computer. The Republican Post brings you the Top 6 features you can look forward to on Windows 10.
Cortana
Microsoft redefines the personal assistant with a new feature called "Cortana" which is able to learn about you over time. In addition to helping you search in your computer and on the web, Cortana takes notes of the places you frequent and interests you have. Over time, it would give you recommendations such as places to visit. It also has a music recognition service that gives you the title of the song that has been stuck in your head just by humming or singing it through the microphone of your device. When faced with difficult decisions, you can ask it to roll the dice or flip a coin for you virtually and with random results. Cortana stays with you across all your Windows 10 devices that are linked to your Microsoft account including tablets and phones so you won't have to depend on just one device for your meeting or other reminders.
Start menu
Back by popular demand, the start menu returns to the Windows operating system after its absence in Windows 8, which featured the start screen (tiles menu). In this new iteration however, the tiles interface is fused into the start menu and can be maximized to the whole screen just like in Windows 8.
Edge browser
The new default browser, Microsoft Edge, is deemed to be faster and more efficient. It features a reading mode, which converts any website into a scroll panel which makes it easy to read by providing a stripped-down format that removes ads and distracting banners. It also has a Web Note function that allows you to add comments or highlight words on the webpage and then save the note or share it with other users. Users of the Internet Explorer browser need not fret as it can still be found in Windows 10 for compatibility reasons.
Multi desktop
You can now have several virtual desktops on the same computer. Though this isn't new as it has been around for Linux users for some time now, it is something that Windows users will rejoice as they can now organise their work and personal content separately. To those who might feel a little confined to separate screens, the good news is that Windows 10 allows to you move apps in between desktops so you are always free to shift things around.
Xbox on your PC
One of the biggest features for PC gamers is the Xbox app. Now, Windows 10 users can create a gamertag (Xbox Live account) and connect with their friends who are on the Xbox One. With the upcoming release of titles like Fable Legends later this year, both PC and Xbox One can look forward to playing together, making cross-platform gaming possible for the first time for players. If you have an Xbox One console, another feature you could look forward to is live game streaming, which allows you to bypass the TV set. So if your mum is watching her Korean drama on TV, you could just connect your Windows 10 laptop to the same Wi-Fi network as your console and you're back to saving Gotham City.
Windows Hello
On the security front, in Windows 10, you no longer have to type in your long passwords with Windows Hello. All you need are your eyes, face and fingerprint. This new feature allows you to unlock your device if it has a fingerprint reader, illuminated IR sensor or other biometric sensors combining the best of both hardware and software.
You can get all these cool features and more for free right now if your device is currently running on Windows 7 or Windows 8/8.1 (Home & Pro). However if you don't qualify for the free upgrade, you can pick your copy up from the Microsoft Store Online at S$229 for Windows 10 Home and S$399 for Windows 10 Pro.