Catching stars and learning more about the mysteries of our galaxy – these are just some of the activities that the RP's Astronomy Interest Group conducts for its members.
Over the past few years, the Astronomy IG has hosted events to watch the Lyrids meteor shower every April, as well as other meteor showers. In December, last year, over 50 students caught the Geminids meteor shower.
"The most recent Geminids Meteor Shower was a huge success because the sky quality was in our favour," said Consumer Behaviour and Research student Soh Joe Hui.
The 19-year-old added: "We saw a huge and bright shooting star passing by the constellation of Geminids within a split second that night."
Suryaprakesh Subramaniam also recounted an event held by the IG to catch the lunar eclipse in 2018. "They taught us about the different stages of the lunar eclipse and what colour the moon would be at each stage," said the second-year Mass Communication Student. "We also used the app Starchart to see where the constellations were in the sky."
Beyond just stargazing, the events held by the Astronomy IG also offer activities for participants to learn more about the meteor showers and astronomy in general. At last year's Lyrids meteor shower event, Starbucks vouchers were given to participants.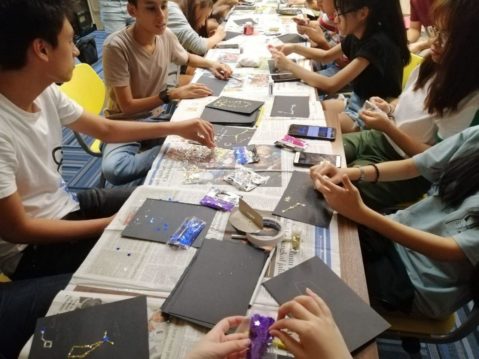 The IG conducts sessions for its members every Friday and Saturday evenings from 7:30pm to 9:30pm at Woodlands Galaxy Community Club. At these sessions, members learn more about astronomy and get a hands-on experience with handling technical equipment, like a telescope. The IG also gathers and bonds with other astronomy clubs from different polytechnics through its events and sessions.
Joe Hui said the sessions have been educational. "I learned that not all the stars you see in the night sky are stars because some of them are planets. I also learned that we can see Jupiter and Venus with our naked eyes," she said.