Thor is the demi-god that I've been in love with since I was a kid. This god from another realm that wields a giant hammer and wears a giant red cape is back with Thor: The Dark World, the sequel to 2011's Thor.  This movie is not much of a continuation from the first movie, but The Avengers. Loki (Tom Hiddleston) now sits in the dungeons of Asgard for threatening Earth by bringing his fleet of monster-machines in The Avengers as he sought to conquer both Asgard and Earth. In Thor: The Dark World, he faces a new and stronger enemy – The Dark Elves, who are  trying to send the universe into darkness by using a very powerful weapon known as the Aether.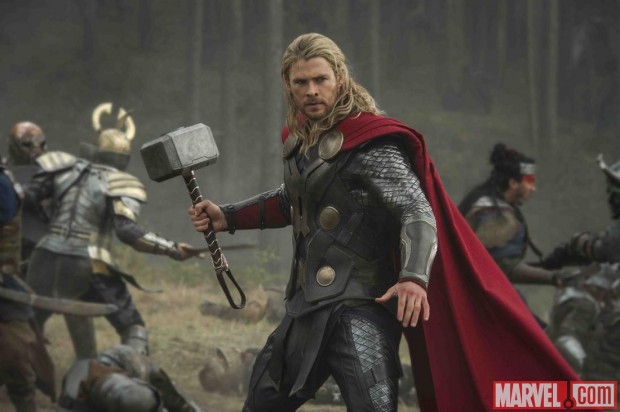 The sequel shows Thor, once again played by Australian actor Chris Hemsworth, combating this new enemy force that threatens not only Asgard and Earth, but all the Nine Realms. But Thor's struggles go beyond that. His relationship with Jane Foster (Natalie Portman), an American astrophysicist whom Thor falls deeply in love with, has suffered after years of distance. He is still conflicted over his brother, Loki played by Tom Hiddleston and the worst of all is Malekith, leader of the Dark Elves played by Christopher Eccleston is awakened for revenge on Asgard and claiming the Nine Realms into total darkness.
Malekith awakens as Foster discovers the Aether, a mercurial airborne elixir which infuses its master with untold power.
However, be ready for a little humour in Thor: The Dark World as Foster's intern and sarcastic sidekick Darcy Lewis (Kat Dennings) adds a bit of comic relief when stuff in the movie is getting intense. In an interview with Zap2it, Dennings said: "This movie in particular has a lot of emotional darkness and a lot of heavy things happening, so Darcy is very important to bring a lightness to it."
Back to the struggle about the complicated relationship between the blood brothers Thor and Loki, I thought it was heartwarming to see the both of them working together to defeat the Aether and Loki having his revenge on Malekith for killing their mother. Whether or not he has an ulterior motive besides revenge, we will soon find out in the next Thor movie.
Thor: The Dark World is not to be missed. It shows a whole new enemy force and a bigger threat with added comedy despite the absence of Iron Man (Robert Downey Jr). We all know he's in charge of the humour in Marvel.
[poll id="6″]