Back in February 2017, Kylie Boo was about to enter the operating theatre for a major surgery. Filled with doubts and emotions, the then Diploma in Arts and Theatre Management (DATM) student wondered if she would get to see the sunlight or flowers ever again.
ast forward to 2020, and Kylie has not only survived her heart surgery, but also created a series of paintings to create awareness of her rare disease and inspire others in similar shoes. These 15 drawings and paintings will be featured in an online exhibition called Beating, We Are Purple Humans, which runs until July 31.
Kylie, 23, was diagnosed with Congenital Heart Defect (CHD) since birth. CHD is a type of birth defect, affecting the structure of the heart and the way that it works. Growing up for Kylie was not the easiest, as ostracism from her peers became a norm to her. Due to her condition, she had difficulty taking part in physical activities and was often made fun of by her peers. If her peers had to walk up the stairs, it meant that Kylie would be taking the lift instead. To deal with her emotions, she decided to express them through the medium of art. "Art is my voice. It is my way of speech," said Kylie.
In 2010, she created her first mural art when she was just 13 years old. She and her secondary schoolmates won a mural art competition with their creation, which was also published in Chinese-language daily newspaper Lianhe Zaobao.
She then decided to pursue her studies in DATM as she wanted to learn how to manage before learning how to draw. "I've always thought that art is my interest and I think management is more on how I should learn to be an artist," she explained.
However, her studies were often interrupted due to her poor health and she had to take a break from her diploma course for a total of three semesters to undergo an 18-hour surgery. "My operation was delayed over and over again as my case was never an emergency," Kylie explained.
During her 30-day stay at the hospital, she was inspired to come up with a painting called Guardian.
"Guardian speaks a thousand words to me as I realized that there were many people by my side, cheering me on and standing by me during my stay at the hospital," she said. "I placed too much emotions on the surgery and let it get the better of me, but they made me feel loved and cared for. The care and love that I received from them is something that I will never forget."
In June 2019, she set up a booth selling merchandise to raise funds for Beating, We Are Purple Humans. The merchandise included T-shirts, draw string bags, tote bags, prints as well as stickers, all hand-drawn and designed by Kylie herself.
A year later, she has made her dream of holding an exhibition come true, but the journey had more bumps in the road. Her challenges included experiencing the equivalent of a writer's block, but Kylie found the will to counter them.
"I'll be persistent in trying and trying and but even after I try and I still fail, I will change what I had in mind to something else if I am not able to get the feel I want. This is how I overcome my challenges," she said.
For her maiden exhibition, Kylie, who has been offered a place at Nanyang Academy of Fine Arts, presents a walkthrough of the feelings and struggles that heart patients like herself face on a daily basis. They only hope for one thing – to have a normal heart. In creating her works to express this hope, Kylie used a mixture of acrylics and water colors.
"I tend to use acrylics a lot, as it dries easier compared to oil-based paintings. Watercolors are also something that I like a lot as the colors tend to stand out better," Kylie said.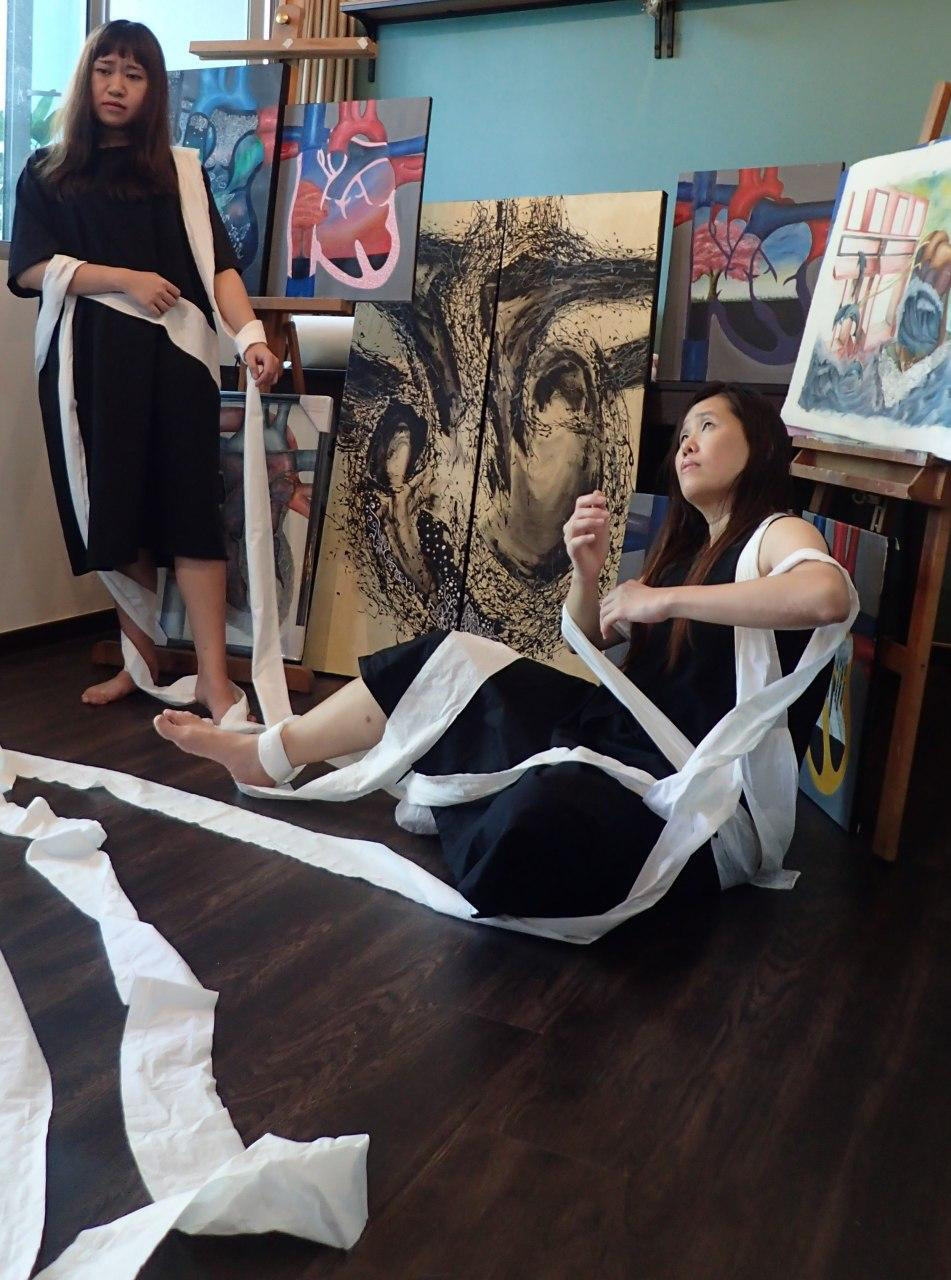 One person who is excited about Kylie's exhibition is Ms Azizah Zakaria, Kylie's mentor when she was a DATM student.
"I am so proud of Kylie that this exhibition is finally a reality after three years of her envisioning it, and raising funds to make it happen. She has always loved art and I cannot be happier to see how she has leveraged her passion and skills for a worthwhile cause," said Ms Azizah, who is also the Programme Chair of DATM. "This series of works is not only about celebrating Kylie's 'new lease of life' but also the plight of many others like her who suffered or are still suffering from congenital heart diseases."
Beating, We Are Purple Humans is now on until the end of the month. Access to the exhibition is free. To view it, click here: https://purplehumans.peatix.com/?lang-en-sg.
From Heart to Hearts for Hearts, an interdisciplinary project helmed by part-time RP lecturer Beverly Yuen in conjunction with Kylie's exhibition, will start on July 29 and run until August 10. Ms Yuen, who is also the artistic director of Grain Performance and Research Lab, will perform movements and songs to Kylie's 15 artworks. Register here to receive a link to the online performance.