Haji Lane is the go-to weekend hangout spot for everyone, including families, couples, friends, and singles, and there's a good reason why this is so.
You will never run out of things to see when you are there.
And with the Sultan Mosque being a national monument, the Haji Lane precinct is rich in traditional Malay heritage.
Do check out the beautiful graffiti on the walls, some of them hidden in the least unexpected corners at Haji Lane.
The Republican Post team took a walk down Haji Lane and discovered affordable eats you can get for $20 or less.
Chix Hot Chicken
In case you haven't heard, Chix Hot Chicken is owned by Taufik Batisah, winner of the first season of Singapore Idol.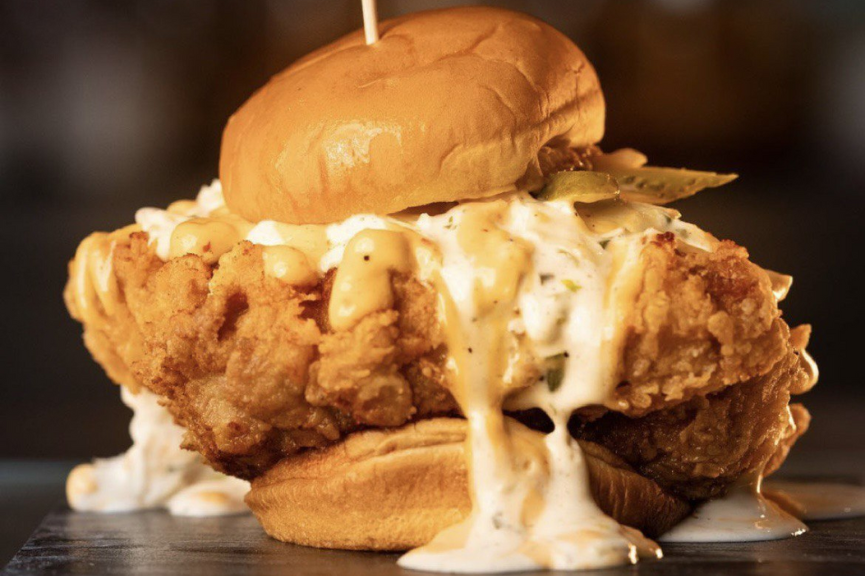 The restaurant prides itself as Singapore's first Nashville Hot Chicken spot. So you're not getting just fried chicken here, but fried chicken coated with their secret dry rub recipe using a dozen spices and herbs, giving Nashville-style chickens a major kick to them. But not to worry, you can also choose a spice level that you're comfortable with–mild, medium, hot, insane, and atomic.
If you'd like something filling, you can opt for Bacon & Eggs ($11.90) or the Buffalo ($9.90) from their Hot Chicken Sandwiches menu. Pair these with their crispy Fries ($3.90) and Coke ($2.90) to tone down the spiciness of the hot chicken that you're bound to salivate over.
IG: @chixhotchicken
Website: Chix Hot Chicken
Address: 1 Jln Pisang, #01-01, Singapore 199069
Opening hours: 12p.m. – 9p.m.
The Halal Corner
You may have seen their videos on your TikTok page. Known for its Western fusion food, this establishment has two outlets, which are located at Haji Lane and Bedok.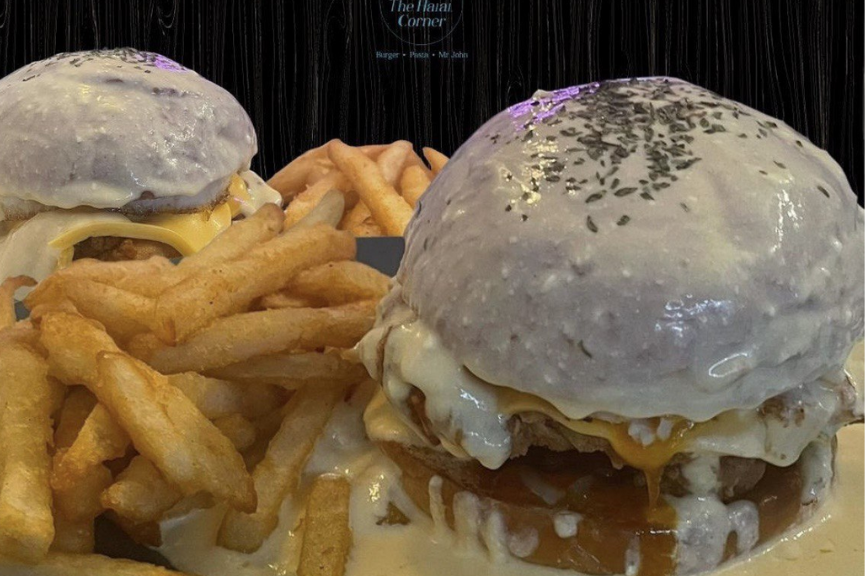 When we were there, we tried the Chicken-ator burger ($14.90). The chicken cutlet was a mouthful because of the large size of the cutlet. On the plus side, you'll definitely get your money's worth here. Although a little dry, the flavourful meat made up for the excellent tasting experience. Since it was raining that day, we also paired our meal with Peppermint tea ($4). However, you can also opt for their cold drinks such as Sprite and Ice Lemon Tea, which are priced at $2.90 each.
Disclaimer: The menu at their Haji Lane outlet is not as extensive as their full-fledged outlet in Bedok.
IG: @thehalalcornersg
Website: The Halal Corner
Address: 63 Haji Lane, Singapore 189256
Opening hours: Opens daily, 1130a.m. to 10p.m.
Rumi The Poets Cup
If you're ever in need of a drink during your strolls, check out Rumi the Poets Cup tucked within the corridors of Haji Lane.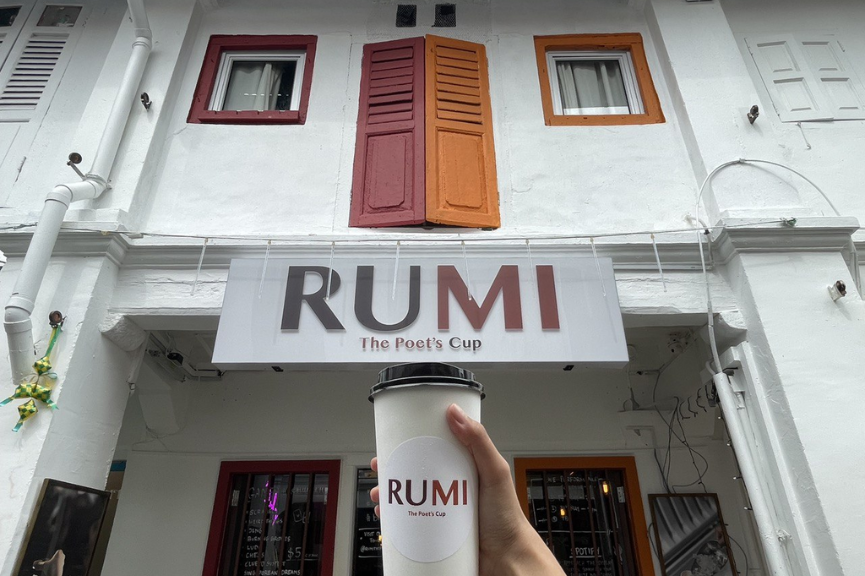 As they are artisanal, prices are a little higher than what you would usually pay at a regular drinks stall. If you're new to Rumi, we recommend you try the Caramel Cream ($8) or the Hazel Malt ($7). They're cold, sweet, and creamy–perfect to quench your thirst. If you are looking for a dessert to eat, you can opt for their Art of Mason waffles ($12).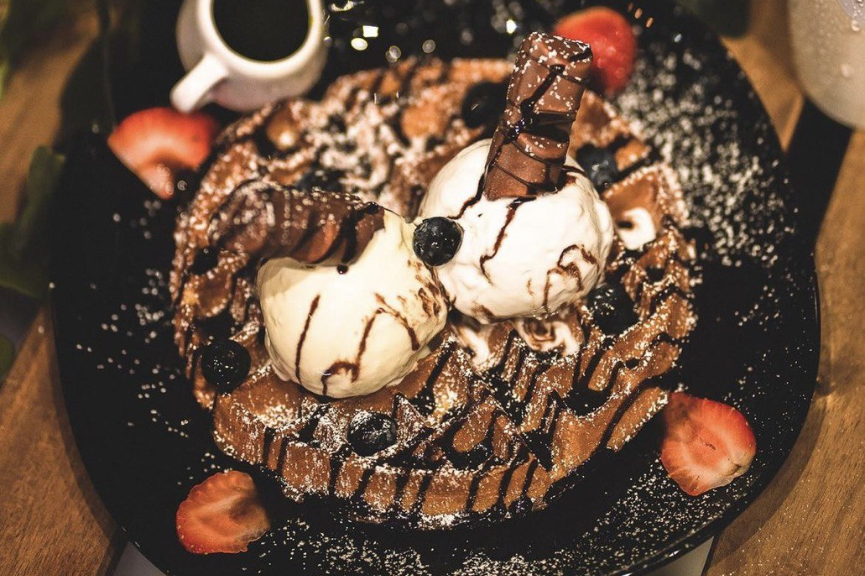 Tip: Check out their Instagram page as they hold themed nights for you to hang out and bring your friends over.
IG: @rumithepoetscup
Address: 64 Haji Lane, Singapore 199437
Opening hours: 2p.m -11p.m (Weekdays)
1p.m. – 12a.m. (Fridays and Saturdays)
1p.m. – 11p.m. (Sundays)
Konditori Artisan Bakes
Another artisanal option for you to try is Konditori by Fika Swedish Cafe and Bistro, located along 33 Bussorah Street. You can definitely spot the establishment with its gorgeous teal and gold hut exterior.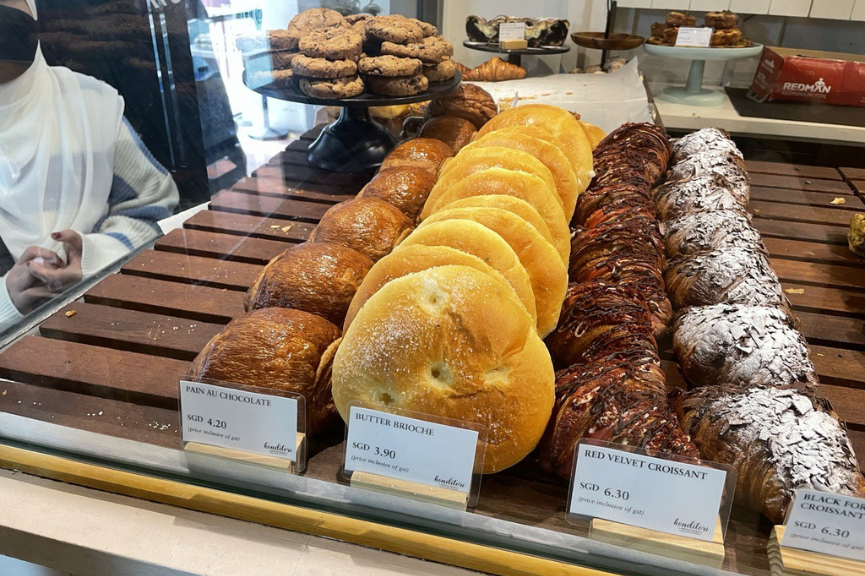 There was a long queue that extended even outside the store. Thankfully, It was a moving queue, and we ended up having only to wait for approximately 5 minutes. As you step into the bakery, the aroma of freshly-baked goods and pastry greet you.
Known for its croissants, Konditori also sells cakes, pastries, and bread to choose from. There was the Butter Brioche ($3.90), Red Velvet Croissant ($6.30), and the classic Pain Au Chocolate ($4.30). The stacks of pastries are neatly arranged behind the glass panel, making it a smooth buying experience as you'd simply have to point to the bake of your choice.
They are also available online where you can make an order 3 days in advance if you'd like your bake delivered to your doorstep.
IG: @konditorisg
Website: Konditori SG
Address: 33 and 34 Bussorah St, Singapore 199451
Opening hours: 10a.m. -7.30p.m. daily (or till sold-out)
Ichikokudo Hokkaido Ramen
Here's a bonus if you're willing to splurge a little more. Located right in front of the Sultan Mosque, Ichikokudo Hokkaido Ramen serves Japanese dishes. The unique thing about eating at this outlet is that you can get a good view of Haji Lane, including the iconic Sultan Mosque, from the tables at Level 2.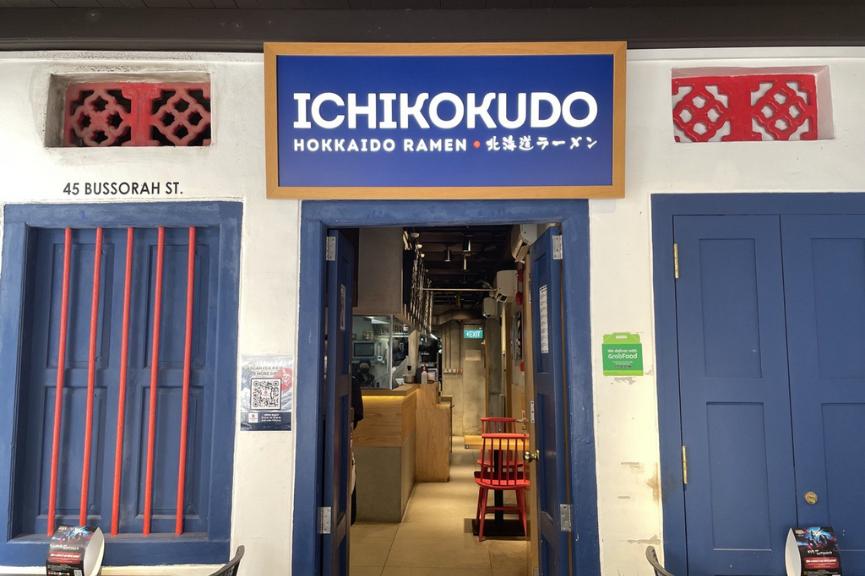 Currently, they offer an affordable Weekday Lunch Value Set ($10.90) from 11 am to 3 pm. You can choose one of its three main courses–ICHI-Lunch Ramen, HOKKAI-Lunch Ramen, or the Lunch Japanese Beef Yakiniku Don. The set will also include a two-piece Karaage and a cup of Green Tea.
IG: @ichikokudosg
Website: Ichikokudo Hokkaido Ramen
Address: 45 Bussorah Street, Singapore 199463
Opening hours: 11a.m. – 10p.m.