Performing art for Ong Shi Han was more than just entertainment. It was a medium for addressing social issues and spreading awareness.
With the help of the different event opportunities that were given to her, Ong Shi Han, a graduate of the School of Technology and Arts (STA), has become someone very familiar to the arts scene in Singapore.
The 19-year-old first started volunteering for The Singapore Heritage Festival (SHF) in April 2017 as a festival host. Although her nerves got the better of her at first, she described her experience as a meaningful one as she had friends and seniors by her side.
In a span of three years, Shi Han has dedicated most of her free time towards volunteering for almost 20 events. Still, she feels that her volunteering experience for multi-sensory projects such as Riley's Rain and Toby's Journey, are the ultimate winners of her heart. She also believes that the arts and theatre sector is to provide entertainment, impart knowledge and generate discussions. "These experiences have helped to deepen my knowledge in the arts world because I was able to see how the people in the industry work together to bring different art forms to the general public. It has also made me realise how many people were involved in a single event and how it all came together with the cooperation of everyone," commented Shi Han.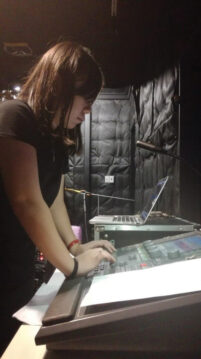 Although Shi Han enjoys volunteering at various events, she claims that it is not all glitz and glamour. She has encountered several challenges throughout her volunteering experiences. One of the challenges include crowd control especially where a large number of people would not adhere to the event rules. However, "I overcame these challenges by kindly informing them that what they were doing was prohibited. Most people would generally comply. However, for the few individuals who did not cooperate, I would let the manager-in-charge take over the situation," Shi Han added.
As a volunteer, she also learnt that art can help to foster change in society by bringing light to the issues with little or less awareness, as well as expand Singapore's art scene. Issues that deserve to garner more awareness include bullying in general, cyber-bullying, sexual harassment, and racial stereotyping. She felt that through the sharing of the audience or those involved in the production, greater awareness of such social issues could be raised. Arts can be deemed a good medium to address such societal issues as people tend to be more vocal and open to addressing those issues, at the same time empowered to take actions.
"Using art as a form to address ongoing social issues from a third-party perspective is effective. When the public views it from another point of view, it is easier for them to look at the problem in a logical and rational manner, and discuss it without any biased opinions. By addressing these issues through various art forms such as theatre, it encourages discussion and debate amongst family and friends, and even provokes a desire to take action in helping to spread the awareness," said Shi Han.
All of Shi Han's experiences have helped to shape her into the person she is today. This is why she hopes to see more art being used to address such ongoing social issues to help raise and spread awareness in Singapore.