When Elizabeth Neo enrolled in an engineering course in Republic Polytechnic (RP), she felt an overwhelming sense of loss and doubt. All she could think about was that she was another step away from pursuing her dream to be in the field of communications.
"I'd always struggle with Math and Science as those subjects were really challenging for me. I knew that I wanted to write as I have always enjoyed communications and writing," CNA's Asia Tonight presenter said as she recalled her journey as an RP student.
Things took a 180-degree turn for her the moment she received a phone call from Dennis Yim, who was RP's then programme chair of the Diploma in Mass Communication (DMC).
"I noticed that you put Mass Communication for all of your choices, so clearly you want to do a communications course. Do you know RP has a mass communication course?"
Those were Mr Yim's exact words, she said. And that set her off on her dream journey.
LIFE IN RP DMC
As a student who was "a little bit of a nerd", Elizabeth described her RP DMC journey as one that was generally smooth since she enjoyed her time on campus, knowing that she was surrounded by supportive friends and lecturers.
She also placed great importance on submitting quality work and showing up for every lesson on time, since she lived about an hour away from RP's campus.
"I just wanted to make my time in school count, especially since I had to travel so far. I had to see the results. If not it would not justify the amount of effort I put into getting to school."
To add on to her fulfilling experience as an RP student, Elizabeth seized the opportunity to write for The Republican Post's music column as well as other events that took place on campus.
She was also given a few writing opportunities as a contributing writer for a parenting magazine recommended by her lecturer. Those efforts went a long way in boosting her portfolio and gaining writing exposure.
To fuel her undying love for broadcast and writing, Elizabeth pursued a double major degree in Journalism and Public Relations (PR) at Murdoch University.
MOVE TO CNA
Elizabeth first started at CNA as a reporter and covered local news and became a familiar face on television. She covered major events and breaking news for broadcast while also writing for CNA digital news. But she had always aspired to be a presenter.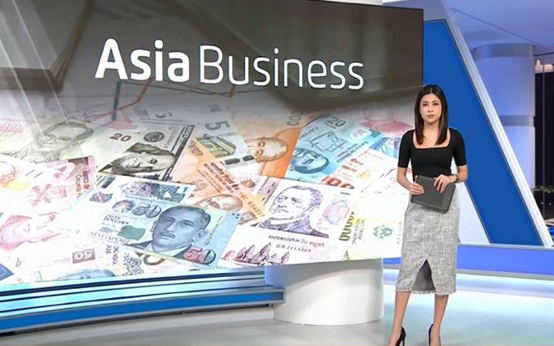 "My dream to be a presenter was sort of like a five to ten-year goal down the road. That just happened sooner than expected," said Elizabeth.
Although she enjoyed the lights, camera and action, she acknowledged that being a presenter was not all glitz and glamour.
She said that the biggest challenge that she faced as a presenter would be to tell the story.
"It is basically what I have to do on a daily basis, but it can also be very difficult because you want to do justice to the story by making sure that it is told fairly and accurately. Sometimes, you might not get the interviews and information that you need," she explained.
Elizabeth revealed that "there are many layers to stories" and that she struggled with finding the right people who were willing to talk to her. On top of these challenges, rejection was also something that she constantly faced.
To deal with those struggles, she brought out her "inner salesperson" and "put her people skills into use" in order to convince her newsmakers for an interview or to get the information that she needed.
However, if all else failed after trying several times to convince and persuade her desired newsmakers, she mentioned that she would propose other story angles.
Still, this has not stopped her from pursuing her goal of telling the story in the most truthful way.
When asked if she had any advice for aspiring RP journalists, she mentioned that it is always important to be aware of world affairs and to think critically or out-of-the-box.
"There will be days where it'll get tough and you'll feel really sick of your job, but you have to ask yourself if this is what you want. If it is, then you need to come back to it.
"There will always be terrible days but when you see your work go out, you'll feel that sense of satisfaction knowing that your stories can bring about change. I think that is one way to keep your passion alive for the job," said Elizabeth.