Meet 20-year-old David Eung Hao, a third-year Business student in Republic Polytechnic (RP).
If you had caught a glimpse of him walking around on campus, with an unassuming plain red hoodie and shorts, you wouldn't have thought twice about him, and definitely wouldn't have known that this same guy had once graced the runway floor in the middle of Vattanac Capital Mall – one of Cambodia's biggest malls – draped in Balenciaga.
He has also amassed 73,000 followers on Instagram and more than 100,000 followers on Tiktok.
A THRIVING CAREER
David, who was born in Cambodia but is currently living in Singapore, has been modelling for four years, doing shoots for companies such as The Authority, a clothing retailer which was located in Orchard Gateway back in 2018. However, his rise to fame really started only when Covid hit.
During that time, David was back in Cambodia and he decided to create opportunities with his seemingly more free time due to Home-Based Learning (HBL). He has since collaborated with brands such as Pedroi, Puma, Menza, Ten11, as well as Telecommunication companies.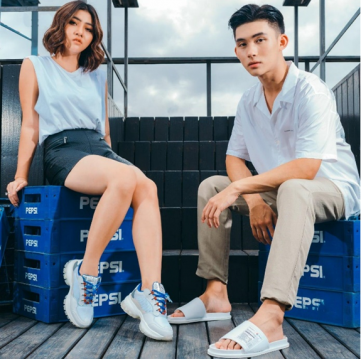 In August this year, David decided to take his dreams further by pursuing a career in acting, thus signing with TCP Artistes, a local media agency that manages local artists such as Xenia Tan (formerly managed by TheSmartLocal) and Shawn Thia.
TCP Artistes has also given him the opportunity to star in Viu's latest series, 心动100秒, which is set to start filming in September.
David is not exactly new to the world of acting either, putting aside the series of commercials that he has done in the past, David has also starred in a local sensational short film in 2018, known as "Summerdaze", a film that tackles a heavy and controversial topic here in our tiny island, on LGBTQ+.
With the film receiving over 400,000 views on Facebook in the same week it was published, it is safe to say that David has already started his acting career with a bang.
HIS STRUGGLES
Despite his current successes, by no means has this been a smooth road for him.
Being a student while doing acting and modeling on the side, he still prioritises his studies and does not allow his career to affect his school life. "With whatever work I get, I don't let it affect my school life and so I try to request for shoots to be on weekends or days after school," said David.
With the HBL system implemented in RP, this allows him to sometimes be on set while listening to class as well.
David Eung (Left) and his co-star Alfred Sng on Jeju Island, where "Summerdaze" was filmed at. (Photo: Facebook@WeAreOneHED)
Where does he get his drive and motivation to finish his diploma? Well, this answer lies in two words — self-fulfillment.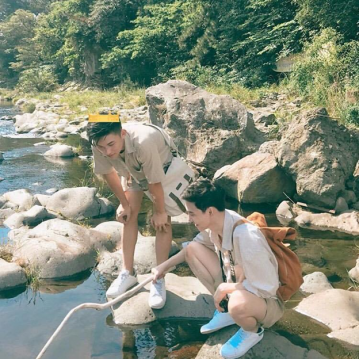 "At the end of the day, I want to be known as someone who has a diploma, and be able to attend uni, after poly," he said. "My parents and the rest of my family are in Cambodia, and they have spent so much money to send me here for studies, and as I'm not Singaporean, it's even more expensive so I want to make the best of it."
RECEIVING A HELPING HAND
Spending his last three years in RP, David has had his fair share of ups and downs as a student, especially with the additional stress and pressure that comes from juggling his work. However, he credits his mentors and his school head as a factor for his success with balancing both studies and career.
"They would always try to understand where the students are coming from," he said. "If I can quote Miss Amanda from SMC, she was super kind and nice to me. When I was stuck in Cambodia for that year, she made sure that I didn't miss out on anything and keep up with school. Despite being the school head and needing to take care of so many students, she would still watch out for me.
David advised students who wish to pursue an acting career to
"Always be confident and have this mindset that if you don't try, you will never know what you can achieve," he concluded.