With 70,000 followers and 3 million likes on social media platform TikTok, Dewy Choo is no ordinary content producer. On TikTok, she is best known for her abducted-by-aliens TikToks and being Vin Diesel's girlfriend. She can be a joker one moment; and in the next moment go into an all-serious mode giving comments on why she thinks Singaporean men are unsexy.
But mostly, she is entertaining.
Dewy, whose real name is Choo Wen Xuan, is a final-year diploma in Arts & Theatre Management at the School of Technology and the Arts (STA) in Republic Polytechnic (RP).
In spite of her fame, she has no airs at all. During the interview — which was conducted on MS Teams — Dewy was dressed in a crop top; her hair looked perfect with not a strand out of place. She was candid, bold, and accommodating.
To my surprise, she sounded exactly like her TikTok videos. The random switch to a weird accent and intentionally emphasising certain words was not an act. She did look like she just got home and attended the interview, or she got ready for it because she looked presentable and ready for a night out.
She answered all the Reporter's questions like a pro. When she was unsure, she took a pause before responding.
She let on that now when she walks around campus, people do take a second look, but no one has walked up to her for a picture or a conversation. "I'm more self-conscious now that people recognise me," she said, before laughing it off, revealing a set of braces that TikTok has to play a part in.
She explained: "I used to get comments that my teeth looked like a rollercoaster, which is quite funny. I have been thinking of getting my teeth straightened for the longest time, and finally TikTok gave me the push to get it done so that I look better on screen."
HOW IT ALL STARTED
Dewy created her first TikTok video on Feb 24, 2020. The content was a point-of-view video of how she would flirt with her crush. Subsequently, she made TikToks when she was out drinking, which made her gain a small following. She realised that she was a natural and she had good ideas.
Her big break came in December 2020 when she did a controversial video on how Singaporean men can be more attractive. In the video she said that Singaporean men should dress better, like not wearing slippers to town and have a better fashion style in order to "get more girls". Dewy said the idea was a spur of the moment — she had time to spare before heading out, so why not make a video?
That post propelled her to TikTok fame as the video went viral in 24 hours. There were many followers who agreed with her. But, there were as many haters who lambasted her online. Who was she to make such sweeping, and some say, harsh comments on Singaporean men?
At that moment, the thought of giving up (on TikTok) crossed her mind.
Dewy said: "When I started on social media, I was already getting a lot of hate. I was thinking if I should continue but since you can't please everyone and I'm already getting hate, what do I have to lose if I continue doing what I do?"
Ironically, that viral post triggered an exponential growth in her follower base. Over time, audiences grew to love her for she is really funny.
TikTok is more than a social media platform for her. To Dewy, TikTok was her coping mechanism when she was at her lowest, going through a rough time in her life. Whenever she felt sad, she would whip out her phone and film a TikTok. It was her escape from reality.
Dewy's TikTok content is inspired by her life experiences and she keeps her TikTok true to herself. Many will think that the Dewy on TikTok is a persona, but in fact, she does talk like how she does on TikTok. She said that she will not post a TikTok just for the views and will only do one if she has an idea.
That said, it is no mean feat to keep up the pace of coming up with new content all the time.
She first felt the pressure when she started getting 10,000 views a day and when some videos did not get as many views and likes, she felt like she was "falling behind" as there were new TikTokers whose content are growing at a faster rate than hers. However, Dewy stayed true to herself, not letting the pressure get to her in creating content.
"I realised that the main reason why I started TikTok was because it is my space and I shouldn't compare myself to others. It's my own race, my own journey and at the end of the day, I'm doing it to make myself happy," she said.
FINDING HER VOICE THROUGH ACTING
Aside from Dewy's enticing content on TikTok, she is also a two-time nominee and recipient of the 7th National Youth Film Award for Best Actress in the film Girls, directed by Tamara Tan for a Ngee Ann Polytechnic (NP) Final Year Project (FYP).
When Dewy first received the award, she was astonished as she didn't think that her acting was on par with all the other nominees. She questioned herself if she truly deserved the award. "At the back of my mind, I was like," Do I really deserve this?". I compared myself to the other nominees and I don't think I have as much experience in acting as them, and I just kept thinking if I deserved the award," she said.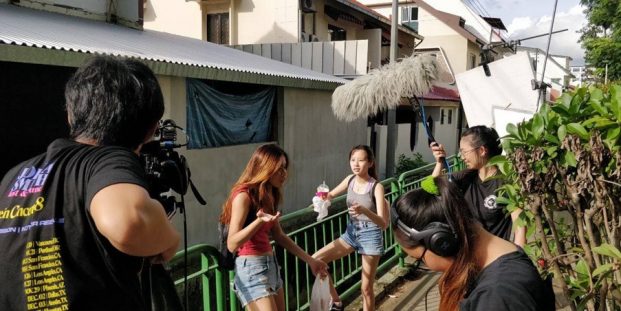 Dewy started acting when she was still a freshman in RP. With no prior experience in acting, Dewy went for auditions nonetheless because she discovered her newfound new interest in acting. After countless rejections, she landed the main character in Girls which was her first time acting on screen as the main character.
Getting the lead role and winning the award reaffirmed Dewy's passion in acting. "When I was holding the award I was telling myself 'I knew I can, I knew it' and I did," Dewy said while raising her arm up as if she was holding the award.
However, Dewy is still unsure if she would pursue acting in the future. She mentioned that she would "want to do something business-related" in the future but if there's a chance to star in a blockbuster movie, she would take it.
Apart from acting, Dewy is also a singer who released her own originals on Spotify. Using songwriting as an avenue to express her emotions, she released Lovers For Tonight, which was streamed over 2,000 times.
When talking to Dewy about her background in singing, it was surprising to know that she was insecure about her singing. After all, she's a hit on TikTok and not afraid of being brutally honest.
"I was bullied in primary and secondary school for singing because I was bad. I was very bad, I couldn't find a tune," Dewy said in her signature accent, emphasising the word "bad". She thought about her songs on Spotify and said that she did not like it. She feels like she has not found her voice when it comes to singing and if she were to continue singing, she would need a producer and vocal coach to guide her.
WHERE SHE BELONGS IN RP
Despite the initial reluctance, Dewy (far left) grew to love RP and her course. (PHOTO: Dewy Choo)
With an interest in performing arts from a young age, Dewy had no idea how she ended up in RP as it was her last choice. However, after entering RP, she felt that this was where she belonged.
"When I entered RP, I knew this is where I belong. I thought I was doomed, but when I actually studied and familiarised myself with the system and saw how it shaped the students to the people they are now, I really liked it," exclaimed Dewy.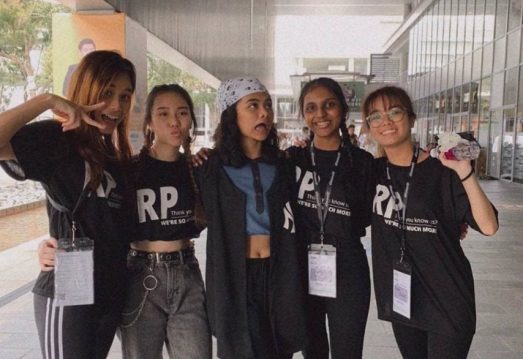 However, her peers judged her too fast. Dewy said that due to her loud and humorous personality, she often gets stereotyped as someone who does not help with teamwork and assignment. She proved her peers wrong by studying hard and got inducted into the Director's Roll of Honour for three consecutive semesters in 2019 and 2020.
Dewy is one who works hard and plays harder.
A LOST CHILD NO MORE
Dewy was borned in Sarawak, Malaysia and raised on the sunny island of Singapore. She was an adoptee of her family, and despite the status, she never thought that being adopted is bad and is ever grateful to be adopted.
Growing up Dewy was a rebellious child. She would run away from home; she got into fights; and had no interest in studying. Her rebellion was due to her family where they (her family and her) would argue which compelled her to run away from home.
She eventually grew out of her rebellion when she started to understand her family. "My relationship with my family got better as I grew up and got more mature because I can understand where they are coming from when they do certain things," said Dewy.
However, during times where she was having problems with her family and relationship, she turned to social media to distract herself. This was when she realised that social media was a haven she turned to when she needed an escape from reality.
When asked how she would deal with her social media noises, Dewy said she did not need to as "TikTok was keeping [her] sane the whole time". Growing up with relationships problems, Dewy learned that social media was a great avenue to slip into, which eventually started her love for content creation.