When you think of beauty pageants and pretty slim girls, you definitely wouldn't think of Debby Ryan carrying a weapon coated in blood.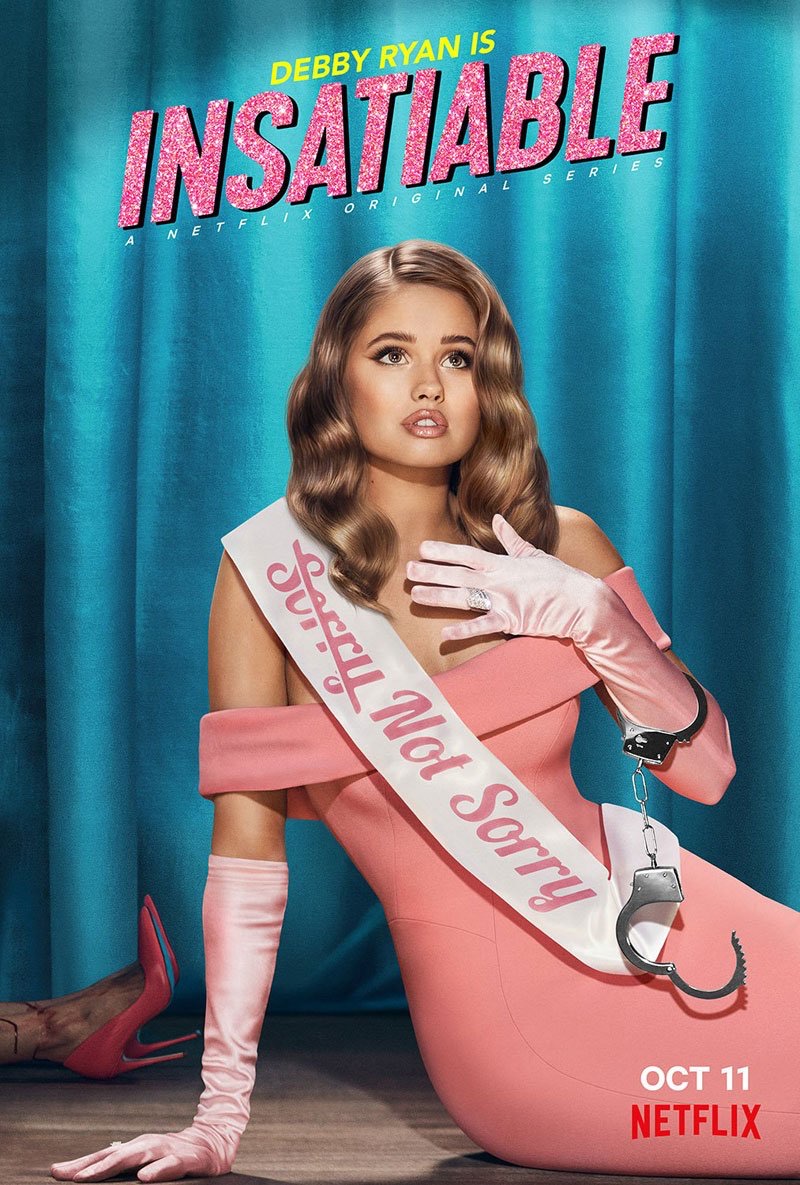 If Season 1 of Insatiable left you craving for closure, well then here's some good news – the series returned with a second season on October 11.
Packed in 22 episodes over two seasons, the Netflix original series directed by Lauren Gussis follows the journey of once-obese Patty Bladell (Debby Ryan) competing in beauty pageants alongside her lawyer, pageant coach, and confidante Bob Armstrong (Dallas Roberts).
Yet, in the midst of her chase for the crown, Patty finds herself face-to-face with overly-competitive pageant girls and lands herself in intense murderous situations. Literally.
Season 2 starts off from last season's major cliffhanger – Patty drenched in the blood of her stalker ex-boyfriend, Christian Keene (James Lastovic), and Bob screaming hysterically upon sight of Christian's dead body. Bob then disposes of not one, not two, but several dead bodies for the sake of Patty's chances of winning the regional pageant show.
As the season progresses, the lives of our two main characters become darker. For Patty, she finds herself struggling with her mental health and trying to fix her moral compass after her murderous episodes. Often enough, she relapses out of stress and anxiety through the form of "binge-eating".
Meanwhile, Bob tries to cope with his divorce from his wife Coralee Armstrong (Alyssa Milano) by either focusing on competing against his ex-lover Bob Barnard (Christopher Gorham) or trying to keep Patty in check. The characters' portrayal of their distressing emotions really hit close to home for me.
I enjoyed this season more than the first despite it being the hook that got me into the series. Unlike the primary focus on Patty in Season 1, Season 2offered an equal amount of screen time and character development to the other main characters like Dixie Sinclair (Irene Choi) and Angie Bladell (Sarah Colonna). 
In Season 1, Dixie was originally Bob's client who wanted to win the pageant crown just as badly as Patty. Yet, in Season 2, she finds out the truth about her "adoption" and ended up paralyzed, causing her to reflect upon her own "karma" and wanted what's best for herself in general. The same goes for Patty's mother Angie, who left Patty in Season 1 but returns with even more support and love for her daughter in Season 2.
The season also dwells on important social issues such as eating disorders, seeking recovery, being honest and accepting others despite their human flaws (even if it means carrying the weight of Patty's murder streak on your shoulders). Season 2 feels complete for Insatiable fans, although the adult themes might seem unpalatable for newer fans.
The main stars do a good job in their roles, but there are some characters that I feel aren't needed. For instance, the introduction of Detective Rudy Cruz (Vincent Rodriguez III) was only included to make the show even more complicated and crazy, which is frankly not needed as the show already has enough crazy.
There is a handful of background characters that have been added purely for comedic relief. One case would be the dead characters that haunt Patty and mess with her conscience. However, their presence in the show has no impact on either the plot or Patty (except for Dixie's hot brother, Henry Lee, played by Alex Landi).
Overall, Insatiable Season 2 is packed with bigger, better and crazier obstacles that'll make you go loco coco. It's advisable to watch the first season as the plot for Season 2 is a continuation of the first. Just be sure to watch with an open mind.
Rating: 4/5