When you think of Singapore's most iconic dish, what comes to mind? Most likely, you would be thinking of chilli crab or chicken rice.
But what about the classic Singaporean breakfast staple, kaya toast? Though simple to prepare — after all, it is only made from three humble ingredients: bread, butter, and kaya — it is the epitome of comfort food for many Singaporeans.
But, how did this simple-to-make yet well-loved dish come to Singapore?
Mr Shaun Choh said it did not.
"Kaya toast didn't come to Singapore," said the 36-year-old curator of the Singapo(ren): Discovering Chinese Singaporean Culture exhibit. "It was invented in Singapore."
Though there are now multiple variations of this local fare, no one is certain who created the sweet and savoury delight first. However, Mr Choh shares that there are two main theories so far: One is that the Hainanese invented it, and the other is that the Peranakan Chinese invented it.
GOING BACK TO SINGAPORE'S ROOTS
Typically, there are two types of kaya in Singapore, the Hainanese style, and the Nyonya style.
The National Library Board states that the Hainanese, a dialect group from China, had a difficult time landing jobs — such as coolies, construction and plantation workers — as they settled in Singapore much later than the other Chinese dialect groups.
Most Hainanese ended up working as chefs, and many of them worked on European ships, according to resources from the National Heritage Board.
"Working as a chef with the British meant that you had to learn how to cook what they like and the typical British breakfast was the typical egg, jam, and toast. That was what the Hainanese learnt when they were on the ship," said Mr Choh.
He elaborated that, unlike in the West, it was harder to make fruit jams in Singapore as berries were unavailable locally at the time. As a workaround, the Hainanese switched up the jam's recipe with locally-sourced ingredients, such as coconut milk and pandan leaves, and that was how Hainanese kaya came to be.
On the other hand, Peranakans were one of the few ethnic groups in Singapore who could communicate with the British as they spoke English. They began adopting elements of the western lifestyle, including breakfast, though with some slight substitutions in the jam and egg preparation style.
Mr Choh suggested that both localisation processes may have happened in tandem, thus resulting in the creation of Hainanese and Nyonya kaya.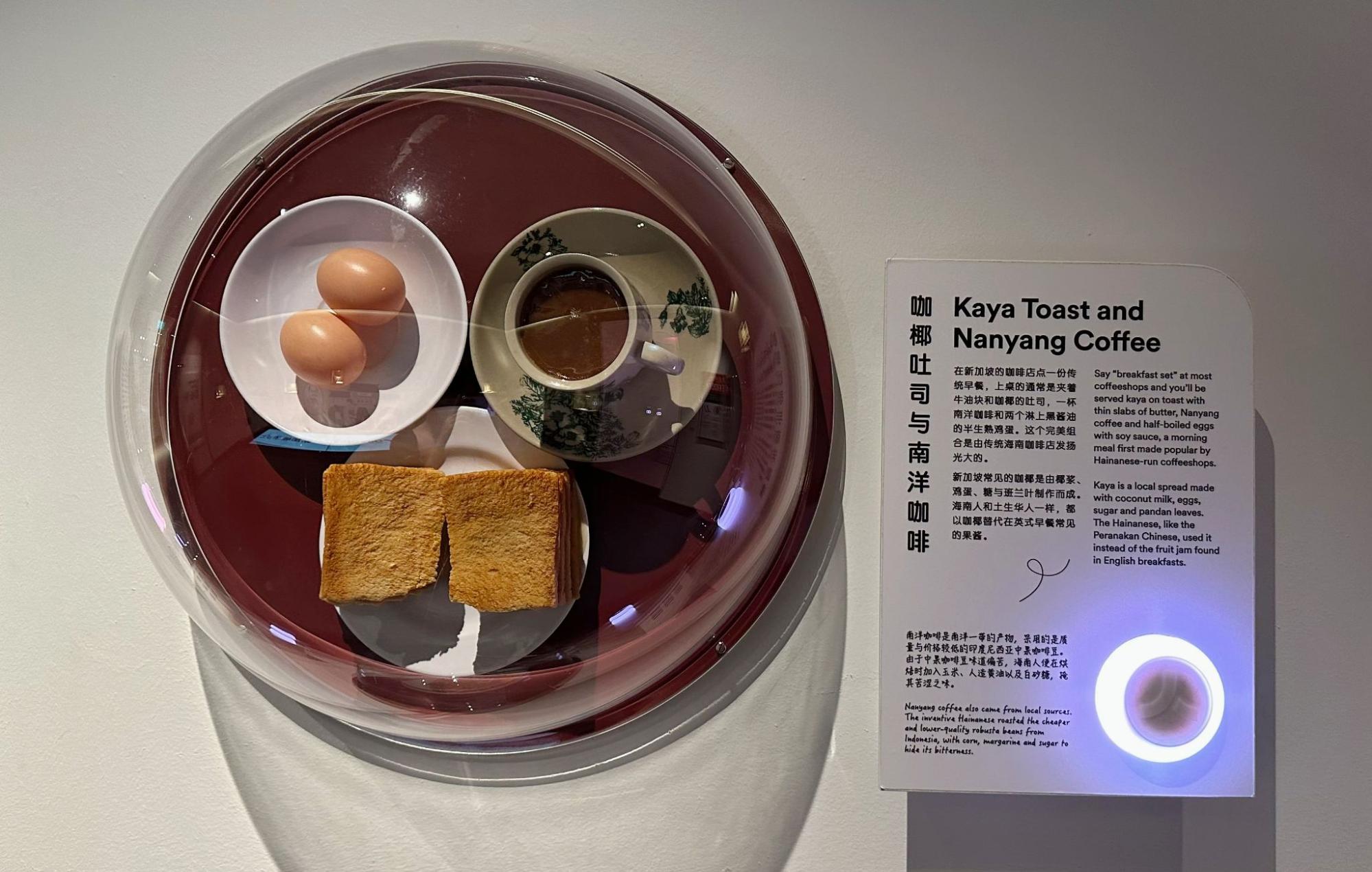 After the Hainanese left their posts as chefs, they went on to open coffee shops, bringing this localised taste of the western breakfast set to the general public.
It becomes apparent how our local breakfast set parallels with the traditional western, but with Southeast Asian influences like kaya jam and a runny half-boiled egg served with soy sauce and pepper.
Nowadays, most coffee shops use commercially-prepared kaya. Most may prefer not to make their kaya in-house, due to factors such as labour costs and the fact that commercial, factory-made kaya is much more affordable and shelf-stable.
Only a few continue to prepare their own kaya, one of them being Tong Ah Eating House.
BLENDING EVOLUTION AND TRADITION
Tong Ah Eating House has been serving the traditional Singaporean breakfast set to early risers since it opened its doors in 1939, making it one of Singapore's oldest coffee shops.
Being around as long as they have, their kaya recipe mirrors the ingredients that the Hainanese and Peranakans used back in the day: eggs, sugar, pandan leaves, and coconut milk.
Mr Tang Chew Fue, 58, the fourth-generation owner of Tong Ah, shared that their homemade kaya is the business' unique selling point, as they offer locals and tourists alike a taste of tradition.
Mr Tang, who has been working in the family business since he was 13, shared that he witnessed the transformation of how kaya toast was prepared in coffee shops, with one of them being the shift from charcoal grills to electric grills.
"About 30 years ago, we used charcoal [to grill the bread], but due to hygiene and food safety, regulations were slowly put in place and we were not allowed to use charcoal anymore. So we use electric grills now, and they yield the same results," highlighted Mr Tang.
He added that when he took over Tong Ah in 2002, he started to "change up the image" of the shop, as well as create variations of kaya toast to accommodate consumers' ever-changing palates.
"With change and evolution comes improvement," shared Mr Tang. He emphasised that it was something that "needed to be done in order to not fall behind".
Tong Ah currently serves different types of kaya toast, ranging from traditional to French toast.
The traditional toast is a classic served as a benchmark across all kaya toast vendors, from well-known establishments such as Ya Kun Kaya Toast and Toast Box to a Singaporean's everyday local hawker centre and coffee shop.
On the other hand, the French kaya toast is a modern, western-inspired reinvention of the traditional. Just like how people in the past created the breakfast set staple Singaporeans now know and love, food continues to be reinterpreted to include influences from different cultures and trends.
"That is how people are going towards reinvention and cross-cultural reinterpretation. That is the new trend, giving life to the traditional," said Mr Choh.
He added: "And why kaya? Because it is a significant part of our dish. If it is not significant, then most likely people wouldn't want to reinterpret it, because people don't even recognise the original one, so there is no point in reinterpreting it."
As the preparation of kaya toast changed, so has the nation.
What was once a small fishing village is now a metropolis. What was previously a red-light district littered with brothels and clan associations in the 1940s is now a haven for foodies and tourists, otherwise known as Keong Saik Road.
For the past 83 years, Tong Ah has lived in two storefronts along Keong Saik, where it has witnessed all local activities that played throughout history.
Mr Tang shared that many patrons in the past were notorious figures, but as Singapore progressed, the profiles of his customers have also changed.
As education was slowly enforced and the area commercialised, most of his regulars now are office workers who stop by to recharge with a cup of coffee and some kaya toast before they start their day.
Whether it is the different takes on this coffee shop favourite or the history and evolution behind this part of the little red dot, one thing they all have in common is the heritage that binds them together.
SIMPLEST JOYS IN LIFE
Though assembled with three simple components of grilled bread, kaya, and butter slathered all over, the amount of joy kaya toast brings to its lovers is unparalleled.
Apart from tasting delicious, nostalgic foods, in particular, remind people of their past, which is likely one of the reasons why kaya toast has grown in popularity over time.
It adds a distinct flavour to the already rich and creamy dish, and transports the customer back to simpler, happier times, which keeps them coming back for more.
Madam Noraini Binte Merabzul, an instructional assistant at the Singapore American School (SAS), shared that one memory she associates with kaya toast is having breakfast with her family as a kindergartener.
It brings the 44-year-old back to a time when her parents, siblings, and grandparents gathered under one roof to share a meal in the presence of one another.
"That's part of why I like it because it reminds me of my childhood," said Madam Noraini, who has kaya toast almost every morning before she heads off to work for breakfast. She either purchases it from Ya Kun Kaya Toast or makes it herself at home.
"I'm sure I'll get sick and tired of it one day, it usually happens after a few months of me eating the same breakfast, and then I'll switch it," shared Madam Noraini. "But it will always be there, it will never go away altogether. It will make its comeback."
Like Madam Noraini, Isaiah Jovan Yip Hao Zhi also goes back and forth between buying and making kaya toast at home, though the 19-year-old prefers doing the latter as it is a very simple and quick process that beats the morning rush crowds at both coffee shops and major chains.
"You just have to remove the crust before lightly toasting the bread, then spread kaya on both inner faces before sandwiching a piece of cold butter in between," said the third-year Media Production and Design student.
He adds that it's the simplicity of it all that appeals most to him. The unostentatious nature of kaya toast draws him in more than the fancy, overcomplicated fusion food that has permeated the market.
"If I was on my deathbed and they asked me for my last meal on earth, I would ask for kaya toast," Isaiah laughed.
Another factor of appeal for some people is that it is more affordable and healthier as compared to Western breakfast offerings.
Nursalina Bte Mohamed Salim, 21, a third-year Industrial and Operations Management student, highlighted that the typical kaya toast set meal is ideal for her as she enjoys dipping her toast in the eggs, so she ends up saving money while being able to have her favourite breakfast options.
She further elaborated that as people grow to be more health-conscious, they may come to realise that western-style fast food breakfast options may not be the best choice, and kaya toast sets are perhaps healthier and a better alternative for the morning.
Mr Choh attested to the affordability and health factors by drawing a comparison with a croissant breakfast.
"If you are going to buy a croissant breakfast today, how much would it cost in Singapore? With the price of croissants, you can buy an affordable kaya toast set. So cost might be one consideration," shared Mr Choh.
He continued by drawing another comparison with other local breakfast favourites, stating that while economic noodles with fried chicken wings or Mee Rebus are heartier, a kaya toast set with eggs feels lighter and healthier in contrast.
Not everyone is able to handle a heavy breakfast in the morning, so something lighter, like toast, could be more ideal.
"That is the thing that we had in our mind, that it is healthier, it gives you more energy, less expensive, and it is not as filling [compared to a heavy breakfast]," said Mr Choh.
'SYNONYMOUS WITH SINGAPOREANS'
Above all else, kaya toast is an irreplaceable part of Singaporean culture. It is a part of the national identity and it is something that connects many Singaporeans with each other.
Even as western-style fast food breakfasts take the market by storm, people would still continuously seek out the traditional breakfast favourite.
Isaiah further elaborated by sharing that this simple dish is "synonymous with Singaporeans", and that they go hand in hand. Kaya toast is such a strong breakfast contender that it would seem off-putting if it was removed from the culture.
"There are no Singaporeans without kaya toast, and no kaya toast without Singaporeans," said the student.