Way back in the 1990s when digital news was in its infancy, Singapore Press Holdings (SPH) launched the AsiaOne website to offer readers a digital platform to get their news.
Fast forward to today, AsiaOne is still standing strong amidst tougher competition from digital news websites such as Mothership and The Smart Local. Today, the website is well regarded as an independent and meaningful media source.
Asiaone won the prestigious WAN-IFRA Asian Digital Media Awards in 2020 and 2021, for being the Best News Website or Mobile Service.
On Oct 4, 2023, AsiaOne welcomed 18 students from Diploma of Mass Communication (DMC) to its new office in Boon Keng, having moved from its Bukit Timah premises in May 2023.
This relocation was a result of a private buyout in December 2022 with mm2 Asia and SPH Media remaining as minority shareholders.
During the visit, AsiaOne's editors gave a tour of the various departments and conducted a focus group discussion with the DMC students. The objective of the focus group discussion was to find out more about the media consumption patterns of Gen Z.
Understanding Readers
As the first and oldest digital media company in Singapore, AsiaOne strives for human-centric content which drives them to track their audiences' preferences by adapting and changing their content strategy accordingly.
Mr Tan Thiam Peng, Asiaone's Executive Editor, said: "We pride ourselves on not just telling you guys what you should know, but also to collaborate and co-create the content with you."
This is possible because of the many departments in AsiaOne working closely together to give readers what they want – this includes the Editorial Operations, Digital Amplification and Creatives and Media Production teams.
A collaborative effort
During the visit, AsiaOne representatives from various departments shared their experiences and insights with the budding journalists.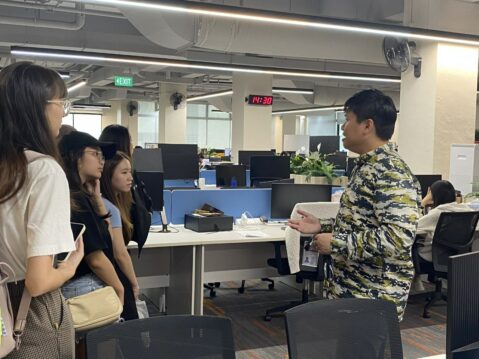 The Editorial Operations team is responsible for the website verticals on entertainment, lifestyle, digicult and various types of news.
Assistant Editor Desmond Ng shared examples of previous publications AsiaOne has worked on such as local movie production, 'Ah Girls Go Army', and a feature story on a hawker stall owner.
The Digital Amplification team, on the other hand, specialises in creating content which includes videos, motion graphics and animation. Additionally, they conduct profile interviews and talk shows exploring relevant and interesting topics such as the role of religion in today's youth.
The Creatives and Media Production team is in charge of managing AsiaOne's social media accounts and research on relatable ways to share their content online.
The team produces a wide variety of content ranging from formal affairs, infographics and even memes. The team also actively gathers content materials by conducting street interviews and collaborating with the analytics and research teams to conduct surveys.
"We have a team dedicated to understanding our audience and what they like," said Mr Tan, highlighting this as the unique selling point of AsiaOne that makes them stand out from the rest of their media competitors.
He took pride in how AsiaOne covered content on how an event affects people rather than fixating solely on the event itself.
Getting to know what youths want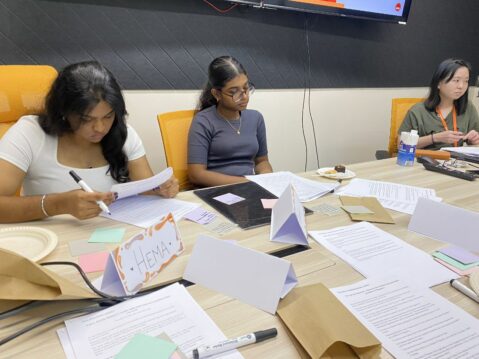 During the focus group discussion, students were given articles on related issues from various media publications. They were then asked to share their preferences for the headline, writing style, and story angle of these articles.
This approach allows AsiaOne to collect feedback from the younger generation to better curate and improve their publication intended for the target audience.
Noor Ashika Binte Abdullah, a third-year Mass Communication student said: "I thought the focus discussion group was executed in a very fun and engaging way. I learnt that as youths, we all have our own preferences on how we wish to consume information online and how they reach us."
Nandita Sharikant Joshi, a first-year Mass Communication student added: "It gave me the opportunity to talk with my fellow participants about the type of content, especially news, that we consume online. I just like to hear from different people about their different perspectives in discussions. So, this discussion was enjoyable to me."
An insightful experience
This visit provided students a peek into what their potential media future might look like. Moreover, it allowed students to be part of the research AsiaOne is conducting to better understand Gen Z's media consumption patterns.
"I was excited to learn how Asia One functioned as a whole. It was exhilarating to gain insight on the inner workings of the journalism industry," said Yumni Koi Binte Zulkiflee, a second-year Mass Communication student.