In her latest album release, Lana Del Rey explores different sounds while staying true to herself.
Lana Del Rey is seen smiling in the album art of Lust for Life, something that she has never done in her previous album covers. This is quite the surprise seeing that she is known for her melancholic pout and seductive sadness.
The smile symbolises a new chapter in her journey, she says in an interview with NME. To mark a "moving-on-ness from wherever that other place was that Honeymoon and Ultraviolence came from. I loved those records, but I felt a little stuck in the same spot."
Honeymoon and Ultraviolence were her previous albums respectively before her latest album, which seems completely different from anything she has put out previously.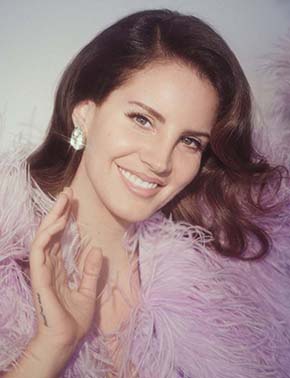 Even the title Lust for Life is the total opposite of her first album Born to Die. Fans could sense a tonal shift in her music when Love came out as it is unlike her previous releases which were filled with betrayal and heartbreak. Instead, "Love" was filled with hope for the future.
Lana Del Rey also gets political in Lust for life as this album was developed after a time of self-reflection about the turbulent and sometime petrifying political situation in 2017. Optimistic and questioning, songs like Change and When the World Was at War We Kept Dancing inspire hope during this trying time.
Lust for Life shows progression and musical evolution from her previous works which had always centred on the misery of loving a bad boy in a toxic relationship. Also, it shows Lana Del Rey taking a step forward to evolve herself as an artist by exploring different genres like rap and hip hop which were unheard of in her previous works on Ultraviolence and Honeymoon.
This album is entwined with sounds of old school and new school with features from artistes like Stevie Nick and Sean Lennon to A$ap Rocky and Playboi Carti. Songs like Summer bummer and Coachella Woodstock in my mind feature trap style beats accompanying Lana Del Rey's signature dreamy and ethereal singing style.
Yet, there is a sense that Summer Bummer propels A$ap Rocky to the forefront, with back-to-back rap verses, while Lana Del Rey seems to be lending the background vocals.
The album still has Lana Del Rey's experiences and romantic relationships weaved into songs like White Mustang, 13 beaches and Heroin. These tracks are beautifully accompanied by the swaying and whimsical sounds that Lana Del Rey has been known for in all her previous releases.
I liked how Lana Del Rey still has songs in the album that highlighted her staying true to herself with the familiar narrative of a pastel painted paradise of naïve love with lines like You said you'd loved me like no tomorrow/ I guess tomorrow never came in Tomorrow Never Came and This is my life, you by my side/ Key lime and perfume and festivals in Groupie Love.
I recommend everyone to listen to Lust for Life as it is new sound that Lana Del Rey has never come up with and it shows her evolution as an artiste to sing about social issues like women's rights in God Bless America—And All the Beautiful Women in It.
A bold step away from the archetypal Lana Del Rey, Lust for Life will leave everyone excited to find out what her new chapter in life entails.
Rating:★★★★☆