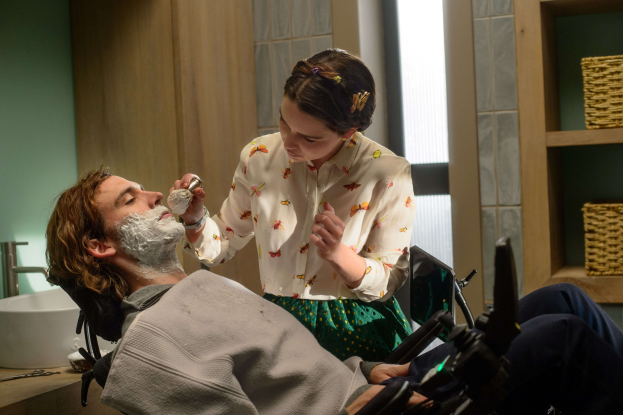 If you are expecting for Me Before You to be different from other movie adaptations of books like Twilight and The Fault in Our Stars, then I would ask that you lower your expectations. But, you can still be assured that your heart will swell with emotions when you leave the theatre.
The film tells the story of cheery 26-year-old Louisa Clark played by Emilia Clarke, whom many may recognise as the blonde, dragon-taming Khaleesi from the Game of Thrones, and 31-year-old Will Traynor played by Sam Claflin from The Hunger Games franchise.
Will, once an adventurous and life-loving soul, met with an accident that left him wheelchair-bound. Louisa, or better known as Lou in the movie, was hired by Will's mother to care for him after his accident paralyzed him from the neck down.
Wanting to help her family make ends meet, Lou took on the challenge of a new career and soon found out that beyond the tea-making, pillow-fluffing and house-keeping; she was hired in the hopes of making Will feel better.
Left cynical and unmotivated after his accident, Will initially shut Lou out despite her best efforts to get to know him. But he soon found her positive outlook somewhat amusing. As the pair went on several adventures, they discovered that they both got more than what they bargained for.
Watching the PG-13 film version of JoJo Moyes' 2012 bestseller had me either laughing with the rest in the theatre or tearing up at some parts of it.
I have to thank Thea Sharrock for this. Making her feature film directorial debut, Sharrock kept it real, managing to strike a balance between tragedy and humour, without trying to push a joke onto the viewers.
I would also have to commend the actors for the undeniable chemistry between them. The natural flow of their conversation and interaction made me forget at times that they were just characters in a movie.
Love takes time
The build-up of their romance was subtle, which was something I appreciated. Their growth from two strangers to a pair of lovers and two travellers on a journey together even though they started on paths so diverse was quite believable. I could either laugh at Lou's quirky self or Will's wit. At the same time, I also admired Lou's tireless determination to help Will from the time she was doing so because she was paid to the time she did so because she grew genuinely caring for him.
When I went to watch the movie, I made sure to wear waterproof mascara in anticipation of a tearjerker of a movie, after the hype generated prior to the release of the film. But, I found out that it was not quite necessary.
Though there were some emotional scenes, they were not fleshed out enough for me to empathise with the characters. Just like the love story between Lou and Will, it would take time for the audiences to develop empathy, which would bring on the tears. Unfortunately, like in most book-turned-movies, the plot for this one was too rushed. For someone who cries easily during such movies, I would have preferred if some scenes were expanded upon a bit more.
Nevertheless, if you like sappy, tearjerkers, this one is still worth watching. If you are a single gal like me, then I would recommend you to watch it with your gal pals. It would be so much more fun swooning over Sam Claflin together.
Rating: 7/10