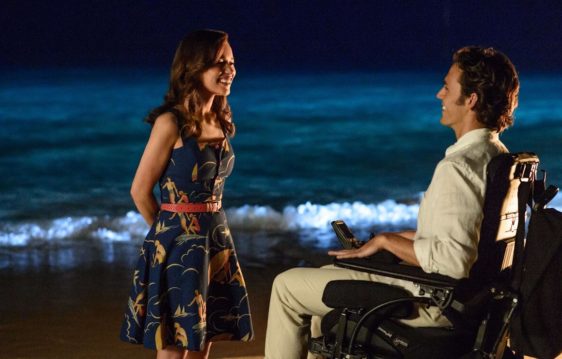 As a guy who enjoys romantic films such as  Love, Rosie and The Proposal, I would be lying if I said I wasn't waiting for Me Before You to hit the cinemas. Now that it has, of course I made it a top priority to see it. Plus, being a fan of the hit TV series Game of Thrones and the movie franchise The Hunger Games, there was absolutely no way I would have missed a movie starring Emilia Clarke and Sam Claflin. In this movie, the pair took on the roles of Louisa Clark, affectionately called Lou, and Will Trainor respectively.
This romantic-drama revolves around Lou, an average small town girl from the English countryside. Driven by the need to make a living for her family, she took on a job as a caregiver for Will, a charming former banker who had become an apathetic cynic and given up all hope in life after being paralyzed from the waist down. As the story progressed, she transformed from being his caretaker to his companion. It became her mission to change his point of view and save Will, even at her personal expense.
Director Thea Sharrock, well-known for directing the highly-regarded version of the BBC series The Hollow Crown that features Tom Hiddleston as Shakespeare's Henry V, moves from Prime Time to the Silver Screen with this dramatic debut. Having extensive experience in British theatre, she takes on a new approach in the film by diving in headfirst into a churning sea of emotion.
Emilia Clarke, the oppressive Dragon Queen (Khaleesi) in Game of Thrones, does exceptionally well going the other direction as the oddball Lou. I never would have imagined Clarke to take on a role where all she sees is a world through rose coloured lenses. Watching her made me realise that the greatest gift one can offer someone is happiness.
From The Hunger Games' District 4's youngest male victor to an intelligent yet arrogant Will Trainor, Sam Claflin delivers an excellent portrayal of a once-promising young man who loved and treasured his life to the fullest who became a wheelchair-bound invalid. In all honesty, I really think Claflin is the best reason why you should see the film. His performance brings on the tears although the sentimentality is never laid on too thick.
Lessons from love
The chemistry shared by Clarke and Claflin is refreshingly uplifting. When they are together, they play off each other naturally and nicely. However, the plot just does not correlate with the performances from the actors. It is the relationship they shared that makes the movie seem smooth.
While watching the movie, I realised how much I loved the fact that the lovebirds shared lessons with each other. For instance, Lou shows Will how there is so much more to life while Will shows Lou that there is so much to do and make best out of. I feel that the movie depicts the notion that to love somebody is to learn from that person and at the same time to share some lessons. Such a deeper depiction of love is what makes love stories like Me Before You a hit with audiences.
I thought it was rather strange that Lou seemed a little too "perfect". In contrast to the morose Will, Lou was portrayed in such positive light which makes her character seem rather one-dimensional. To have a greater insight into her character, one would need to read the book, where it was revealed that Lou faced a personal tragedy which allowed her to grow closer to Will. I felt that this plot point gave the biggest insight to Lou's character and explained the background to the deepening relationship between Will and her.
Ultimately, I think the two lead actors have outdone themselves so much that they would be the reason why I would watch this movie again. The other reason is for the side humour that lighted the movie. Although I had expected more from the movie (the plot was really predictable), I believe this movie is an open contender for classic love stories. If you are looking for a movie that will make you cry on the strength of the emotional journey that they characters went through (it did that for me, I admit), Me Before You is perfect for you.
Rating: 7/10