Whether you are vegan or simply have more adventurous taste buds, The Republican Post has saved you the hassle by trying out two vegan burger joints where you can satisfy your cravings.
VeganBurg
Founded in 2010, VeganBurg prides itself on being the world's first completely plant-based burger outlet. This means that all of their food items are completely free of any animal content and dairy.
The restaurant is a 10-minute walk from Eunos MRT station. Not only does the restaurant offer a laid-back environment for diners to eat, they also have an aesthetic wooden backdrop accompanied by a vintage bicycle right outside their restaurant for people to take pictures.

VeganBurg offers eight burgers, excluding seasonal promotions, six sides, desserts and beverages as well. One can also have the option of making their burger a meal, accompanied by either Seaweed Fries or Sizzlin' Broccoli and a cold drink, for $3.80.

I ordered an Avocado Beet burger alongside Seaweed Fries and a Ginger Lemonade Chiller. The burger was very refreshing because you could taste the buttery avocado, sweet beets, tangy tomato and crunchy lettuce. However, I do feel that the fried soy patty lacked in seasoning. I enjoyed the fries, which were crunchy on the outside and fluffy on the inside as well. Compared to fries from other fast food outlets, I feel that VeganBurg's fries were tasty and did not leave me feeling stuffed. The Ginger Lemonade was rather refreshing, but the ginger did overpower the usual punch of regular lemonade.

Personally, I would come back because of the friendly staff and peaceful environment VeganBurg offers. In terms of food, I would return just to eat their "not-so-sinful" fries.

Address: 44 Jln Eunos, Singapore 419502
Opening hours: 11.30am-10pm daily
Nearest MRT Station: Eunos
Price: $9-$2
Overall Rating: 3.5/5
nomVnom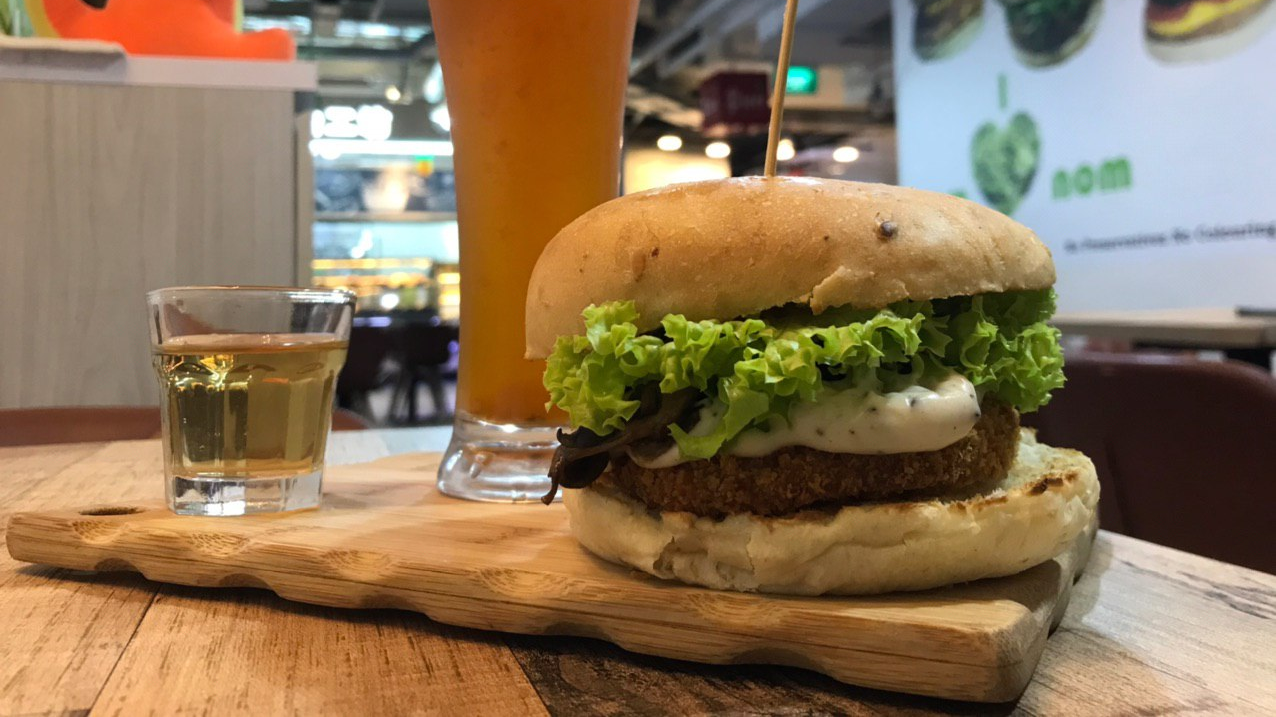 Quietly tucked away at the basement of 18 Tai Seng is a small restaurant that promises an epic gastronomical experience. nomVnom was founded by Dr Ng Wai Lek in February, 2015 and aims to promote plant-based food.

nomVnom's menu offers a wide array of vegan meals that range from burgers and sides to pasta, udon and dessert as well. While I was looking through the menu, I was spoilt for choice. But my main focus was on the fast-food they offered, and I ordered the restaurant's best-seller, the Lion's Mane Truffle burger.

To complement my burger, I also ordered the Fresh Lemon Passion Fruit Tea, which was very popular amongst other diners at nomVnom as well. The presentation of both my burger and my drink was simple. It was only after my first bite did I realise that one should never judge a book by its cover.

This burger made my taste buds feel like they were on a roller coaster ride. Every bite was a whole new experience because the truffle mayo complemented the sautéed mushrooms and the scrumptious soy patty. As a meat lover, I never knew I could enjoy eating a vegan burger so much. The Fresh Lemon Passion Fruit Tea was not only refreshing, it was also an excellent closure to my meal.

nomVnom has a second outlet – "nomVnom Bistro" – located at Clarke Quay Central. In future, I would love to try out their bistro at Clarke Quay and I look forward to the next time I would be dining at nomVnom to try out the rest of the dishes on their vast menu.

Address: 18 Tai Seng, 18 Tai Seng Street, #B1-02, S539775
Opening hours: 9am-9pm daily (Last order: 8.30pm)
Nearest MRT station: Tai Seng
Price: $7-$20
Overall Rating: 4.5/5