Melvin Meow is no stranger to receiving awards.
During his time at Republic Polytechnic (RP), he had received two academic scholarships, two Edusave Merit Bursary Awards, and was inducted into the Director's Roll of Honour three times.
And most recently, he won the prestigious SAF Merit Scholarship, being the only Recipient from Republic Polytechnic, and is pursuing a degree in Sports Science in Nanyang Technological University (NTU).
From the very beginning, taking up a degree in Sports Science had always been part of Melvin's plan.
As a young boy in secondary school, he was heavily involved in the Boys' Brigade.
That was where he met his biggest inspiration, Mr Daniel Chow, an officer who took the same Sports Science degree in NTU.
"Getting to know him, getting to know what he learns, how he was able to apply the sports science knowledge he learned to improve his own physical capabilities was quite inspiring, it made me wonder how much more humans can improve themselves, (and) what kind of barriers and limits can we exceed," he said.
With that, he applied for RP's Diploma in Sport and Exercise Science with the goal of eventually taking up the degree in sports science, which he achieved. 
'QUITE SHOCKED'
Winning the scholarship came as a shock to Melvin, and the people around him.
"My family was quite shocked, quite surprised. But winning this scholarship, I think brings pride and joy to my parents. From my time at RP, I guess they expected me to do well, but not to the extent of winning a scholarship," he laughed.
"As for my friends, they all thought I deserved it. I guess based on my interactions with them, they see me as someone who puts in their best."
Of course, obtaining this scholarship was by no means easy.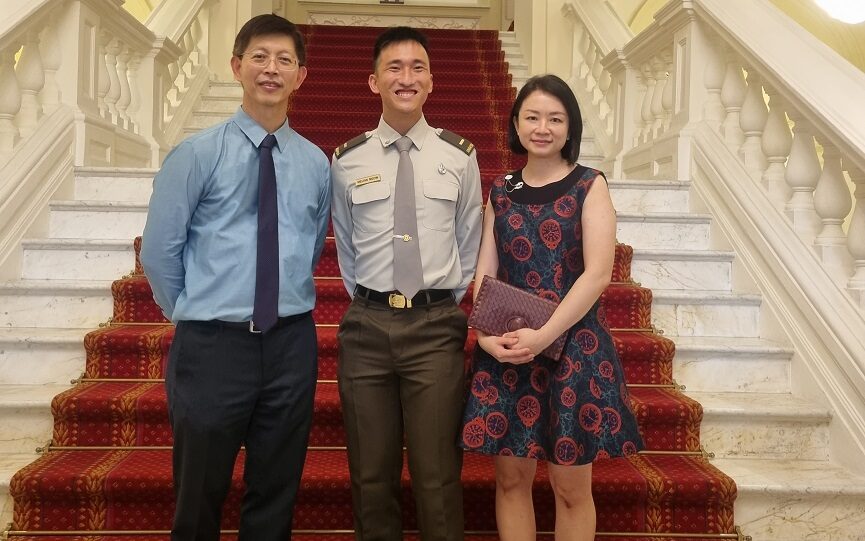 A particular challenge Melvin faced was answering questions on current affairs, which was a requirement for the interview. Doing research for it made him realise how little he knew about the world around him, and it helped to provide motivate him to gain a more robust and wider world view.
"It made me consider the things there are to improve other people's lives." He said. 
Seeing many of his schoolmates having to bear debts from student loans, it spurred him to study harder despite the change in environment.
"When I return back to service, I'll help change military service and the lives of the servicemen, which I feel is a privilege."
LEARNING FROM EXPERIENCES
His time spent in RP was fruitful, as he used the skills learned back on campus, and brought them to the Singapore Armed Forces (SAF). Two of the major skills were teamwork and adaptability.
In RP, students work together in group projects, which helped Melvin hone his teamwork skills. 
"Presentations (and) worksheets have to be done with other people," he said.
"Teammates that you don't click as well with will need motivation, which is the same in the Army – I use my skills learned in RP to help get them on board with me."
Problem-solving also helped him in the SAF.
"Once, on my last week in the army, I suddenly had to attend to one of my men's offenses. Thankfully, due to what RP had trained me for, I was able to quickly calm myself down and resolve the issue."
He also mentioned a lecturer he wished to thank at RP's School of Health and Leisure – Dr Janice Tan.
"A fantastic lecturer and she also guided us every step of the way for our Final Year Project (FYP). She really goes above and beyond."
Melvin had some words of advice to those who wish to follow the same career path as him.
"Being a military scholar, you must learn how to keep yourself motivated. See the world, get to know different careers, and know what you are truly chasing," he said.