As orientation camps draw to a close, many Republic Polytechnic (RP) freshmen start experiencing what is commonly known as "Post-Camp Depression" (PCD). In the span of a few days, students become increasingly jittery whilst proceeding towards the welcoming doors of RP's campus, ready to triumph over their first day of polytechnic education and dive into a pool of exciting social activities.
But T Maruthuvel, 21, was one step ahead of his peers when he joined RP in 2019. Within his first year on campus, the Diploma in Industrial & Operations Management (DPIOM) graduand already honed over four different leadership roles and initiatives under his belt.
With the purpose of understanding more about RP's culture and his course, Maruthuvel set out to attend many back-to-back activities, namely, the DIOM Immersion programme, SEG Welcome Camp, and RP orientation programme. Owing to his prior experiences back in Montfort Secondary School, and later on at ITE College Central, the driven youth decided to continue pursuing new leadership roles in tertiary education.
TAKING ACTION
Soon, Maruthuvel found himself actively participating in the Student Council's Sub-Committee that same year. Part of his role under the administrative department included keeping track of meeting minutes, sending out invites, and taking note of attendees. In addition, he held various responsibilities in the programme department, which oversaw the activity planning and safety management of various projects. His time in the student council also proved to be an eye-opening experience, as he previously had not heard about the Purple Parade (a unifying national platform to promote awareness and celebrate abilities of Persons with Disabilities in Singapore). It was only until the student council organised an initiative that enabled him to volunteer as a carpark usher during the 2019 event.
Apart from his major contributions to the Student Council, Maruthuvel was also selected to be a Peer Support Leader (PSL), where he served as a peer mentor to assist current students with their holistic development. In a bid to encourage his classmates and juniors to revise for the Mid-Semester-Assessments (MSAs) and End-Semester-Exams (ESEs), he took the initiative to form various study groups and remedial lessons. Even in the midst of the COVID-19 outbreak in Singapore, Maruthuvel's efforts were never hindered, and he persisted in hosting his classes through online means.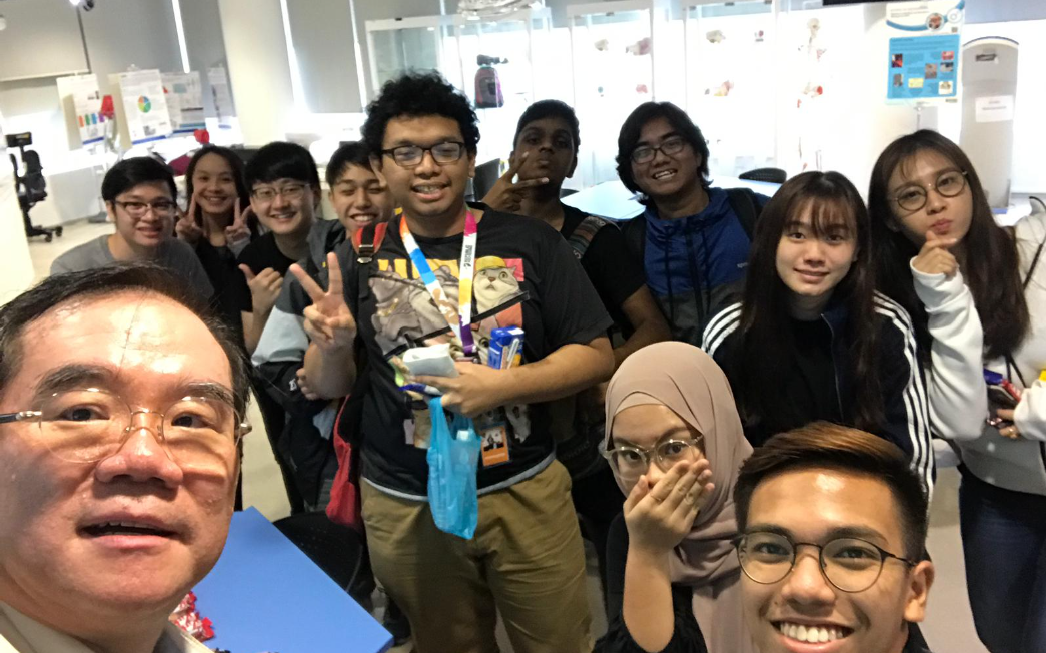 ACTS OF KINDNESS
While most students spend their semester breaks relaxing and catching up with their personal lives, Maruthuvel's sense of compassion led him to join an International Service Learning Project (ISLP) in Vietnam during the AY19/20 Semester 1 break. Over the course of 11 days, he and 35 other students frequently visited a school that catered to children who were underprivileged and orphaned.
There, he was assigned to look after the well-being of several children, through means of self-planned games and activities. These examples included mathematical games, arts and crafts using plasticine, and playing basketball. "Some memorable moments with the children included playing various sports and having lunch with them. The only setback would be the language barrier as the children were not proficient in English. But, I was able to overcome this setback through communicating with them in simple English," he quipped.
These efforts proved fruitful, and Maruthuvel continued climbing up the ladder as a respectable individual committed towards giving back to RP and the community. In 2020 the next year, he was promoted to the Executive Committee, where he acted as programme IC for various Inclusion Projects.
While the jump in such a short span of time may seem daunting to some, Maruthuvel shared that it was not difficult to integrate into his newly assigned role. In his own words, "The key difference is that as (part of) an EXCO, I have a greater say for decision making. I get assigned to be the IC for the programme department instead of just being a member and having to manage a small group of sub-committee members."
Among the many initiatives he took part in, Maruthuvel felt a strong sense of inclination towards RP's annual Open House event. "There, I am able to promote my course to prospective students, as many of them are not familiar with my course field of engineering. Now as a graduate, I look forward to Open House in the following years as a way to keep in touch with my lecturers."
STAYING AFLOAT
However, Maruthuvel's leadership journey was not all that smooth-sailing. Towards the end of 2021, he led DIOM's yearbook committee for his graduating cohort. There, serving as project lead posed several challenges. Most of his coursemates were still in the midst of their internships, so it was difficult to communicate at times. Being involved during the last school semester was also a major hassle as many committee members became unmotivated to get the yearbook done. Fortunately, Maruthuvel was able to complete his tasks, such as contacting his coursemates for any yearbook-related queries. "One valuable lesson from this setback would be understanding that the chain is no stronger than its weakest link. I was also able to sharpen my skills in active listening, project planning, time management, and empathy," he reflected.
Despite shouldering such a high amount of responsibilities under non-academic activities, Maruthuvel still made it a point to stay fully committed to his studies. "During my first year at RP, I did find it very tough to juggle as I was unfamiliar with the academic rubrics and I took part in a lot of events. The next year, I learned from my previous mistakes and was much more well prepared." Driven by the need for success, it is no surprise that his name has appeared under the coveted Director's Roll of Honors for four consecutive semesters. He was also a recipient of the Edusave Merit Bursary, Republic Award, and Choo-Lim Scholarship between 2019 to 2020.
While Maruthuvel is currently serving his National Service stint, he is already looking to pursue a degree in Computer Engineering at the Nanyang Technological University (NTU), so as to achieve his aspirations of becoming a prominent engineer in the field of Artificial Intelligence (AI).
In words of advice to current RP students, Maruthuvel believes that one should "take your open book exams seriously, clarify any doubt no matter how small it may be with your lecturers, and not be afraid of making mistakes".