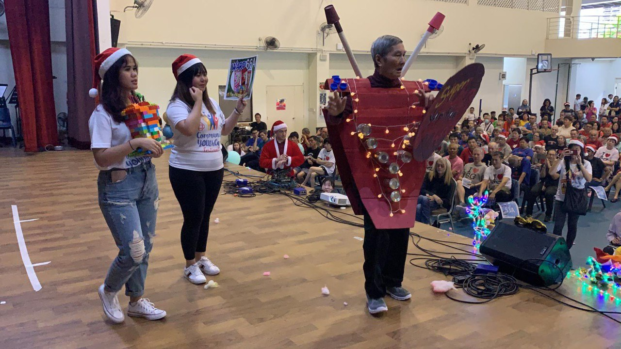 On December 27, 2019, a group of five students from the School of Sports, Health and Leisure (SHL) collaborated with the Institute of Mental Health (IMH) for the first time for their final year project (FYP), organising an event called A Retro Christmas.
Aimed at promoting physical activities amongst patients that have been reported to have high levels of sedentary behaviour, the event took place at IMH and involved over 300 volunteers from Republic Polytechnic (RP) and 300 attendees from various neighbouring homes and longstanding IMH residents.
The event kicked off with performances by the IMH Drum Circle and IMH Talents before special guest performers such as Eileen Chai and RP Capoeira entertained the crowd. Despite most of the guests being unknown to each other, people still came together to dance along to the music and performances. The performers from IMH wore retro-themed outfits that they had created themselves out of recycled materials.
Tiffany Tan, one of the five Diploma in Health Management and Promotion (DHMP) students who spearheaded the event, said: "The event aims to eradicate the public's stigma towards people with mental illness as well, by creating an opportunity for volunteers to interact with these people through events such as this."
A mass workout was also organised to encourage movement and exercise for the guests present. A math dance challenge was led by the Singapore Association of Mental Health (SAMH) to stimulate the minds of the attendees whilst engaging in physical activities.
Ms Ranice Goh, an occupational therapist who has worked in IMH for nearly three years, talked about the benefits of such patients for patients. She said: "Patients gain more self-confidence and they feel that they are a part of a community. There is a sense of belonging when patients engage in activities such as this."
Prior to this event, the DHMP students had also organised a sports festival on December 21, 2019 to engage with the residents more actively. The project has been ongoing since September 2019 and will end on January 2020.