Until last semester, RP students had to content with the snaking long queue at the sole mala stall at Lawn to satisfy their craving for Mala Xiang Guo, a popular dish that literally translates to mean "numbingly-spicy" fragrant pot.
The term mala is a combination of two Chinese characters: "numbing" (in Ma) and "spicy" (in La) and this describes the sensation typically felt after consuming mala. The sauce used in mala is oily, spicy and usually includes sichuan pepper.
How mala works is this – you choose from an assortment of vegetables, fish, chicken, mushroom and more, which are then stir fry in the kitchen with mala sauce. You can enjoy the stir-fry on its own, or eat it with rice or instant noodles.
Depending on how adventurous you are, you can choose from varying levels of spiciness – from not so spicy or "xiao la" to medium spicy or "zhong la" to very spicy or "da la".
For the purpose of this taste test, the mala meals I ordered were medium spicy, comprising two vegetables, one mushroom, two types of meat and one serving of instant noodles. The prices range from $8 to $15.
Mala Stall at South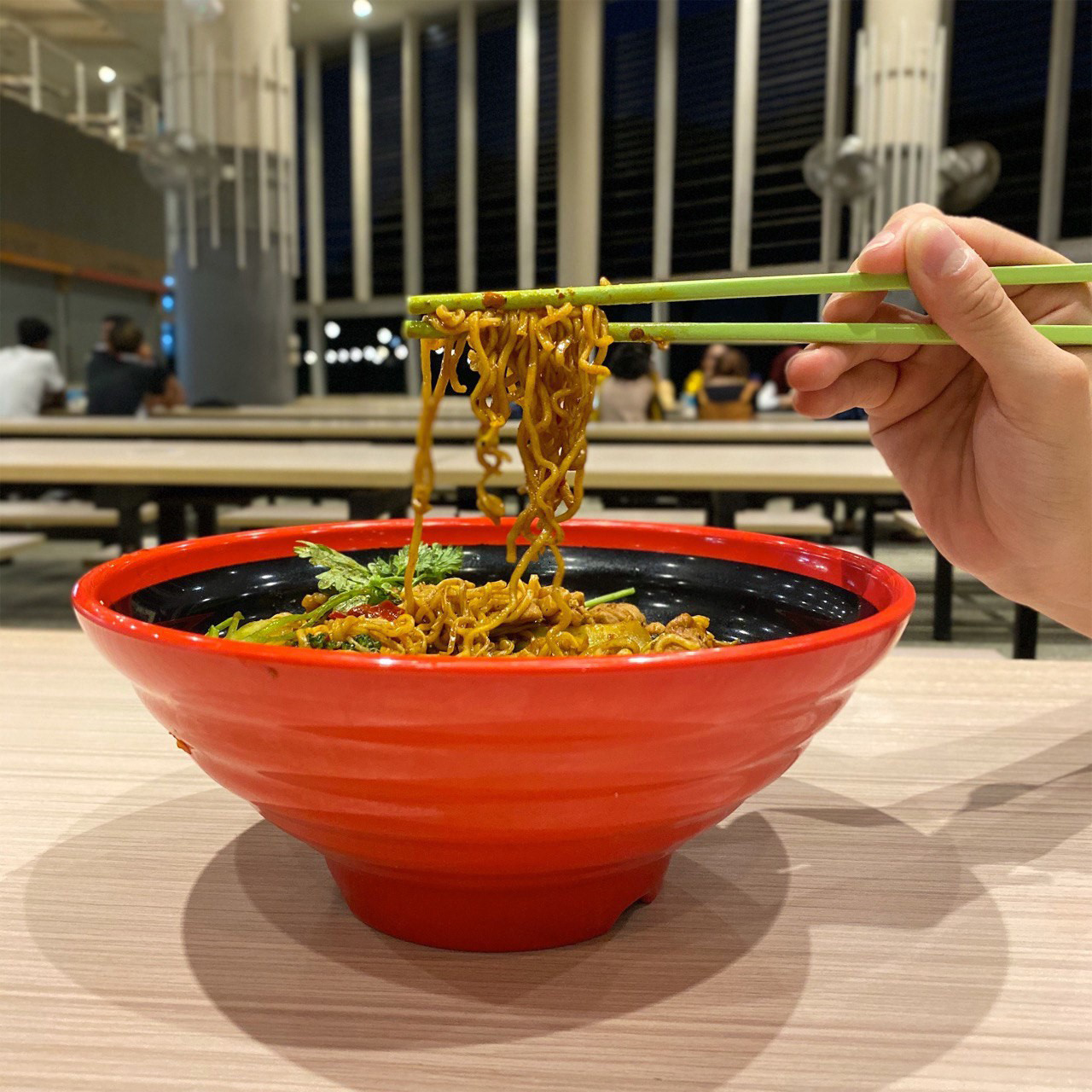 When I arrived at South Canteen late on a weekday evening, I was delighted to find that the mala stall – the newest on campus – was still opened for business.
As I already had in mind what I wanted, I quickly picked the ingredients that were available. The thing about eating mala is, you never quite know how much it will cost as you are charged based on quantity and type of ingredients you choose. I was pleasantly surprised when the bill came up to only $8.60, which I thought was reasonable considering it was quite a decent serving.
How did I feel about South's mala? The spice hit me on the first bite, and subsequent ones resulted in numbness. What I really liked about South's mala is that it uses less oil but is just as tasty.
Overall, this is a well-balanced mala meal that would not make you sweat buckets. It is a safe choice if you do not want to look like you just ran a marathon after your meal.
Did you know: This is the only mala stall in RP that is awaiting a Halal certification; there is no pork or lard in their range of ingredients. The stall is opened till late.
Mala at Lawn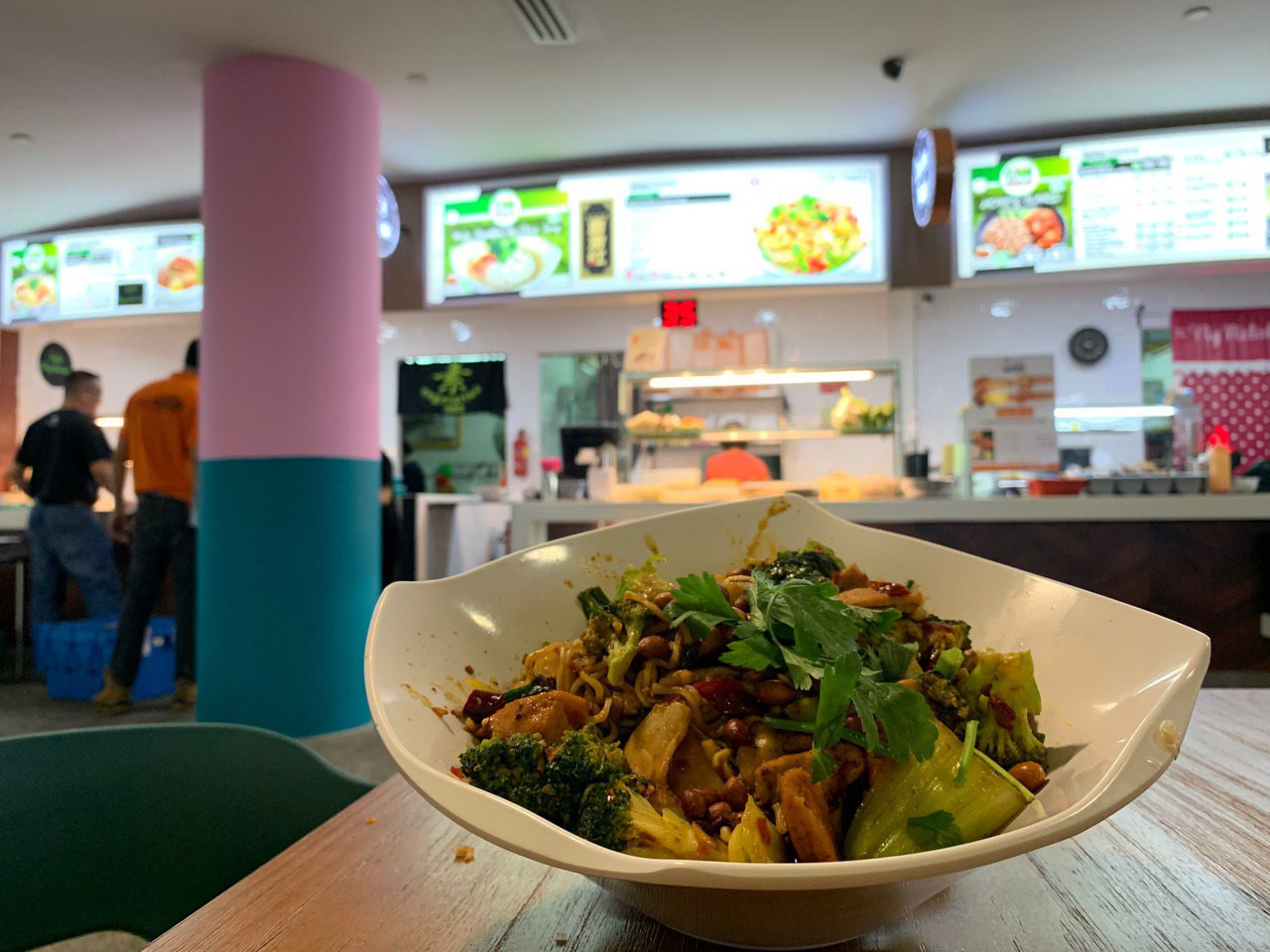 Lawn's mala stall, Pi Li Hong, is the first to open in RP and is still going strong, judging by the long lines of hungry diners every day during meal times.
Having patronised this stall multiple times, I knew what to expect, or so I thought. I ordered the ingredients in more or less the same quanity as the other two stalls, and I was charged $10.20. Not too bad, as the serving was big enough to share with one other friend.
The verdict? Out of all three, this bowl was the spiciest, the oiliest and the "reddest"!! Although I ordered medium spicy, I found myself reaching out for water and more water to dilute the spiciness. Don't say we didn't warn you! However, if you are game for an authentic mala experience on campus, look no further than Lawn.
Did you know: If this is the first time you are trying mala, ask for mala noodles in a clear non-spicy soup, only available at Lawn.
Mala at North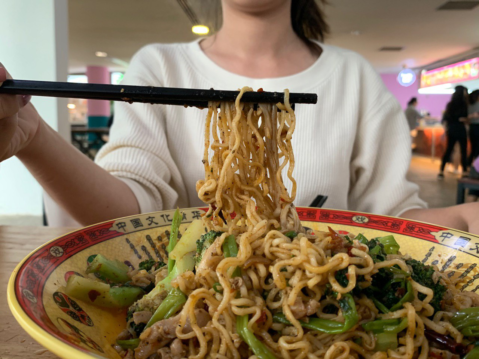 In terms of food presentation, North's mala stall wins hands down as it is served in an intricate, authentic Chinese bowl, almost fit for royalty. But, the mala meal here is not cheap. I ordered almost the same amount of ingredients and paid a whopping $14.10.
Compared to the other two, North's mala was more peppery than spicy or numbing, and the peppery taste lingered on. The "spice" was manageable due to the mild, peppery taste. If you are tired of the usual mala taste and want to try a new kind of mala, the stall at North would be an adventurous twist to your taste buds.
Did you know: If you spend over $7 for a meal, you will get a reward card that allows you to redeem a fried mantou that is worth $5 after 10 stamps. (That's $7 x 10, do the math!)
SPICE GIRL CINDY'S VERDICT
After trying all three mala stalls, I think each stall has its unique taste and dining experience. Here's a quick breakdown of the three stalls because TL;DR! (But hey, you made it to the end of the article, so…)
Mala Stall at South: A well-balanced mala meal
PiLi Hong at Lawn: The most authentic mala meal out of all
Mala Hot Pot at North: Peppery, adventurous twist to your usual mala meal