It was love at first sight for Mr Don Ng, who saw Ms Joanne Chen on the field at RP's Sports Complex in 2010. She was in the school's frisbee team and he was in track and field. Both interest groups shared the same training day and Mr Ng remembered Ms Chen's jersey number, 27.
One day, Mr Ng mustered the courage to send Ms Chen a message on Facebook. Initially, when Ms Chen saw Mr Ng's Facebook profile, she assumed he was a friend as the pair lived in the same area but after a while, she realised she didn't know him at all. 
They say that love always finds a way. Although their first encounter
was awkward, it didn't stop Mr Ng from giving up.
Nine years later, Mr Ng brought Ms Chen back to RP and proposed on June 14, 2019. Planning for the proposal took over four months.
"There were many plans, but the first choice was RP, so I got the help from my friends to plan the decorations and stuff," said Mr Ng who graduated from RP seven years ago with a Diploma in Sports and Leisure Management. "I wanted to do it at the field because that was where I first saw her but sadly, there was a soccer match that day. So, we decided to do it at lawn."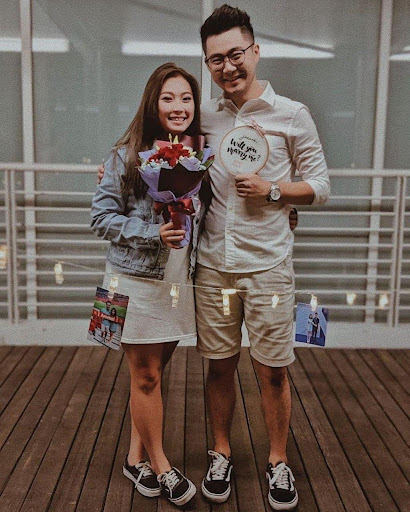 Mr Ng hung up pictures of the couple and gave an embroidered circle frame with the words, "Joanne, Will you marry me?" and the date of the proposal.
Ms Chen, who works as a Digital Marketing Specialist, did not expect the proposal and was pleasantly surprised. She said: "I still remember that day when we came back to RP, he that he would coincidentally text me when I am having issues "How are you?" then we would always talk about it. Because he's always there, I realised that I can rely on him with anything".
As for Mr Ng, it was the care that Ms Chen showed him in their time as a couple. "After we got together, the things that she do, the concern that she shows and the things that she say about our future makes me realise that she is the person to be with for the rest of my life," he said.