It is not uncommon for secondary school students with stellar O-Level results to choose the junior college route, as this is the direct and faster route to university.
However, times are changing as students with outstanding results find the polytechnic route more attractive.

Joyce Yap Hui Ting, a Human Resource Management with Psychology graduate, is one such example. With her outstanding GCE O-Level examination scores, Joyce would have no issues entering a good Junior College of her choice. However, she was not fond of conventional lecture-tutorial style of learning. She was particularly drawn to the education system at Republic Polytechnic (RP), and was convinced to pursue her diploma here. More than just supplying her with practical industry-relevant knowledge and skills, RP also offered her the unique opportunity to grow in other ways. Leveraging on the Problem-Based Learning (PBL) approach, she was able to develop creative problem-solving skills, facilitate self-directed learning and collaborate with teams on a daily basis. She also participated in several competitions including the MonsoonSIM Enterprise Resource Management Competition. "I have enjoyed the challenges because they enabled me to grow and have moulded me into a better person and a stronger team player today," said Joyce.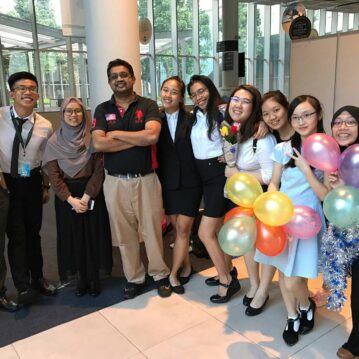 Her humble background and altruistic personality convinced Joyce to volunteer her time meaningfully outside of school, to give back to society and that in turn had helped her to be more appreciative of what she had. During an encounter with an elderly lady at the Supermarket Run 2018, the lady had shared that her son had passed away but instead of grieving, she decided to let go and move forward."I really admire her courage and positive outlook. It made me feel so ashamed of myself for I was always complaining about some trivial problems in life," Joyce admitted, feeling moved and encouraged not to take things for granted.

Joyce attributed her successful polytechnic education journey to her family. Her family was constantly troubled by financial difficulties. She said: "As I felt people were looking down on us, I wanted to do something for my parents and siblings." Her parents were uneducated as they had given up their chance at education in order to raise her siblings during their youth. While her sister was not able to pursue her studies in a university despite being a top student, her brother was a victim of bullying. These injustices fueled Joyce to work even harder to reciprocate the love and support that they have shown, and to remind them of hope regardless of the circumstances.
However, it was not all smooth sailing for Joyce. Initially, she struggled with time management as she used to spend two to three hours to ensure she delivered an excellent daily Reflection Journal. She eventually learnt to complete them within 45 minutes which then allowed her to make time for other activities such as volunteering and participating in competitions. Friends and relatives had criticised Joyce for her decision to go RP. With a good ELR2B2 score, they thought it a "waste of her potential", to which Joyce rebutted that RP had plenty to offer even as a young institution.

"At the end of the day, as long as you enjoy your learning process, it doesn't matter what others say or think. To others, RP may be a last or no-option kind of institution, but in my eyes, it's a gem yet to be recognised by the public," she stated firmly.