Who knows that salted egg yolk is the next big thing in local foodies' trail? From being infused in cheese tarts and croissants to being used as dips for fries, the trend of salted egg yolk is nowhere near ending. In fact, it may have reached boiling point with some bakeries reporting reservations for such pastries days in advance.  The Republican Post looks at three popular iterations of these sweet treats and reviews if they are worth their salt, I mean, the cholesterol and the calories.
Prima Deli: Salted Egg Yolk Lava Cheese Tart
Adding a salty twist to its cheese tarts, Prima Deli caught the salted egg yolk fever and created the ultimate salted egg yolk lava cheese tarts ($2.80 per piece). When it was first launched, these tarts were literally flying off the shelves. The queue at the Woodlands outlet was approximately five minutes when the Republican Post team visited on a weekday. But be prepared to wait longer on weekends. If you don't like waiting, you can always pre-order their salted egg yolk cheese tarts in advance. Approximately 200 trays of salted egg yolk cheese tarts are sold daily.
Calorific counter: There's a taste of butter and cheese with your first bite. Thereafter, a nice oozy tart filling explodes in your mouth. There's a smell of fragrant cheese with a liberal amount of salted egg sauce in the tart. The sweet and slightly savoury combination is delectable without being too cloying.
Verdict: 8/10
Available at Prima Deli outlets islandwide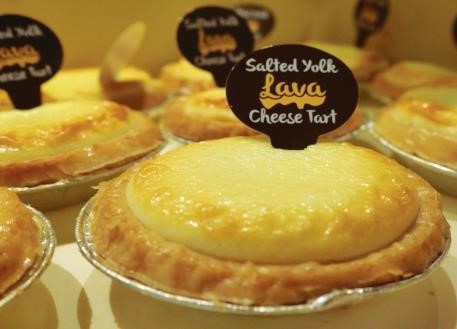 Breadtalk: Salted Egg Yolk Croissant
Another bakery chain Breadtalk has also hopped onto the salted egg yolk bandwagon with its Salted Egg Croissant that is crispy on the outside but filled with savoury egg yolk on the inside. Priced at just $1, each piece is rather small. So, you might need to savour at least two pieces to satisfy your salted egg yolk craving. What seals the deal for me is the crispy and buttery croissant skin as it presents both the savoury and sweet tastes you would expect in such a delicacy.
Calorific counter: The pastry is best eaten when it is hot and fresh from the oven as it brings out the flavour much better. While not as indulgent as Prima Deli's, the croissant is most surely a good place to satisfy your salted egg yolk cravings.
Verdict: 7/10
Available at Breadtalk outlets islandwide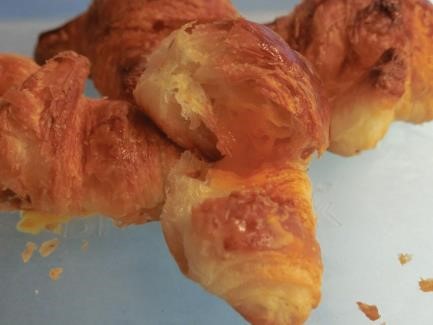 The Quarters: Salted Egg Fries
The Quarters, a café that specialises in Modern Singaporean or "Mod-Sin" cuisine, introduced the salted egg yolk craze by way of a dip that can be paired with its plate of French fries. At $9, it seems a little pricey but the portion is big enough for two people to share.
The dip was a little grainy but flavourful. The slight taste of salted egg yolk in the dip was overpowered by the strong taste of curry leaves, almost reminiscent of a butter crab dish. Nevertheless, the dip pairs really well with their golden-brown crisp fries. You can also buy the dip separately for $14.
Calorific counter: The fries here are not too oily and are crunchy when cooled. For all potato lovers, the fries at The Quarters are definitely worth trying. But if you're hankering after salted egg yolk, I would suggest you to look elsewhere.
Verdict: 6/10
Available at The Quarters
Where: Icon Village
16 Enggor Street, #01-09
When: Opens from 8am to 10pm (Mondays to Fridays), from 10am to 10pm (Saturday) and from 10am to 6pm (Sunday).