A group of School of Engineering (SEG)'s Diploma in Engineering Design with Business (DEDB) students held their first post-pandemic service-learning at Woodlands Regional Library on 12 May 2023.
Working with partners National Library Board and People's Association, the project team designed bite-sized lessons on virtual reality, solar energy and 3D printing for 31 residents from Marsiling Constituency. The event was graced by Mr Zaqy Mohammad, Senior Minister of State for Defence and Manpower and Adviser to Marsiling-Yew Tee GRC GROs (Marsiling).
"Watching VR videos is so fun"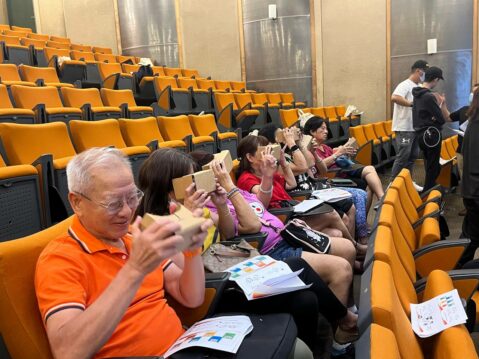 The auditorium was filled with excitement as participants assembled their own "google cardboard". The cardboard held two lenses and a compartment for a smartphone to play VR videos that are accessible on YouTube. VR videos differ from regular videos as they are more immersive. They allow users to explore simulated virtual environments which can be viewed from multiple angles.
The VR class allowed the residents to try this exciting technological device, even without a VR headset.
Second-year DEDB student Nur Hidaya Husin said that it is important for seniors to learn about new technology so that they are not left behind. She explained: "Currently, the elderly may be behind in technology, so with (this event) we can teach them so they know what is happening technologically in Singapore."
Powered by Solar Energy
After the VR class, the group moved to the Solar Power activity, which was held in a function room in the Children's section of the library.
This activity involves assembling solar-powered toy helicopters. The students helped the participants piece the different parts together, connect the wires, and connect them to the solar-powered cell to allow the helicopter to move by using solar energy. They also mingled and chatted with the residents to make them feel more at ease. The residents enjoyed the process of assembling the helicopters and were particularly amazed by the speed of the helicopter rotors powered by solar energy.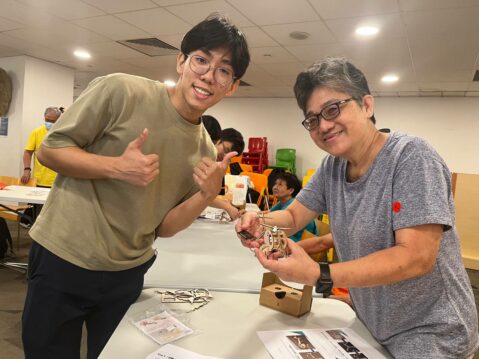 Make it with 3D Printing
The final activity for the day was a lesson on 3D printing in the library's MakeIT at Libraries facility. The MakeIT rooms provide the necessary equipment and guidance for anyone to try out the latest fabrication technologies, such as 3D printers, digital cutters, robotics, and more.
The residents tried their hands at creating keychains using 3D pens. The pens release a plastic-based material through a nozzle at the tip by heating and melting the plastic to shape it. The pens can be used to create designs of all shapes and sizes, both simple and complex because the plastic hardens almost instantly.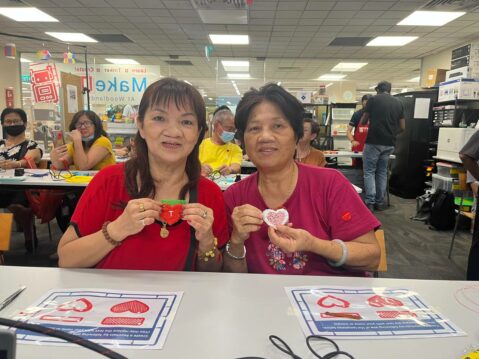 The students helped the residents by refilling the pens with different coloured plastic fillers and guiding them as some struggled to follow the outline of their chosen designs.
A Heartfelt Closing
With their toy helicopters and 3D-printed keychains in hand, the residents returned to the auditorium with their spirits high from a fun-filled day. While waiting for everyone to gather, some students sang popular Mandarin songs to keep the residents entertained.

In his closing speech, second-year DEDB student Khoo Kiat Ching spoke about the challenges his project team faced when planning for this event, one of which was language barrier. As many of the participants could only understand Mandarin, the students relied on translation from those who are proficient in Mandarin or they relied on sign language. They also had to use simple words to explain the complex technological terms.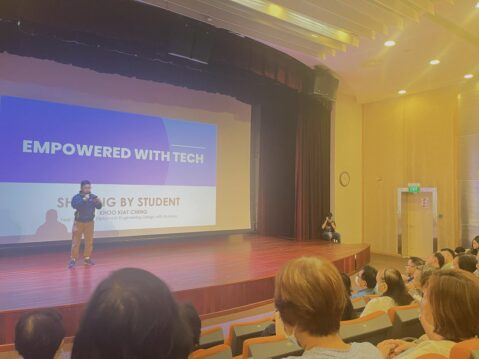 Kiat Ching also demonstrated some quick thinking himself, as he delivered a short Mandarin speech despite initially only having an English speech prepared.
He told The Republican Post that his public speaking skills were actually improved because of his time as a student in RP.
"I used to be very timid so I did not have the confidence to present and give speeches," said Kiat Ching. "RP trained me to do more presentations which helped to improve my public speaking skills and present confidently on stage."
DEDB looks forward to collaborating with The National Library Board and People's Association again in similar projects in future.