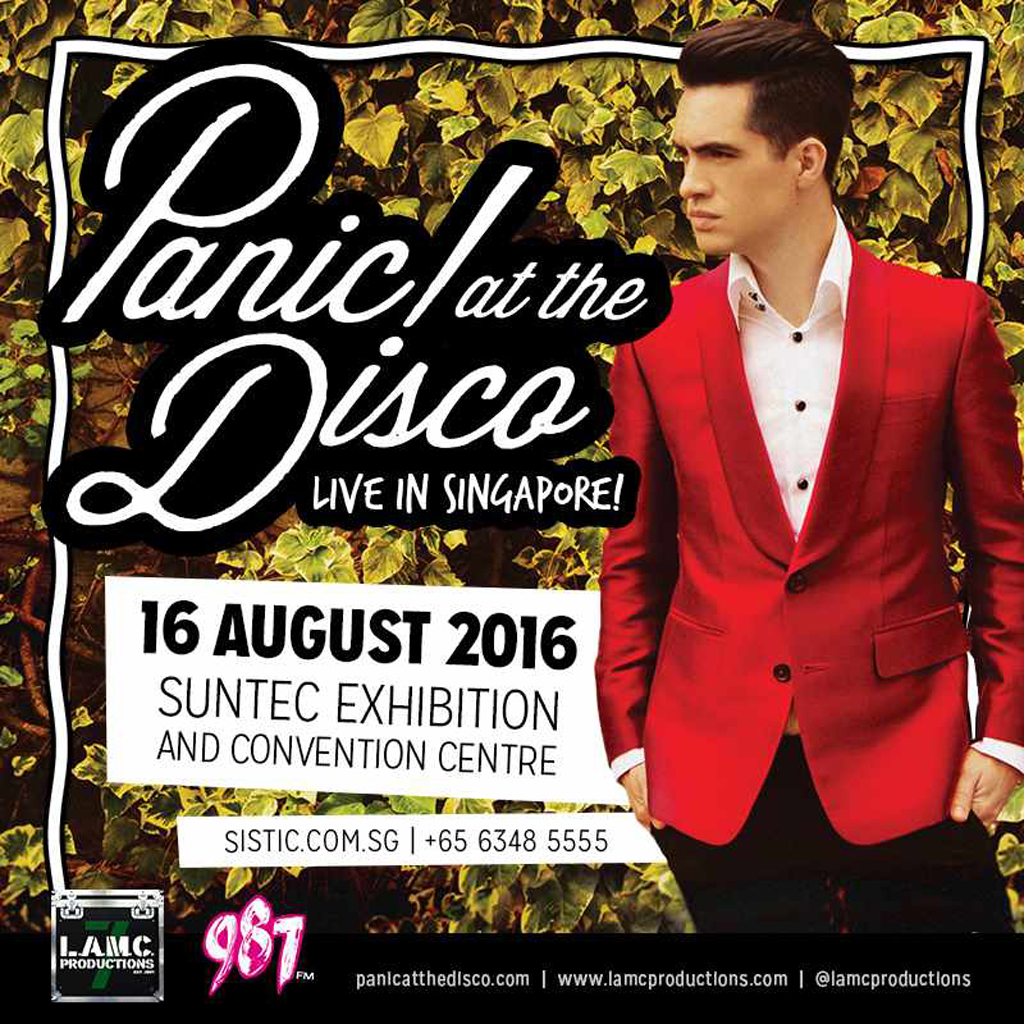 If somehow you've never heard of Panic! At The Disco or Brendon Urie, you're one of the rare few and I guess we can't be friends. And let's face it, you're missing out on a little piece of heaven.
Formed in 2004 by childhood friends Urie, Rick Ross, Spencer Smith and Brent Wilson, the pop rock band from Las Vegas recorded demos while they were still in high school. However, now only Urie remains. Despite the loss of nearly all the original members, Urie has managed to maintain the band's popularity with his devilish good looks, unbelievable vocal range and stage presence. On tour, Urie is accompanied by Dallon Weekes on bass, guitarist Kenneth Harris and Dan Pawlovich on the drums.
The Suntec City Convention Centre on August 16 was filled to the brim with an estimated 5,500 fans pumped to see the band again after their last concert here in 2008. The moment the first riffs began, everyone knew that it was going to be an electrifying night.
The energy of the band was incredible as they played the first three songs – Don't Threaten Me With A Good Time, Vegas Lights and The Ballad Of Mona Lisa – non-stop. As usual, Urie mixed up the songs with his unrivalled vocal range, hitting some maddeningly high notes that were greeted by equally high shrieks from the crowd.
However, I was a little disappointed that Urie didn't deliver on the crude humour that he is known for in concerts. Apart from thanking the crowd and promising not to take so long to return to our country, he didn't really say anything else.
After watching the band's previous concerts on YouTube, I got a bit worried that Urie would not be able to maintain such high levels of energy throughout but boy, was I wrong. He sang each song to perfection and even had enough gas in the tank to do two backflips, making everyone scream with delight.
 Credit: Lenz Angelo
He also performed covers of older bands such as Anyway You Want It by Journey and Bohemian Rhapsody by Queen. I dare say his rendition of Bohemian Rhapsody was almost, if not just as good, as the original.
Credit: Wong Mun Long, Bryan.
Urie knew how to keep the crowd on their toes as the band suddenly left the stage after Death Of A Bachelor. What a horrible way to end the show – or so we thought. Soon the band came out for an encore and sang I Write Sins Not Tragedies which was clearly a fan favourite as everyone sang along and at times almost drowned Urie's voice out. They finished off the night with Victorious which was a very good ending to a very good night.
Overall, the concert was amazing, largely due to the band's ability to keep up the frantic tempo throughout the show.  However, I thought they could have made it a bit more personal by having more interaction with the crowd. But other than that, the eight-year wait was definitely worth it and I think I speak on behalf of everyone when I say that that night was definitely Victorious.