The British songstress' third album was released less than two months ago, but it has already toppled records in all directions, including easily taking the crown of 2015's top-selling album in the U.S. and U.K.
But is it a seminal work of a great artist, or are fans simply glad Adele is back after her four-year hiatus? Our student writers ZSA ZSA LEE and CLAUDIA LEE give their opposing views.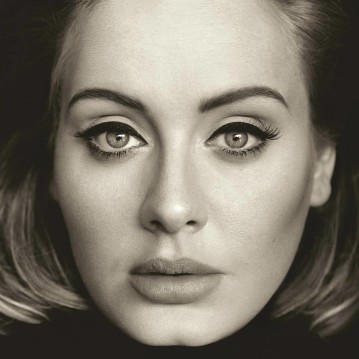 Third time's the charm
by Zsa Zsa Lee
Tug at your heartstrings is what Adele's latest album, 25 will do to you.
With her previous albums, 19 and 21, focusing more on heartbreak and emotional turmoil, 25 seems to settle on reminiscing. With the inclusion of more poignant ballads, 25 is an album that clearly depicts Adele's journey and how she has matured not only in terms of her music style, but also as a person and artist.
With standout tracks such as When We Were Young and Hello, both timeless songs about desperately trying to clutch at what is left of youth and looking back at a past relationship respectively, Adele is clearly moving on from all the moping caused by teenage heartache and is now on to her prime.
Though she may be just 27 years old, her soul seems to be nothing short of experienced. Her ability to fully encapsulate pain in her music is beyond comparison. It helps that her carefully calculated husky vocals also makes it that much easier to lose oneself to the melancholy of her music.
25 is unique in the sense that we are allowed to actually listen to her lyrical and musical journey as an artist. Whereas her previous two albums started and ended with heartbreak, this one doesn't. The last track on the album, Sweetest Devotion, an ode to her infant son, sees Adele embracing happiness. Perhaps a hint at a happier ending, something we haven't seen with her before.
With each of her albums titled by her age, it's as though each set of songs is a time capsule of every aspect of her journey so far, and we as listeners are all privileged to be brought along.
All I can say is that I hope her next album will be titled 27 and not 29, because that would be far too long a wait.
Adele's Hello is my goodbye
by Claudia Lee
After an almost interminable wait of four years, Adele dropped her latest album on Nov 20. About 3.4 million copies were sold in its first week in the U.S., beating 'N Sync's 15-year record of 2.4 million. Given the hype, you wouldn't expect Adele to retain the same style after three albums and seven years now.
The lyrics of the songs in 25 are shallow and contrived ("It's hard to admit everything takes me back to when you were there" from When We Were Young; "If this is my last night with you, hold me like I'm more than a friend" from All I Ask). Not exactly Shakespeare.
Hello, the first song that was released, shot straight to the top of the Billboard Hot 100 chart. Adele speaks of an ex-lover she tried to contact in hopes of seeking closure ("I must've called a thousand times. To tell you I'm sorry for everything that I've done.") A thousand calls? I can't help but take the side of the ex-lover, willing him to run away from her.
Water Under The Bridge is a fun, refreshing and upbeat song. Props to Adele for stepping out of her comfort zone in 1 out of 11 songs. However, it is yet another song about an ex-lover so watch me steer my sympathy towards the ex again. She speaks about the ambiguity of the relationship and how she seeks the validation of their love within herself. There's a clear line between victimizing yourself and singing your heartfelt emotions which might still be a blur to Adele.
Remedy was inspired by her son, Angelo. Which can be pretty ironic since her maturity isn't quite evident in this album and then bam! She sweeps in from the side with a motherly point of view. Not that smooth Adele, not that smooth.
It is obvious that Adele has yet to break through her same old shtick into a more refined and matured persona. 25, supposedly heartfelt, nostalgic and remorseful, was about "making up for everything she ever did and never did", as quoted from the artist herself in a Rolling Stone interview. What came out of the turmoil that calmed into a still? Who and what is Adele now? She might have found closure, but the audience sure hasn't.
Sticking to her same old genre, same old love songs, same old dressing style and her winged eyeliner which she has never ditched, it wore my expectations thin. 25 is just another Adele album singing through her heartbreaks and lamenting about love like every other pop artist out there.
I had expected something different with 25, thinking that four years of soul searching should shine through in this album. But it seems like Adele's hiatus was less of a process of self-discovery and more of an extended vacation, coming back with her full potential still undiscovered.
[poll id="14″]