For two weekends in May, 18 students from Republic Polytechnic's Diploma in Mass Communication (DMC) and one representative from School of Technology and the Arts (STA) joined the Nature and Sustainability Tours at Gardens by the Bay (Gardens).
They were part of the team at Write Interest Group (IG) involved in "Let's Take a Sustainability Walk" project.
Launched in April 2023, "Let's Take a Sustainability Walk" is a content-cum-service learning project that involves creating content to publicise the tours through social media platforms and The Republican Post website. Students who signed up for the project will also get to curate tour material and lead the entire DMC Year 2 cohort in a sustainability tour during the Go Green Singapore month in July.
Ashwini Jayasankar, 20, a third-year DMC student currently serving her internship at Singapore Police Force, said: "I signed up for the project because I wanted to learn more about sustainability, a cause that I am passionate about.
"This tour has given me a different perspective of Gardens by the Bay. I have uncovered numerous hidden treasures and gained valuable knowledge about the pivotal role of plants, including mosses, in our ecosystem. It has been an enlightening and rewarding experience."
Nature and Sustainability Tours
In December last year, Gardens celebrated its' 10th anniversary with the launch of four public tours that are aimed at educating visitors on nature and sustainability while revealing hidden gems at the attraction.
The tours started running in January this year and are available to the public until 2025. Each tour is an hour long and takes participants on a discovery journey of Gardens' sustainability story.
Carbon and Climate Tour
Participants in this tour learn about the different colours of carbon and why mangroves and trees are excellent carbon sinks. Mr Leong Yee Heng, guide for the Carbon and Climate Tour on 20 May, introduced participants to renewable energy sources such as the biomass plant at the Gardens. According to him, the Garden Rhapsody, a nightly light and sound show, is powered by energy generated by the Supertrees.
Emily Voon Jing Wen, 19, a second-year DMC student and a team leader of this project, said the Carbon and Climate Tour was insightful.
"This tour has given me a wonderful opportunity to learn more about Gardens by the Bay," said Emily, who signed up for this project to expand her portfolio.
Biodiversity and Ecosystem Tour
Participants on the Biodiversity and Ecosystem Tour explore different habitats from around the world and learn about adaptive features that enable organisms to survive in harsh conditions.
These diverse ecosystems include tropical rainforests, Mediterranean gardens, succulent displays, and vibrant floral landscapes. Participants also discover the unique characteristics and adaptations of plants and animals within each ecosystem. The tour offers interactive experiences and educational activities that encourage hands-on learning, including plant identification sessions, interactive displays, and opportunities to engage with knowledgeable staff. Ultimately, the tour aims to inspire participants to take proactive steps in their own lives and communities to safeguard and conserve the Earth's precious natural heritage.
Seeds and Senses Tour
The Seeds and Senses Tour invites participants to awaken their senses and connect with the rich tapestry of nature's aromas from plants like the Lemon Myrtle, that emit a refreshing lemon scent, and the Root Beer Plant (Piper auritum) that releases an aroma reminiscent of root beer.
Urban Wetlands Tour
The Kingfisher Wetlands is one of the favourite spots for bird watching. During the tour on 20 May, a couple of white-breasted water hens were seen frolicking in the lake. This outdoor nature walk also introduces participants to the rich flora and fauna in the Gardens, including the Kopsia Singapurensis (so named because it is red and white), the "fish poison plant" and the bamboo orchid. Little known fact: The Hideout at Kingfisher Lake is made of sustainable material.
Shakthishree Vijayasankar, 20, a third-year STA student and a team leader for this project, said the tours were an eye opener.
"Through the tours, I've gained a better understanding and appreciation for the little hidden gems of the Gardens and learnt more about nature and sustainability," she said.
Budding Journalists In Action
In addition to learning about nature, students in "Let's Take a Sustainability Walk" project also get to hone their journalistic skills.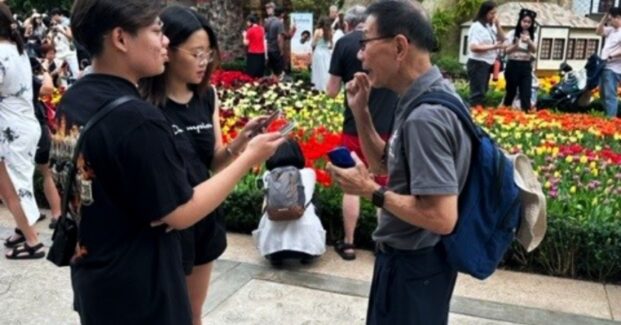 Soh Yuan Sen, 19, a second-year DMC student, said he decided that an interview with the Guide was essential to his story after joining the tours as a participant. He elaborated: "In news writing, we learnt that getting a credible source for our story is important. After participating in Mr Leong's tour, my team members and I decided that he is very knowledgeable and would add credibility to our story. So we approached him and got more information from him."
Another DMC student, Ng Jing Yan, 18, recalled a lesson on the importance of doing background research and was able to put it into practice.
She said: "In the Gardens project, my team and I made sure to do research before attending the tours. We searched up relevant articles on the Nature and Sustainability tours, more specifically on the tour we had to cover: Urban Wetlands. This allowed me to better understand what the tour guide was saying, and led me to be more confident when interviewing the tour guide and public attending the tour, since I had some background knowledge in the topic."
The Republican Post will be bringing you more stories about Gardens' Sustainability Tours.
Sign up for the tours here: https://www.gardensbythebay.com.sg/en/things-to-do/calendar-of-events/nature-sustainability-tours.html