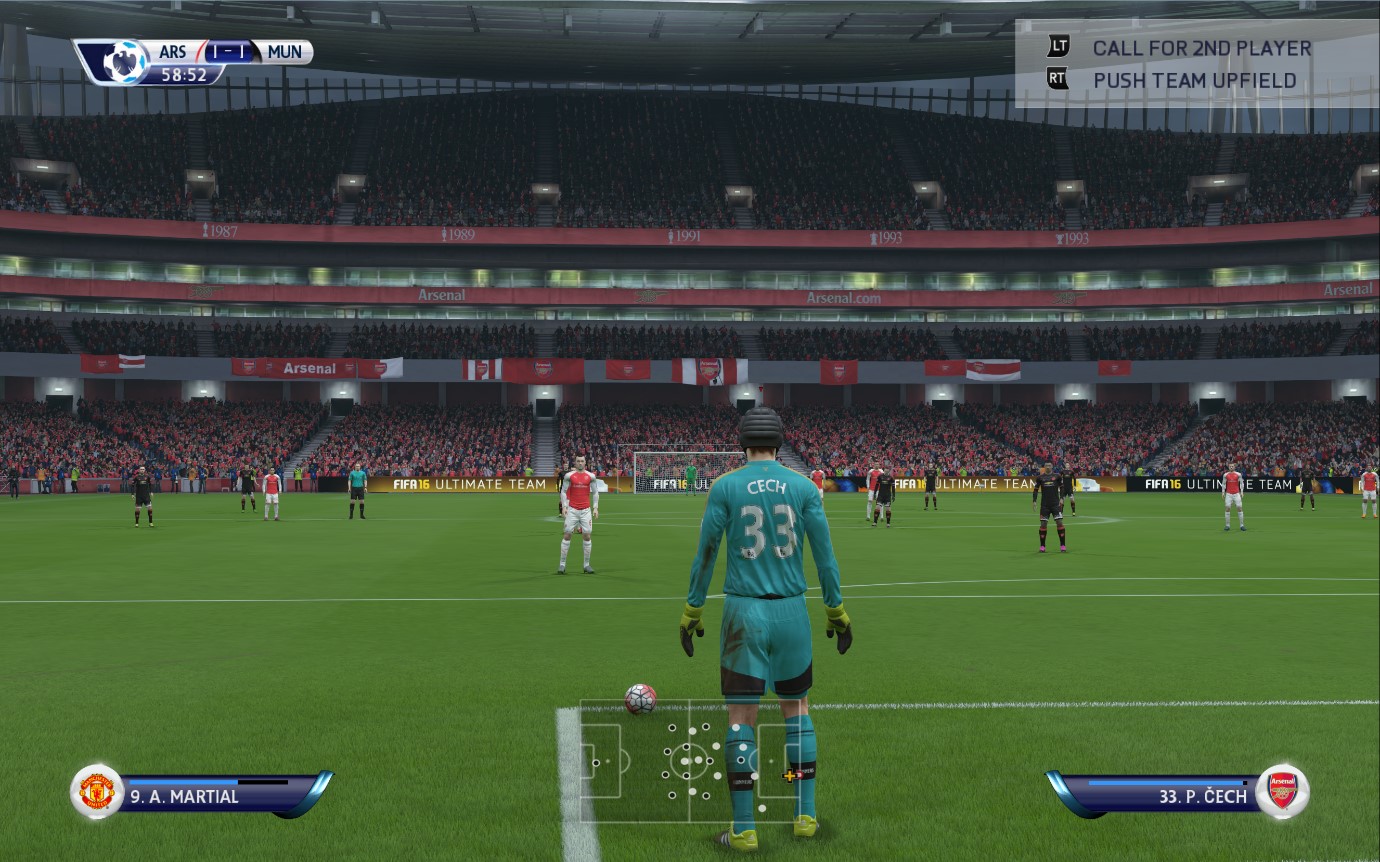 From broken controllers after you've conceded a cheap 90th minute goal to gleeful expressions when you've unpacked a rare world class player, FIFA 16, the 23rd iteration of the long-running and hugely successful franchise, feels even better at validating those emotions.
PRESENTATION
This is where FIFA 16 really shines. It's stellar, it's beautiful and it's entrancing. Players look visibly tired and hunched if they are low on stamina. Vanishing sprays linger a little on the pitch even after the free kick has been taken. Celebrations are even more diverse than ever from Wayne Rooney's KO celebration to actually even interacting with the camera as you sprint to the cameraman.
I feel like I'm playing an actual Premier League game. Everything from the simulated kits and branding to the motion capture of player's faces to are improved and look better than ever. Even the blades of grass on the pitch look incredibly detailed.
A new feature is Players to Watch, where an infographic of the each team's most recent in-form player is shown just before kick-off, detailing the player's position, height, weight, age and nationality.
FIFA 16 also has a terrific soundtrack that complements the visual style and gameplay, whether you're in the career mode or ultimate team menus. From Miami Horror's "All It Ever Was" to Disclosure's "Omen (ft. Sam Smith)", every track has a certain likability and appeal that heightens the franchise's cutting-edge presentation.
GAMEPLAY
PACE:
It took me a little while to get used to the system and pattern that FIFA 16 employs. Defenders are more incisive and quick to hunt you down like a pack of wolves whenever you get back possession for launching a counter attack. They have a more intelligent reading of the game and will break down your attacks and through balls if you are not precise enough with your passing. EA has tried to make running with the ball more realistic. Dribbling and sprinting at the same time will not necessarily get you past your opponent. For me, I used Arsenal's Theo Walcott (the second fastest player in the game) to run at my opponent and it wasn't that simple to beat a centreback. The use of knock-ons as well as skills and sudden changes of direction to get past your opponent will be even more essential in this game.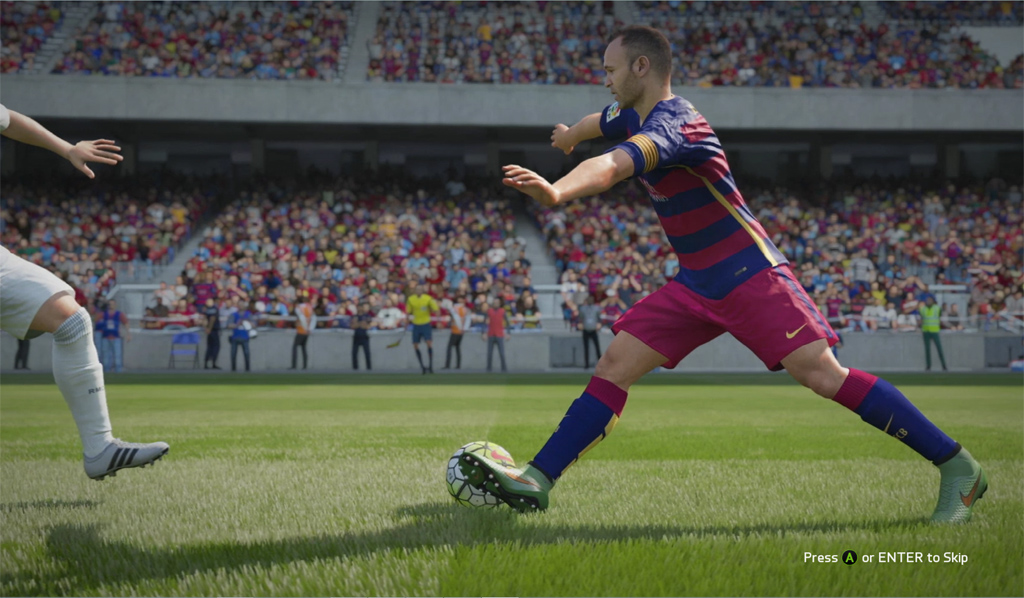 PASSING:
The passing feels quicker and is more subtle, akin to much of the one-touch passing that many teams employ in real life. Opponents (the AI) will be mixing it up with long and short range passes and will also keep the ball really well on World-class difficulty. On Professional difficulty, teams have good passing spells that will have you tire as you press for the ball diligently. And if you dare brace the almost faultless passing on Legendary, it's not uncommon for the opponent team to have 80% of the possession. Because of the more fluid passing movements, I actually found myself winning a lot of penalties as I glided around the box as opponents would just block every conceivable shot I aimed at goal.
PHYSICALITY:
EA has made it more accessible for players to take advantage of a player's physicality and strength in this year's edition. For career mode, I had Theo Walcott as a main striker and used Olivier Giroud as my second choice. Because of Giroud's lack of pace in previous versions of the game, he had a reputation in game of being unusable. That stigma, I believe will change, as people realize the refinements EA have made to players of great physicality. After the season, Walcott had 13 goals in 19 starts and Giroud had a more efficient 10 goals in 6 starts! Players leap higher, and hold off defenders with more grit and strength, somewhat comparable to how a big and strong traditional striker would hold off a defender. I found it straightforward that if you found Giroud in the box with a good pass or cross, it would mean an opportunity to get a clear sight at goal. Giroud would simply hold off his opponent with his strength and score or just outmuscle the defender for a header.
CAREER MODE
Career mode has gotten some welcome additions this year round. Glitches are fixed and I don't get hounded by players telling me they need more game time as often as I did in last year's version. Player training is a delightful extension of what Career mode has to offer after the frustrating issue of young players not growing in last year's game.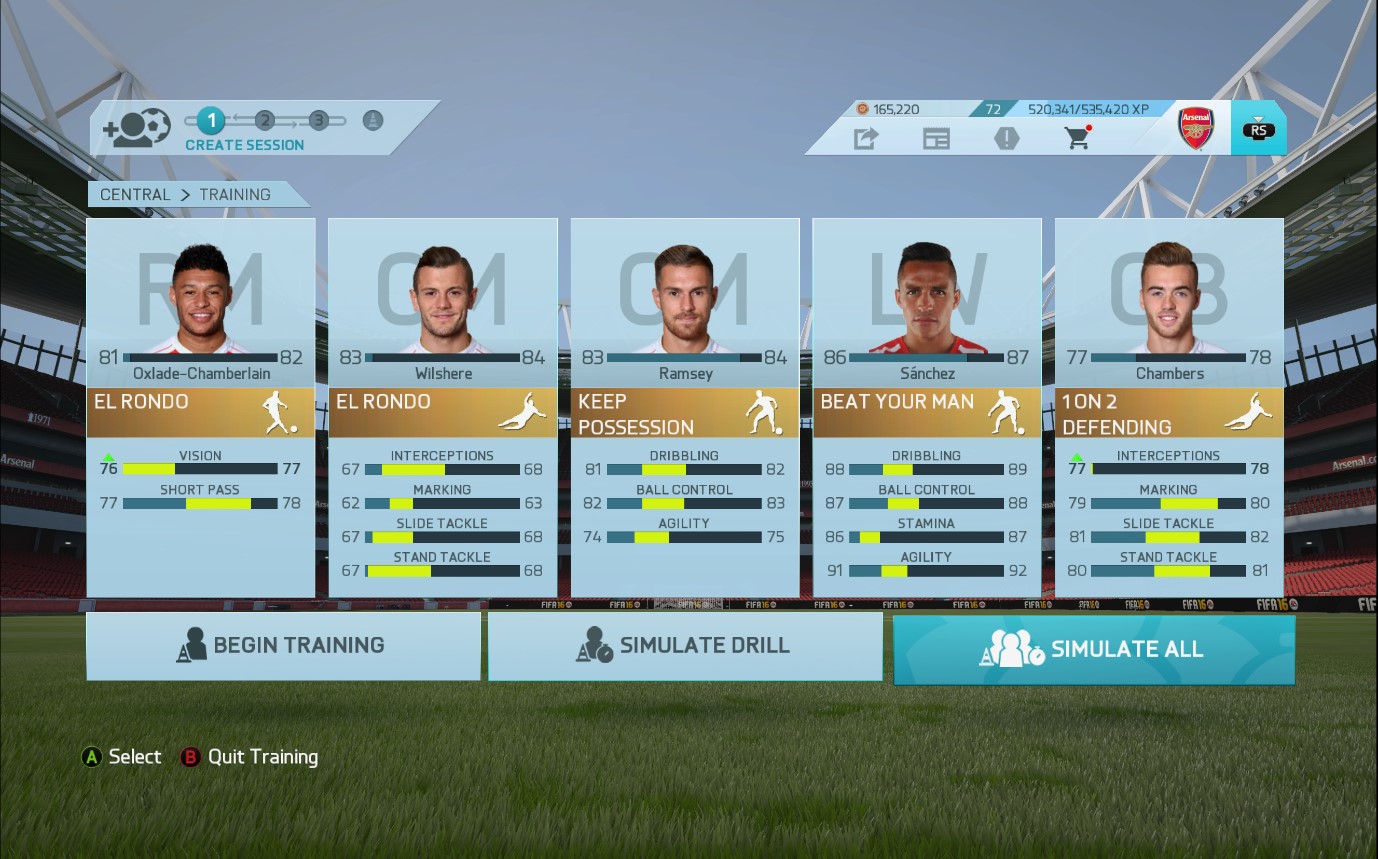 ULTIMATE TEAM
With the inclusion of price ranges from the start this time, the market was basically billed fair and more inclusive for the FIFA community. In the past, anyone could just use a third party coin selling website to circumvent the structure of buying packs to get rare players. With price ranges, it will be a little more difficult for anyone to buy coins as they cannot just simply sell a common bronze player for a hefty price to aid in their coin selling. It's also a bit of a neat gesture for loyal fans as EA have implemented customized pictures for Team of the Week (TOTW) cards, capturing in-form players' exact appearances in the real life matches that they have just played well in.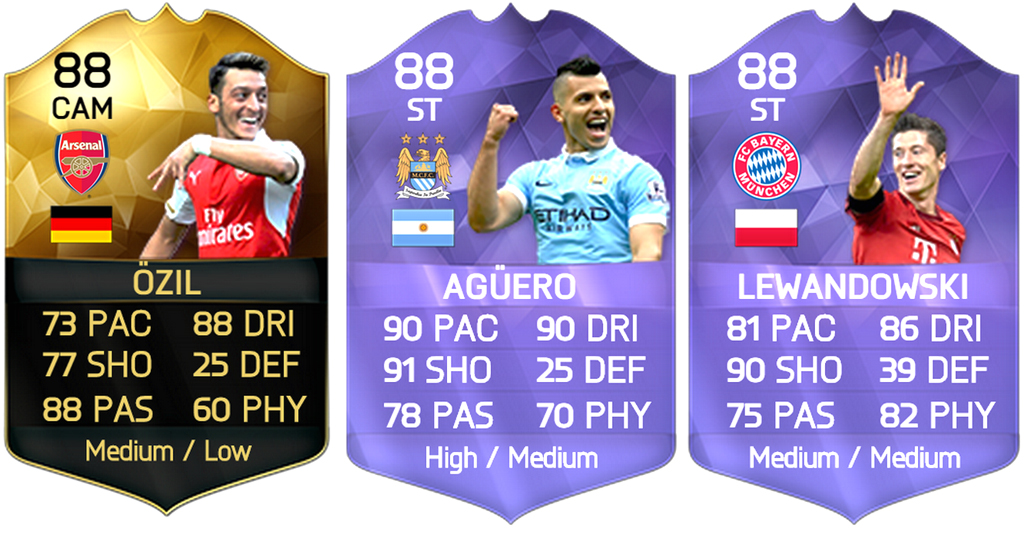 (CUSTOMIZED PICTURES: EA have included real life pictures in their TOTW cards. From Left to right: Mesut Ozil as he celebrates after scoring in that 3-0 win against Manchester United, Sergio Aguero, after scoring 5 goals against Newcastle, and Lewandowski after scoring 5 goals in 9 minutes. PHOTO CREDIT: Futhead/ FIFA 16)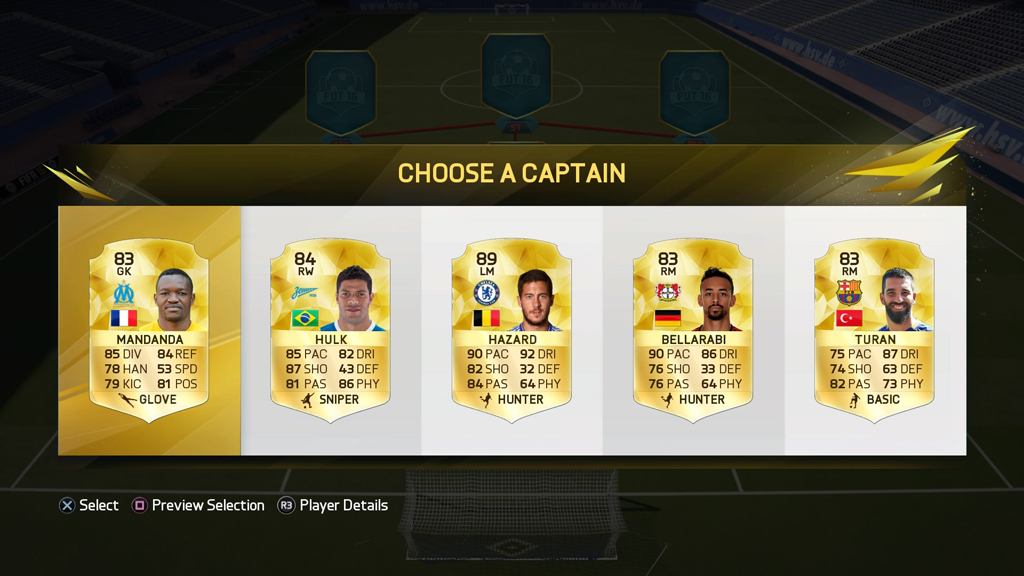 (FUT DRAFT MODE: The new Ultimate Team mode, billed by EA as "a new way to play" enables players to use rare players from the start for an opportunity to win prizes should they get into a winning streak)
The new FUT Draft Mode lets players choose from the very best at the start (I picked a TOTW Ronaldo and TOTW Naismith) as you assemble your team, and you win attractive prizes such as packs should you go on game winning streaks that meet the requisite. After you've already used your token however, you'll have to pay 15,000 coins or 300 FIFA points to enter.
CONCLUSION
FIFA 16 isn't reinventing the wheel for a football simulation game and EA has gone with the approach of "If it's not broken why fix it?" The inclusion of women's international teams are a nice touch, the player trainings in career mode for added realism are pretty sweet and the subtle changes in gameplay and core mechanics are significantly different enough for someone to have to learn (some of the ropes) again to familiarize himself.
Its presentation however, is second to none, and will continue to entice buyers around the world for its immaculate design ranging from the graphics to the licensed kits and competition names to the beautiful rare gold cards in FIFA Ultimate Team.
FIFA 16 isn't a great game.
It's great advertising, and we've all bought it.
This review is based on the PC version. FIFA 16 is also available on Xbox One, PS4, Xbox 360 and PS3.
Minimum Specifications
OS: Windows 7/8/8.1 – 64-Bit
CPU: Intel Core i3-2100 @ 3.1GHz (or AMD Phenom 7950 Quad-Core, AMD Athlon II X4 620 equivalent)
RAM: 4GB
Hard Drive Space Required: 15.0 GB
Minimum Supported Video Cards: ATI Radeon HD 5770, NVIDIA GTX 650
DirectX: 11.0
Single System Multiplayer: 2-4 players + 1 keyboard on a PC
Input: Keyboard, Mouse, Dual Analogue gamepad, VOIP Headset
Recommended Specifications
OS: Windows 8/8.1/10 – 64-Bit
CPU: Intel i5-2550K @ 3.40GHz (or AMD FX-6350 Six-Core equivalent)
RAM: 8GB
Hard Drive Space Required: 15.0 GB
Minimum Supported Video Cards: ATI Radeon HD 6870, NVIDIA GTX 460
DirectX: 11.0
Single System Multiplayer: 2-4 players + 1 keyboard on a PC
Input: Keyboard, Mouse, Dual Analogue gamepad, VOIP Headset