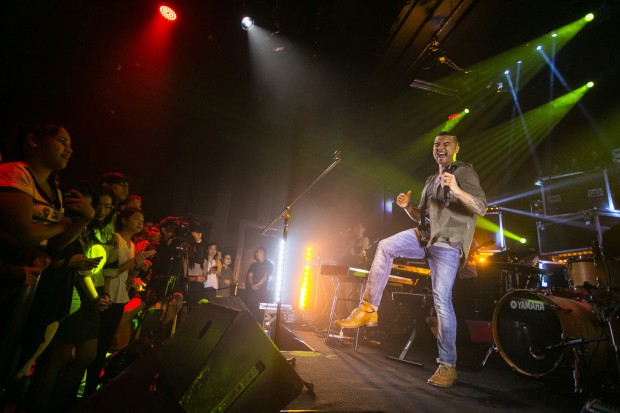 Australian singer Guy Sebastian made his first ever appearance in Singapore when he performed at Resorts World Sentosa's Waterfront Studios on June 30 during a live recording for MTV.
Sebastian, who was born in neighbouring Malaysia, was the winner of the inaugural Australian Idol in 2003 and was a judge on Australia's The X-Factor from 2010-2012. The 32-year-old singer is one of the best-selling artistes Down Under, having been awarded platinum and multi-platinum certification for his seven albums.
Wearing a grey V-neck top and khaki outerwear paired with jeans, Sebastian and his five-piece band performed for an hour, serenading the crowd of over 250 with songs such as Battle Scars, Who's That Girl, Don't Worry Be Happy and his latest single, Like A Drum.
Old is indeed gold as Sebastian walked the audience down the memory lane with his debut single and biggest-selling hit in Australia – Angels Brought Me Here. His goosebump-inducing vocals delivered the song with such heartfelt sincerity it left his fans nearly swooning as they sang along with him, creating a warm atmosphere at the venue.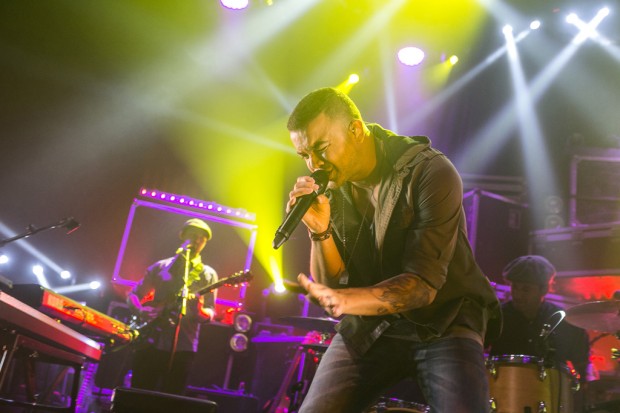 His first platinum hit in the US, Battle Scars, also received a great response from the crowd as Sebastian belted an acoustic version of it.  A song that came to Sebastian while he was driving, it is likely to resonate with those at war with love.
The tempo was upped with Who's That Girl, leading the fans to groove and clap along. The song  sounded even better live in comparison to his CD version.
Sebastian wrapped up the concert with Art of Love, a duet he recorded with former American Idol winner Jordin Sparks, with his backup singer Carmen Smith. The rendition sounded as good as the original as both Sebastian and Smith displayed powerful and expressive vocals.
When he was not impressing with his vocal range, Sebastian won the crowd's heart with his sense of humour. At one point, he jokingly talked about his former "massive afro hair" and requested his fans to bombard Ciara's and Beyoncé's social media so that he can do a duet with them.
Before leaving the stage, Sebastian shared that in between travelling to and from US and Australia, he has been going back to the studio to finish off his next album. Eleven years after hitting it big with Australian Idol, Sebastian certainly shows no signs of slowing down.
MTV Sessions: Guy Sebastian premieres on MTV Asia on Friday, July 18 at 9pm (WIB), 10pm (SG/HK) and 11pm (MAL) with additional content available online at www.mtvasia.com/mtvsessions.