As the COVID-19 pandemic pushed people to stay home and avoid crowds, some have used the opportunity to pick up interesting new hobbies or spend more time on them. For the gym rats and fitness enthusiasts, it has been more challenging.
The limits to the number of people and the fear of coming into contact with infected individuals have made it problematic for fitness classes and gym sessions. But the necessity of keeping fit is not lost on many – especially those who are involved competitively.
Aarya Chauhan, 19, from the School of Hospitality (SOH) at Republic Polytechnic emphasised the importance of continuing his efforts in training as a runner, despite the challenges he faced due to COVID-19.
"'I train five to six times a week, usually running track, with one or two of those days being spent at the gym," he said.
However, with COVID-19 came many restrictions, some of which impacted his training routine. For instance, only certain track venues were open for specific periods, he said.
''During the Circuit Breaker (last year), the gyms shut down too, which denied us access to weights and certain activities," Arya lamented. He added that he transitioned to HIIT (High Intensity Interval Training) workouts at home guided by his coach on Zoom. While there were no competitions, training continued.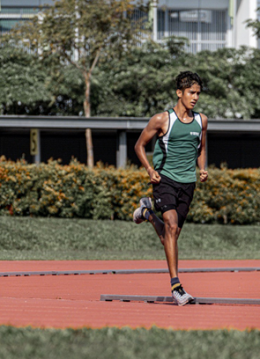 "Losing motivation during COVID is one big spiral, it's just endless once you're caught in it and it will only stop once you decide to make a change by yourself.
''There's always a way to overcome it if you are determined enough to stay fit," Arya said.
REALISATION FOLLOWED BY DETERMINATION
Diet is another aspect of health that has been challenged for some.
John Emmanuel Braganza Morillo, 20, a Year Two Customer Experience Management with Business student, realised that his daily habits had become detrimental to his health during the Circuit Breaker in 2020.
Due to the negative impact that the COVID-19 pandemic had on John's mental health, he turned to unhealthy eating habits. It got to a point where he had gained weight substantially. When his mother returned from Italy after a year of being away, John said she was visibly shocked at how different he looked.
As soon as John found out that his family had a history of diabetes, he became worried and began to focus on healthier eating habits and exercise to reduce his risk of getting it.
John began exercising by going on long walks every night around his neighbourhood. This progressed to longer walks at East Coast Park followed by additional exercises at home watching YouTube videos.
"The only time I lost motivation was during the Hungry Ghost Month, because my friends told me it was dangerous to go out at night alone," John quipped. "But I kept going."
For those who want to challenge themselves, there are various mobile applications such as the Nike Run Club app, which John uses on each run to help him pace himself and improve further.
As a personal trainer in a local gym, 23-year-old Koh Wen Jun said he observed the decline in the number of gym-goers since Singapore's Circuit Breaker.
Even as people get back to exercising as Singapore gradually opens up and weighs its options, Wen Jun does not expect everyone to push themselves.
''Exercise within your comfort zone and do not overwork your muscles. You can't expect results overnight," he said.