With two SEA Games gold medals under his belt, Jowen Lim has his sight set on the Asian Games. The Republican Post's Gabrielle Lee speaks to Jowen about his sporting journey.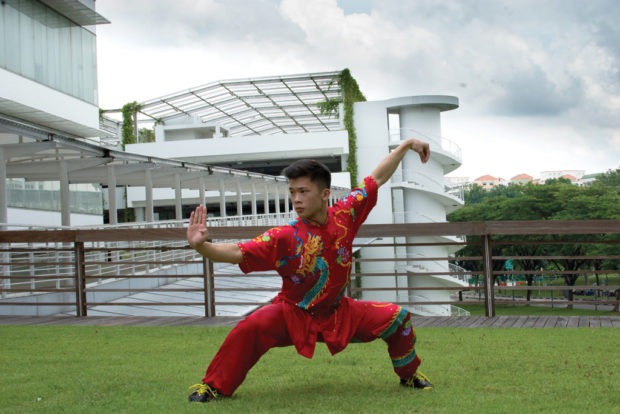 It all started when a young Jowen Lim Si Wei and his family were watching a performance by WuFang Singapore, a Wushu school founded by former actor Vincent Ng, on television.  "I thought it was cool so I wanted to learn (Wushu)," Jowen recalled.
As Jowen's parents wanted their youngest son to have a foundation in sports before entering primary school, he joined WuFang Singapore when he was six. More than a decade later, Jowen became Team Singapore's surprise package when he won two gold medals at the South-east Asian (SEA) Games in August this year. "I was shocked that I could win two gold medals, but I was happy to be able to contribute to Singapore," the 18-year-old said.
Jowen said he never planned to compete, and had originally joined the sport for leisure. "It was for fun as I was enthusiastic about everything and liked doing sports," said the Diploma in Sports and Leisure Management student. "I didn't even know there were competitions for Wushu."
The second-year student said he has been fortunate as he has not suffered any major injuries. Nonetheless, excelling in the sport is no bed of roses. Jowen leads a fast-paced lifestyle, balancing school and training.
Training sessions last between 7 p.m. and 10 p.m., six days a week. On weekdays, Jowen would finish his school work and take an hour nap before heading for training. He also makes time to coach younger Wushu exponents at WuFang Singapore every Saturday.
Despite a busy schedule, Jowen knows he can always count on his family for support. "No matter how far my competitions are, my parents are always there to support me," he said.
Mr Daniel Lim, Jowen's father, recalled his son's moment of glory at the SEA Games. "I felt a sense of pride as he represented Singapore and his win was a result of his hard work," said Mr Lim.
Jowen has his sights set on winning at next year's Asian Games in Indonesia. "Wushu is not an Olympic sport, so the Asian Game is the biggest competition. Winning it is every Wushu exponent's dream," he said.
Beyond winning, Jowen said he has learnt lifelong lessons from competing. "Wushu is an accumulation of day to day practice. To succeed in Wushu, you need to persevere and be determined. I have learnt both those values, and find it useful for my real-life situations," he said.