Nadia Natasha Zaperi checks out three new ice-cream cafes that have sprouted in the neighbourhood.
The Daily Scoop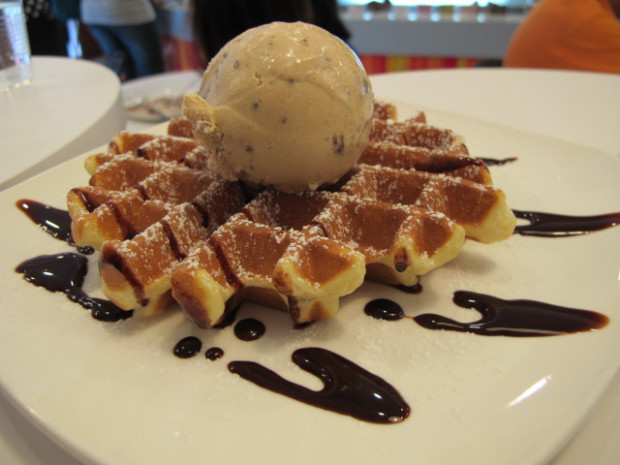 Among all three cafes, The Daily Scoop is the most well-known. They started off with a small cafe at Clementi Arcade off Sunset Way, Chips Bee Garden and now Sembawang Cottage. Inside their latest outlet, the focal point of the 30-seat ice-cream parlour are their walls filled with colourful cartoon characters.
The Daily Scoop offers the most reasonable price among all three cafes, offering $6.20 for a set of waffle or brownie with a generous scoop of ice-cream. The café have a total of more than 40 hand-churned ice-cream flavours on rotation.
Flavours range from unique flavours such as chilli chocolate, local flavours such as Chendol and Mao Shan Wang, to their popular salted mister brown and strawberry shortcake. Patrons could choose to have it on cone, brownie or on warm waffles drizzled with chocolate sauce.
369 Sembawang Road #01-05
Sembawang Cottage, Singapore 758382
Opening Hours: Mon – Thu: 11am – 10pm
Fri and Sat: 11am – 10.30pm
Sun: 2pm – 10pm
Holy Cow Creamery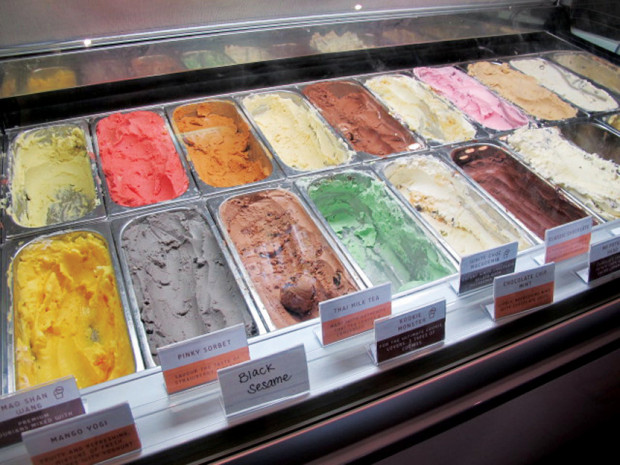 Opened in early September this year, Holy Cow Creamery is simply decorated: white washed walls, polished concrete floor, wooden tables. The 45-seater café, which includes both indoor and outdoor areas, gets about 250 customers a day on weekdays and 400 on weekends.
But the star of this heartland café is its crispy waffles paired with ice-cream ($6.50 for classic, $7.50 for premium). Customers could also opt for a scoop of classic ice-cream ($2.50) on a cone or cup if they are just dropping by. Popular flavours include mao shan wa¬ng (durian), kookie monster, salted gula melaka and thai milk tea.
 292 Yishun St 22 #01-291
Singapore 760292
Opening Hours: Tue – Sun: 11am – 10pm
(Closed on Monday)
Mootime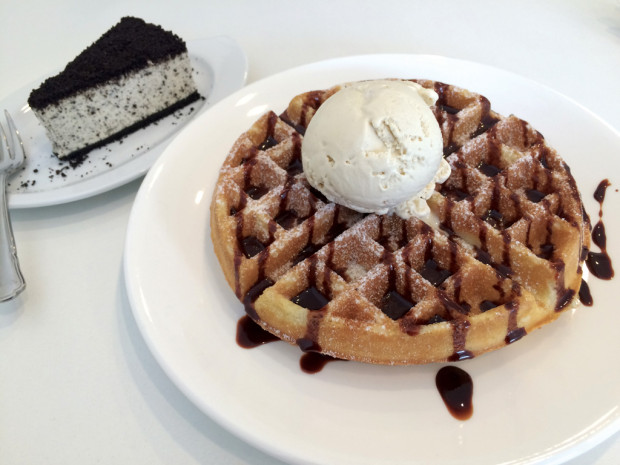 Just like Holy Cow Creamery, Mootime is also a concept café located opposite Sembawang Shopping Centre. Grass-like carpet, leaves decal on the walls and cow cushions on the sofa, Mootime is styled like a garden, capturing patrons' heart on first sight.
Opened in late August, Mootime consumers consists of mostly teenagers and families. Married couple Shen Nansheng, 31 and Emily Sim, 31 are the duo behind this family-oriented café. The café was a result of Mr Shen's passion to prepare ice-cream, never mind that he who makes the ice-cream himself – has a day job as an IT business development manager.
The joint churns out 14 flavours of ice-cream almost daily. Flavours include smooth and creamy Horlicks and popular choices like Hazelnut, Cookies and cream and salted gula Melaka. While you can order waffles with its ice-cream ($7), Mootime offers assorted home-made cakes such as Oreo and durian cheesecake, strawberry shortcake and chocolate fudge cake as well. ($5.50- $6 per slice).
8 Jalan Legundi #01-15 (Opp Sembawang Shopping Centre) Singapore 759274
Tel:  6556 4671
Opening Hours: Monday: 6pm-10 pm
Tues-Thurs: 12pm-10pm
Fri, Sat & Eve of PH: 12pm-11pm