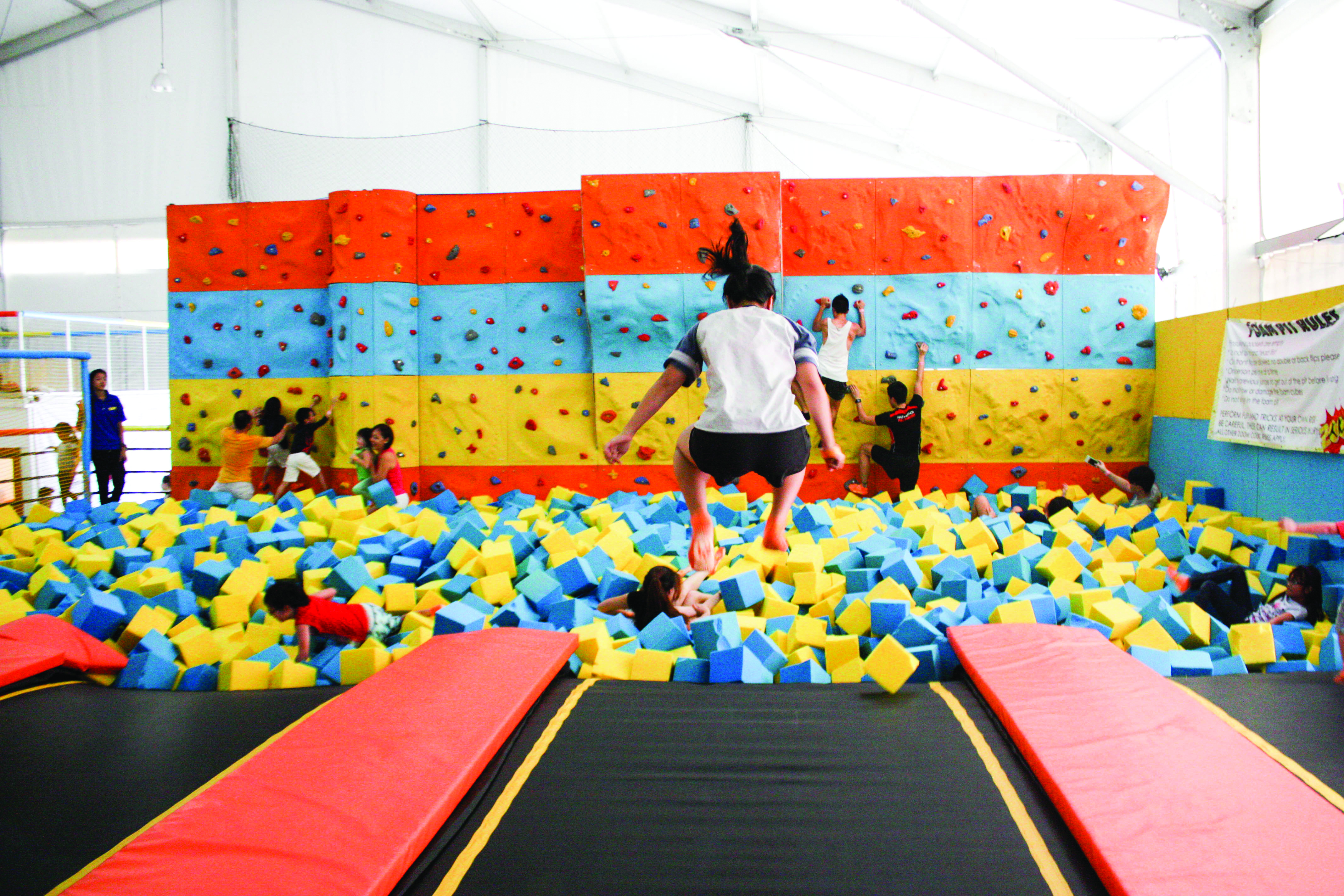 Fancy bouncing off walls with friends? Or a workout that is more effective than running?
Zoom Park Singapore, the largest indoor trampoline park here, may just be the attraction for you.
Opened in December, last year, the air-conditioned facility is located at Pandan Gardens. Occupying a space the size of four basketball courts, Zoom Park has various activity zones such as a main court, a rock wall, dodgeball courts and slam dunk lanes.
When I arrived on a Sunday, I was greeted by the sight of a snaking queue of people – mostly children – waiting to enter the park. Thankfully, I had booked tickets online for my group of friends prior to our visit and we escaped the wait.
Admission to the park costs between S$14 and S$17 an hour, with jump times starting every half hour. You also have to purchase a pair of socks with anti-slip soles for S$2. The cost may be a bit more expensive when compared to other attractions here, but I reckon a novelty like Zoom Park is worth the price.
A possible starting point for visitors will be the rock wall. It poses a series of challenges, such as straight-up climbs and overhangs. A large foam pit nearby provides the assurance to climbers they could fall comfortably if the climb proves too challenging. I personally enjoyed the foam pit the most – it is so comfortable you could fall asleep while lying in it.
The two dodgeball courts are also another attraction worth visiting. They may be located at the back of the facility, but they proved to be the most popular attraction among visitors with groups waiting for up to 20 minutes to play a game. But this is no ordinary dodgeball, as players have to dodge balls while maintaining their balance on trampoline mats.
As the wait proved too long, my friends and I decided to try out other activity zones first. However, watching others play dodgeball was enough to plan my next return to Zoom Park. The game is a great way to bond with your friends or family, and frankly it can be rather comical as you see them struggle for their balance while trying to be competitive.
There is also the main court, which is covered with wall-to-wall trampolines. Here, visitors can try their hand at attempting various stunts.
With so many activities to try out, let's just say an hour at the park was definitely not enough. But if you are looking for an extraordinary experience with your family or friends, I think Zoom Park fits the bill. It is not too exhaustive or remotely boring – it is the exact opposite, in my opinion.
Those behind the park cite several benefits of jumping on a trampoline. For instance, a NASA study found that jumping on a trampoline for 10 minutes is equivalent to a 30-minute run. An hour on the trampolines can burn up to 1,000 calories, according to Zoom Park.
For those looking to party, the disco experience is recreated on trampolines every Friday and Saturday night. The lights will be dimmed and the latest hit songs will be played as jumpers light up the arena with their glow sticks and glow in the dark socks.