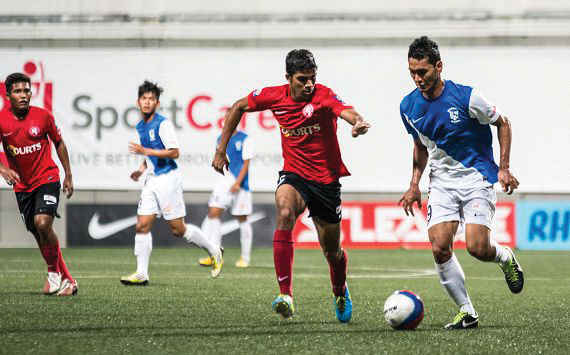 When the word "football" is mentioned in Singapore, people generally talk about foreign teams like Arsenal, Manchester United, Liverpool or Chelsea. To the credit of the little red dot, Singapore football has produced legends like Fandi Ahmad, V Sundramoorthy and Lim Tong Hai who, in their own accord, have made the nation proud. And that is exactly what Anumanthan Kumar would be hoping to do for this nation in years to come.
Last year, the tenacious midfielder, then 19, got his first national team call-up from Singapore coach Bernd Stange. He worked hard to achieve his dream of playing football for club and country, and friendly kickabouts in the void deck of his home in Seletar Hills now seem a world away from the bright lights that he has grown accustomed to with club side Courts Young Lions and the national team.
A year on and Anumanthan, a Sports and Leisure Management student from the School of Sports, Health and Leisure, has still kept his place in the squad. To date, he has earned four caps while gaining valuable experience alongside national team stalwarts like Shahril Ishak and Hariss Harun. It is with the latter that Anumanthan feels he looks up to the most.
"I do not try to emulate the senior players as I want to have my own style when playing football. However, he is one of my biggest idols," Anumanthan said of Hariss who, just like himself, had very early exposure to senior international football at only 16 years old back in 2007. What's interesting is that both made their debuts as 70th minute substitutes, albeit six years apart.
Although many have the common misconception that making it as a footballer in Singapore is a tough and arduous journey, Anumanthan claims otherwise.
"It is not difficult. If you want to make it, you are going to need dedication and focus. If you work hard, you can make it as a footballer in Singapore," he said.
That confidence and dedication was obvious when Anumanthan spoke of his target for next year's South East Asian Games, which are to be held in Singapore for the first time since 1993.
"As defending champions, we have to retain what is ours as the games will be played on home soil. It will be very difficult but we have to work hard and retain the trophy," he said.
With National Day around the corner, Anumathan had a simple message for the country: "I wish Singapore a happy National Day, and I hope athletes and Singaporeans unite as one Singapore and achieve a sense of belonging together."