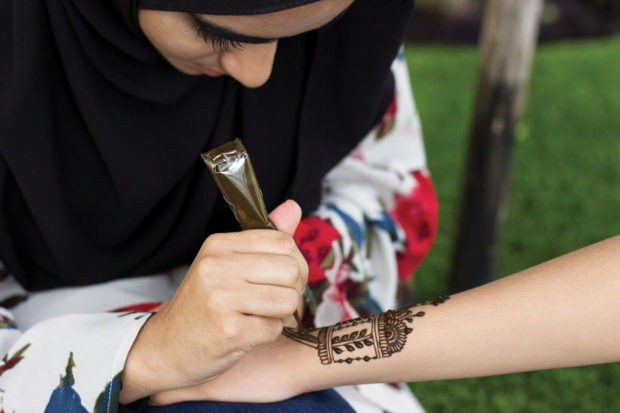 At the age of six, Razinah Rafik Ahmad would doodle random patterns, such as flowers and leaves, whenever she was bored. Unlike kids her age, she used a henna cone instead of a pencil or a crayon. The doodles marked the start of a successful henna artist.
Now 20, Razinah runs a fledging henna business. She has amassed over 12,000 followers on Instagram and her henna video tutorials have achieved between 100,000 and 460,000 views on the Internet.
"My main objective was not to start a Henna empire; it started out of pure passion," said the third-year Consumer Behaviour and Research with Psychology student. "Then, I realised I can actually turn this into a business."
Razinah was only 17 when she had her first client. While students would take up part-time jobs or take a well-deserved break after their O-Level examinations, Razinah ventured into her henna business. She created a Facebook page to market her designs but did not receive much awareness initially.
Razinah gradually learnt how to leverage on social media. "I started inviting my friends to like my page, which rose to about 100 likes. That was when I started to post more content. Then, from hundreds it became thousands which led me to creating henna videos that has now gained up to 50 thousand likes," she said.
A self-taught henna artist, Razinah does mostly bridal henna. "The designs that I create and the way I carry it out is difficult for other henna artists to mimic or create the exact same design that I've created," she said.
Razinah charges between $130 and $400 per bridal booking. Basic designs take around three to four hours while intricate designs can take up to eight hours, depending on the length.
Despite the hectic nature of her business, Razinah said she was determined not to lose focus in her studies. In fact, the business gave her the motivation to do better in school. "Instead of my grades dropping, it actually improved because having a business forces you to be disciplined and not be distracted from your studies," said Razinah. She scored 'A's and 'B's in Year 1 but this has since improved to mostly 'A's now.
Mohammad Riyaaz, Razinah's friend, agreed. "She has definitely grown holistically over time and has become a better version of herself over the course of her business. Having to deal with clients on a personal level has taught her a lot," said the Nanyang Technological University second-year Sociology student.
Razinah said her entrepreneur journey has given her confidence. "It taught me to believe in myself more," she said.
Her advice to budding student entrepreneurs is to learn to balance their studies and business. "Go for it, if you're able to take on the responsibility. Remain disciplined and juggle your work and studies," Razinah said.